The internet is a wonderful thing, it allows me to let you in on the best of Champagne Living, but spares you the orange sauce running down my chin from this incredible Orange Glazed Pork Roast that I just devoured. Since beginning this wonderful "Good and good for you" pork project, making a new cut and a new recipe each week I've gotten more creative with my menus and have fed my family heart healthier meals.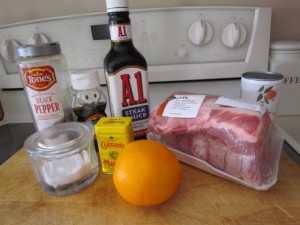 This week I headed to Publix for a bone-in pork loin roast. I then checked out the Pork be Inspired website to find a recipe. My first inclination was to make a Garlic-Herb Roast Pork, but that was too safe….besides I had done something similar with my pork tenderloin on week 1.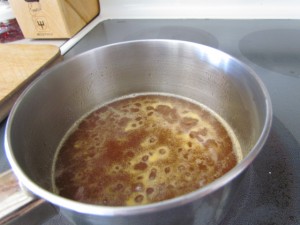 This week Bone-in Pork Loin Roast is just $3.39 per pound at Publix, making it deliciously affordable to get a lean meal on the table!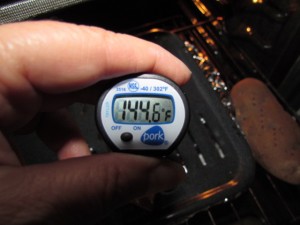 With Valentine's Day right around the corner and February being national heart health month, the National Pork Board has adopted  Heart-y and Healthy Valentines recipes, that are good for you and delish!
Here's what we had for dinner tonight.
Orange Glazed Pork Roast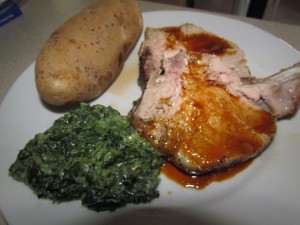 Ingredients
6 pound bone-in pork loin roast
1 tablespoon dry mustard
salt
Freshly ground pepper
3 ounces frozen orange juice concentrate, thawed
1/2 cup honey
2 tablespoons steak sauce
1 orange (optional), sliced
Directions
Rub dry mustard into roast and sprinkle with salt and freshly ground pepper.
Make a drip pan of aluminum foil about 1 1/2 inches deep and extending about 3 inches on each side of roast; place under roast.
Place on grill about 6 inches above low coals.
Close hood of grill.
Cook for 1 1/4 hours.
Combine orange juice concentrate, honey and steak sauce in a small saucepan.
Heat until bubbly, and brush on roast. Grill an additional 20 minutes basting often with sauce. (About 15 minutes per pound total time grilling)
When internal temperature on a thermometer reads 145 degrees F. remove roast from heat; let rest 10 minutes.
Garnish with orange slices, if desired.
Serves 12
Time
Prep Time: 15 minutes
Cook Time: 2 hours
** Note – I used the same recipe, only cooked it in the oven at 350. I cooked it to 145 degrees interior.
This post is a result of a campaign by the National Pork  Council, Publix Supermarkets and The Motherhood. A girl's got to eat, so as always the spin is authentic and mine.