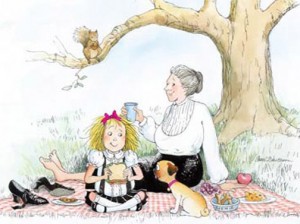 What little girl hasn't wanted to be Eloise? Heck, what adult hasn't wanted to be this little girl who lives at the Plaza and spends her days searching this legendary hotel with one thing in mind…ADVENTURE? Well, today through mid-March you, your children and friends can join sine Eloise themed events. Whether you're a New Yorker or just visiting, give them a call and reserve a spot in these FUN events.
Be My Valentine: February 11, 12:00-1:00pm and 2:00-3:00pm
Guests will decorate two rawther special Valentine's Day keepsake necklaces from Only Make Believe, a non-profit organization that creates and performs interactive theatre for children in hospitals and care facilities. One necklace is for the child to keep and the other will be given to a special Only Make Believe child. Guests will also decorate a Valentine card for a mostly companion and take home a special treat!
Cost: $50 per child
Bake, Decorate & Be Rawther Fabulous: February 21-22, 11:00am-1:00pm
Kids and their parents can skidder on over to The Plaza Food Hall for a morning of baking cookies, followed by lunch at the acclaimed Food Hall. The afternoon will be spent in the Eloise Shop decorating the freshly baked cookies and enjoying story time with The Plaza's unofficial mascot and New York City's beloved Eloise.
Cost: $75 per child – includes activities, lunch and small token of appreciation
Rawther Fancy Tea: February 16-17 and March 15-16 at 4-5pm
The Plaza will host teatime for Eloise fans young and old. Complete with pink lemonade, story time in the Eloise Shop recounting Eloise's famous adventures, as well as a very special Eloise gift!
Cost: $100 for two – one adult and one child
Reservations can be made by calling (212) 546.5450.