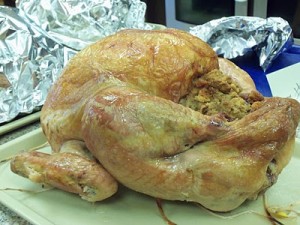 According to my schedule it's time to take the Butterball out of the freezer today and begin defrosting. Even though I've made a schedule, there's always something that I forget (like my trial run last week when I had defrosted a small turkey and left all of the fixins in the freezer). On one hand I can't imagine what a smooth, trouble-free holiday would be like, and on the other I don't really think that I want things to be THAT easy.
I love the planning, the mistakes, the drama, etc. that is Thanksgiving. It's what gives us stories to tell in future years, and it's comforting that we can overlook the overcooked and forgotten foods and laugh and still enjoy each other's company. As long as the turkey turns out well, everything else is negotiable. They'll never notice that you forgot to bake the pumpkin bread when they're devouring everything else.
The turkey is by far the EASIEST part of the meal to make. I was lucky enough to work with Chef Tony Seta last year and learned that sticking to the basics means that it will always come out PERFECT.  Each year I do the exact same thing. I pull out my grandmother's shallow roasting pan and flat rack, and get everything assembled on the counter.
I pre-heat the oven to 325°
Taking paper towels, I drain and dry the turkey well – inside & out, being sure to remove those packets of neck & giblets (I'll need them to make my gravy)
Next I place the turkey lifter that comes with every Butterball Turkey on the rack and put my turkey – breast side up –  on top of it (I always do a lifting trial run at this point as there's nothing worse than trying to get it out after it's cooked & realizing that you positioned it wrong)
I LOOSELY stuff the neck cavity (it expands during cooking….if I have a lot of stuffing I cook it on the side in a pyrex baking dish)
Tuck the legs into the piece of skin at the neck & the wings against the flap
You can either spray with a cooking spray like Pam, or rub your turkey with oil (I like oil as it comes out a bit crisper).
Now I season. It can be as simple as just some salt & pepper or turkey seasoning, or as fun as cajun seasoning (did that this summer).
Insert the thermometer into the thigh
Pop him/her in the oven and wait for that DELICIOUS smell
2/3 of the way through, I'll tent some foil over the top
When the thermometer reaches 180° I do a check with an instant read thermometer to be certain it's done (check the stuffing too – you want it to be 165°)
Take out your Butterball & let it sit for about 15 minutes before carving.
Darn it…now I'm hungry.
Don't forget…if you have ANY questions regarding your Butterball turkey, you can call 1-800-butterball or check out Butterball.com for all sorts of great recipes, help, or anything regarding making your Thanksgiving a fabulous one.
This post has been sponsored by Butterball, as I'm one of their bloggers. Be sure to check out my (and the other bloggers) posts on the Butterball blog and have a FABULOUS Thanksgiving.