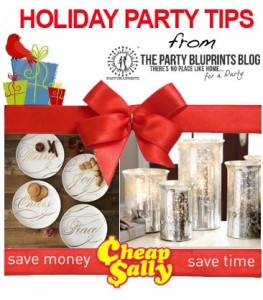 If you are looking for the Holiday Entertaining and Gift Trends, experts Dawn Sandomeno and Elizabeth Mascali are here to help!
Dawn Sandomeno and Elizabeth Mascali are entertaining experts, authors of Plan To Party, and the founders of The Party Bluprints Blog. They have appeared as featured experts on tv, radio, and in national publications, namely, the Today Show, Martha Stewart Radio, Good Housekeeping, Redbook and Kiplinger's Personal Finance Magazines. Dawn and Elizabeth are judges in this year's Holiday Giftee Awards by Gifts.com and they are sharing their inside scoop on the Holiday Entertaining & Gift Trends for 2011 with us today.
Dawn and Elizabeth know how to celebrate the Holidays including the latest trends, but save money and time in a way that you can do it all without sacrificing style.
This Holiday season the Party Bluprints experts teamed up with Cheap Sally to find the best deals on Holiday gifts and created a Holiday Gift Guide full of gift ideas for anyone in your list. Check out the Best Holiday Gift Ideas for 2011 list at Party Bluprints Blog and then click to Cheap Sally to find the gifts from the gift guide on the lowest prices. Many deals sell out quickly so you need to locate and act on the information fast. You will save time and money by visiting CheapSally.com's Black Friday and Cyber Monday pages, they aggregate all the best deals across the internet for you, offering a one-stop resource for saving. Now – nothing is trendier than being a savvy shopper!
The Scoop on 6 Hot Holiday Trends for 2011
1. Alpine Sparkle is a hot trend this season – a 'silver and green' color theme with a mountain meets Manhattan twist! Mix Mercury glass with holiday greens and pinecones to achieve this look.
2. "Traditional" is trendy and "Retro" is hot, be inspired by a 60's or 70's look. Peace signs as accessories on Christmas trees, wreaths, mantles or in any décor are hot for the holidays!
3. Less is more, let simplicity shine and try a minimalistic. The mantle is a great place to start: a few candles and stockings in a monochromatic theme.
4. "Hushed" is a hot alternative to holiday focused decorating that needs to be packed away in early January. The color palette is pure white, grayed blues and muddied raisin, and serenity, tranquility and longevity are the goal of this minimalistic decorating style perfect for the winter season and not just for the holidays. Hushed can also serve as a beautiful backdrop to your holiday decorating, simply layer on your holiday decorations – when you pack away the holiday décor, leave the "Hushed" look and your home won't look so cold and empty.
5. Cocktail and Dessert parties are the NEW way to entertain for those with limited time and money. Dessert flights will be all the rage at holiday parties this year.
6. French food is hot and fun to feature at dessert parties. Try: macaroon towers, French 75 cocktails, mini dessert pastries and crème brulee.