I am participating in sponsored post series, and have been provided bottles of tart cherry product and a FitBit to facilitate my participation in the sleep challenge as well as payment for my posts. All opinions are my own.
SHEEP
For some reason I never quite got the correlation of sleep and counting sheep. For me, concentrating on something like that brings out an OCD side that makes me begin to think? Did I miss one? Oh no! Where did it go? Now I have to start again. Creating a cycle of thinking and worrying and NOT sleeping.
As you know I feel like I've tried it all, and frankly while sleeping pills may WORK to knock me out, feeling awful the next day actually makes the whole problem even worse. I have spent the last years searching for an answer, and while NOTHING has been the perfect solution (because if you're like me, your mind can takeover and fight even the STRONGEST solution). I wanted warm milk to help – but while it was a nice treat, it did nothing. With Melatonin pills I always took too much (there was no way to really monitor) and would have awful nightmares. So, this experiment that I've been doing for the past month with Tart Cherry Juice was just what I needed.
How do you know if it's your body just ready or the "product" working?
I gave Tart Cherries the ULTIMATE test, as I had a lot of travel and the juice can't be brought in my carry-on. So, I was able to test for 2 weeks, take a week off, and then go back on for a week. My experiment was "supposed" to be for 14 days, but as you can see – 14 consecutive days for me is tough as I travel one week on, one week off. I paired drinking 8 oz (roughly, as I just poured and drank, I never measure) twice a day (or a 1 oz shot of the concentrate mixed into a delicious recipe). Once in place of another juice in the morning and the other at some point before bed in the evening. I was not terribly consistent with the time I drank it, but I did NOT miss a day while I was home. During that period I wore a Fitbit Flex (which I have to say was cool, but didn't go with my "nice" clothes) day and night to track my sleep.
Here's what I found
Pre-Using Tart Cherry Juice
My average night's sleep was about 4 hours – it was not in chunks, but I did get 2-3 hours before waking up and going back to sleep for an extra hour or so. Then came the TIME CHANGE and all he!! broke loose, there was LESS sleep to be had because my body couldn't adjust to the new sleep/wake times. That's actually pretty common, even among those who don't normally have insomnia.
While I used the Tart Cherry Juice
I averaged 5.5 – 6.2 hours of sleep per night. That's a significant improvement. I still woke up during the night multiple times, and the Fitbit reads stillness/rest as sleep as well, but the fact that I was able to get MORE sleep was amazing.
When I went away
While I was on a press trip I did not drink any, and my sleep actually went down even BELOW the 4 hours per night, but I was also on a tight schedule in a new bed. I had a bag of tart cherries, but forgot them at home. I'm going to see if they help as well as the juice does on my next trip. I'm guessing the effect of drinking it is not cumulative.
5½ hours of sleep may not seem like much to you
But that extra hour and a half made a WORLD of difference in the way that I function daily, and while my wish is that I could enjoy the juice and get 8 hours of sleep like "normal" people do, I understand that menopause has decided to mess with me in more ways than I can begin to express, and that extra bit of sleep means being more productive and just an all around better feeling. I learned that it's NOT JUST ME, that was able to improve the quality of my sleep. Check out the sleep study done at Choose Cherries. There have been three independent studies, each showing that the severity of insomnia was reduced.
Cheaper and more natural
If I added up what I've spent over the years trying to get myself to sleep and had saved it – I'd probably be sleeping at the Crillon in Paris right now.  I learned that $84 million is spent on over the counter sleeping aids every year (my mind is now calculating what THAT could buy me in Paris). Drinking Montmorency Tart Cherry Juice is not only inexpensive, but it's become my bedtime treat (sure beats warm milk).
Using the concentrate
Here's one of the recipes that I used when I wanted a dessert drink (because you KNOW I love chocolate)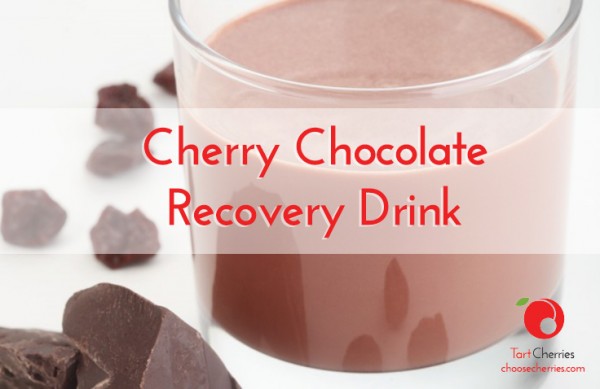 Total Time: 10 minutes
Prep: 5 minutes
Cook: 5 minutes
Yield: 1 drink
Ingredients
2 tablespoons tart cherry juice concentrate
1/2 ounce dark chocolate, melted
4 ounces chocolate milk
2 tablespoons plain yogurt
1 to 2 teaspoons maple syrup (optional)
Directions
Melt chocolate in saucepan over low heat, or in microwave for a few seconds.
Add tart cherry juice concentrate, chocolate milk, yogurt, melted chocolate and maple syrup together and blend or mix well.
Chill and serve.
More information can be found on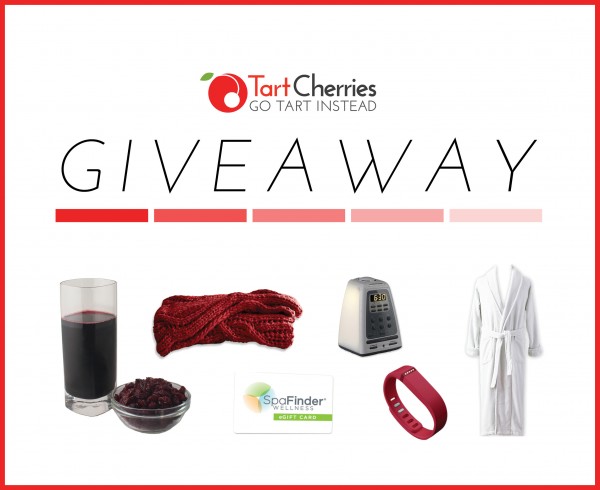 We want YOU to sleep too!
We've partnered with six OTHER blogs (7 in total) to give away a fabulous Tart Cherry Juice prize pack for one winner.
• Fitbit Flex in Red
• $100 Spafinder.com gift card
• Pottery Barn Cozy cable knit throw
• Natural Wake & Sleep System
• Restoration Hardware Bathrobe
• Tart Cherries product: dried, juice, and concentrate
Entering is SIMPLE & there are LOTS of ways to enter….(links above in the "more information" area)
• Commenting on Champagne Living (Mandatory)
• Follow Choose Cherries on Pinterest
• Pin the 14-day Sleep Challenge graphic on Pinterest with #TartCherrySleepChallenge
• Like Choose Cherries on Facebook
• Follow @ChooseCherries on Twitter
• Tweet about the @ChooseCherries giveaway using #TartCherrySleepChallenge