It's once again that time of year when theater lovers heading to New York get the opportunity to see MORE for LESS.  Tickets go on sale for Off-Broadway Week beginning September 5th. Theater goers will be able to score two-for-one tickets to more than 25 participating shows in the fall during Off-Broadway Week.
These specially priced performances will take place from September 26 to October 9. Off-Broadway Week, formerly called On the House, is part of the Get More NYC campaign and returns this fall for the fourth time. Created to boost ticket sales during traditionally slow periods such as the end of summer and provide unprecedented theater savings for New Yorkers and visitors alike, for us it's the time to see as much as we can!
Productions participating in Off-Broadway Week:*
• Avenue Q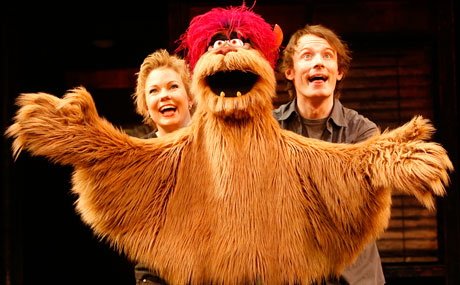 • The Awesome 80s Prom
• The Bald Soprano
• Blue Man Group
• Channeling Kevin Spacey
• Dreams of Flying, Dreams of Falling
• The Fantasticks
• Freud's Last Session
• Fuerza Bruta
• Gazillion Bubble Show
• Love, Loss, and What I Wore
• The Lyons
• Million Dollar Quartet
• Miss Abigail's Guide to Dating, Mating, & Marriage!
• Motherhood Out Loud
• My Sinatra
• Naked Boys Singing!
• NOCTÚ
• NYC Dueling Pianos
• Perfect Crime
• Play It Cool
• The Select (The Sun Also Rises)
• Sons of the Prophet
• STOMP
• The Submission
• Traces
• Voca People
• We Live Here
For more information and to purchase tickets for Off-Broadway Week, visit NYGO
You can also twitter hashtag #offbwayweek from September 5 to October 3 for Off-Broadway theater merchandise giveaways, and the chance to win one of five stage appearances on the Gazillion Bubble Show and more.