Summertime, and the livin' is easy.
SORT OF. The heat may make me feel a lot more CASUAL, but I still want to look my  best, even when  lying on the sand catching a few rays. While I have a drawer full of great bathing suits (some of which I'll be showing you on Monday), I've had a difficult time finding cover-ups that I ADORE.
UNTIL VERA BRADLEY
I realize now, that what I REALLY needed was something that was completely versatile and would coordinate for a pulled together look while at the pool, lake or shore. I'd been looking at cover-ups, which for a five footer like me tend to be OVERWHELMING (too much fabric). What I really needed was a simple SARONG. This way I can tie it into a dress for a great look on the boardwalk, or at my waistline while I'm walking in the waves.
Vera Bradley sent me some GREAT coordinating beach fashion to review and I feel like they RESCUED my summer! I'm no longer tossing Mr. S's t-shirt over my glamorous skirted suit (ok, so I NEVER really  threw Mr. S's t-shirt over my suit…just making a point). I am now COORDINATED and ready for that cute lifeguard (who's got to be 30+ years younger than me) to STARE as I kick at the waves & toss my hair- STOP LAUGHING.
With great summer beach gear like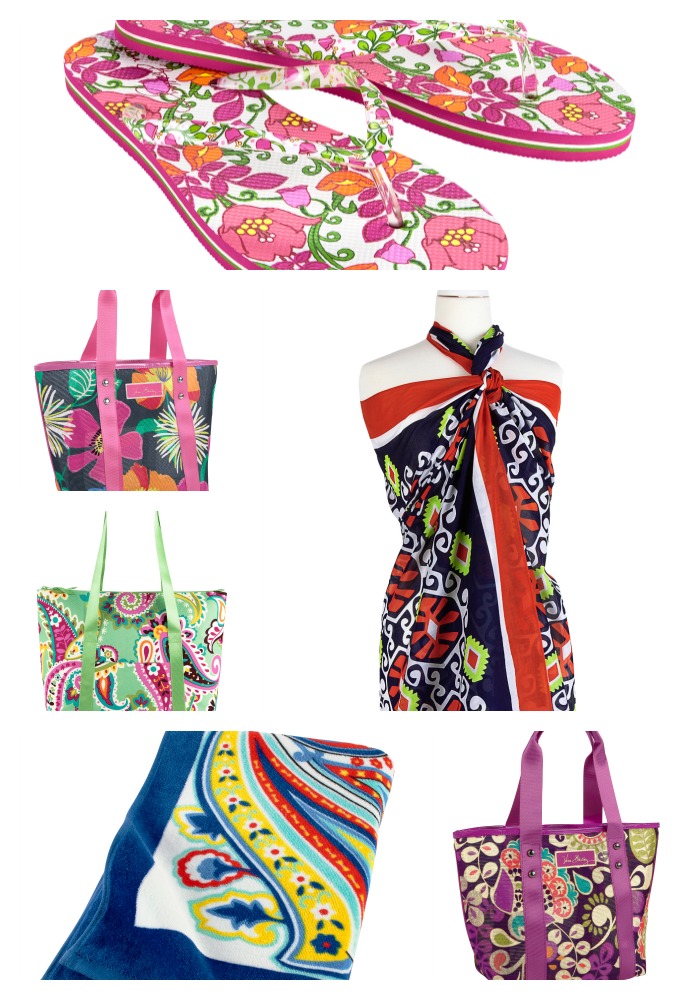 You and I are going to look AMAZING as we stroll along the sand. OK, so maybe the lifeguards stopped looking at me 30 years ago, but I still feel confident and beautiful, and I've DEFINITELY got my "act together" in Vera Bradley.  A WARNING! Expect to be stopped on the beach by women wanting to know "Where did you get that?" When you where Vera Bradley it just happens.
The best part?
They're all ON SALE for 50% off RIGHT NOW at VeraBradley.com or at participating retail stores
YOU CAN WIN
a Sarong, Beach Towel and Mesh Beach Tote from Champagne Living and Vera Bradley in your choice of either
GO WILD or PLUM CRAZY (see my photos above).
WINNER: L.C. – Raleigh, NC

We received product to facilitate this post. All opinions are strictly our own.