Last week I sent my Northeast writer Eileen to New York to meet the folks from Pensacola, FL. I had been invited to the event, but was in Florida recuperating from my last trip. I figured that she would have a little fun, but I didn't know JUST how much fun she'd had until I read her article.
Manhattan, New York Event Wednesday, June 5, 2019
Last week I had the pleasure of taking a trip to Pensacola Florida. Founded in 1559, Pensacola is a waterfront city located in the north end of the state of Florida. Yes, this is the PANHANDLE. It's surrounded by 50 plus miles of coastline which include both the emerald-green Gulf of Mexico waters and crystal-clear bay beaches. The city was one of the earliest European settlements in the U.S., and its Historic Village is a museum complex that contains original 19th-century buildings. Yes, this is a city with a proud military heritage.
We were greeted by flight attendants from United Airlines who were dressed in fashionable blue uniforms, and doing a phenomenal job – they served us with one of many signature drinks of Pensacola.
In Champagne Living tradition the first thing I did was grab a drink
The famous "Bushwacker" is basically an adult milkshake. Made with rum, Crème de Cocoa, Cream of Coconut and vanilla ice cream with a floating cherry, it is in one word – YUMMY, and no,  I couldn't just have one.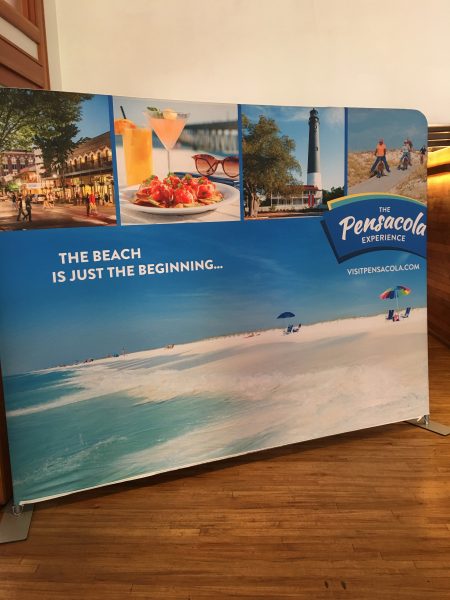 Memories of good times
Bringing back memories for me in the early 90's I had visited this part of Florida when my cousin was in the Navy. So, off I went. The white sand between your toes, miles of blue water are a site you never forget, and I got to experience it again…in the heart of New York City!?!?!?
Moving about in the room we were able to put on VR headsets to take us on a personal journey. My eyes got to again experience the gorgeous white beaches, blue water, and towns that I miss.  OMG, it was so real! While it was all fun, there was something missing. Maybe it's the smells of the beach and the feel of the sand between my toes. I needed to do more than just look through these headsets.
I was about to have a taste of Pensacola
Now, THIS is what I'm talking about. My tastebuds were about to get the treat. I was about to experience the NEW taste of Pensacola from FOUR of the areas top chefs.
Chef Irv Miller
3 varieties of off-bottom farmed oysters on the half shell.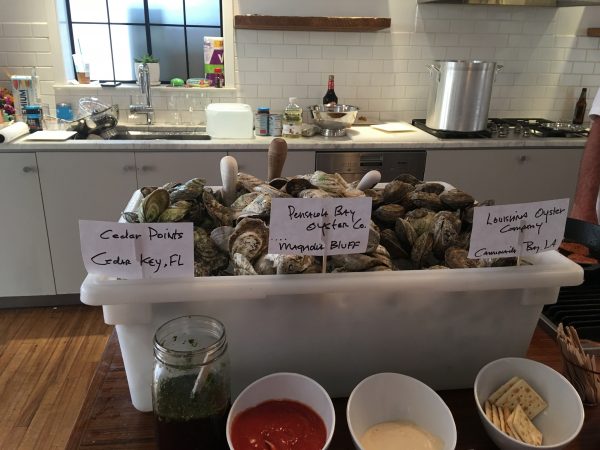 Chef Dan Dunn
"Big Top Brewing Company Pensacola" – Ceviche, Blackened Lionfish with cheese grits
Ceviche, Blackened Lionfish with cheese grits. Did I mention that I had my first taste of Lionfish today thanks to Chef Dan Dunn? It was delicious. Who would have thought a poisonous fish would taste this good?
Chef James Briscione
Tuscan Pimento Cheese and Spinach Agnolotti with Buttermilk Ricotta and Creamed Leeks
Chef Gus Silivos
Seared steak romesco with oxtail potatoes
What a day it was
I hope you enjoyed the trip as I did. If you love beaches pack a bag and immerse yourself in the distinctive sights, sounds, and tastes of Pensacola, Florida.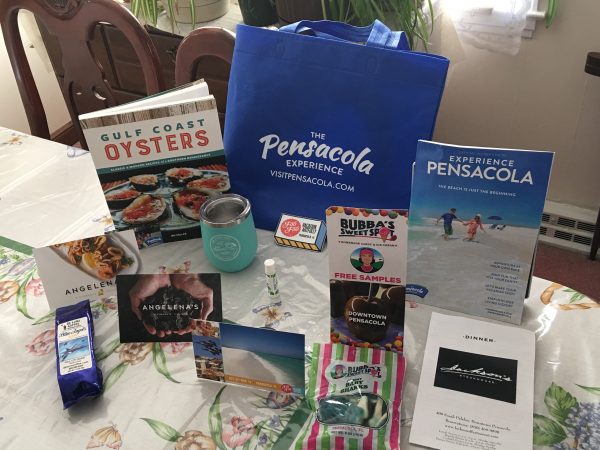 Oh, & each guest received a gift bag full of Pensacola must-have items and a copy of Chef Irv Miller's new cookbook!