As the season changes from Spring to the hot summer, so does my wardrobe. Oh….so, you thought that just because I live in Florida that I'm ALWAYS in shorts and flip-flops? Not so! After spending the last 6-7 years here, I'm finally starting to feel the difference in slight temperatures and I've become one of those crazies who run in to get a sweater as soon as the temps dip into the 70's. Along with a wardrobe transition, I also do a seasonal tossing of my makeup and buy new. No baby blue eyeshadow and white lipstick (a big look when I was in high school) for me!
This season I've had a little help, with StyleUnited thanks to my friends at SheSpeaks .  Created by some of my favorite brands, like  Frederick Fekkai (MY hair brand) and Olay, P&G's StyleUnited gives me up to the minute EXCLUSIVE content along with personal recommendations based on surveys that I take.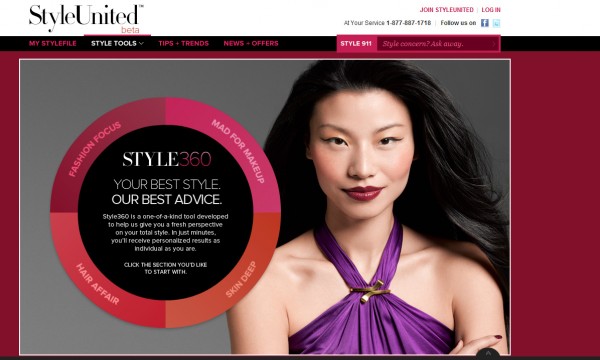 Style 360 – a fully personalized diagnostic quiz that has been designed to understand your individual needs in skin care, hair care, cosmetics and fashion.
Customized Beauty and Fashion Content – hundreds of curated articles, blogs and how-to videos from industry experts created to answer your every question while keeping you up on the latest trend news.
The first thing I did was to take the 360 Fashion Focus quiz and the results fit  me to a "T!"  This one of a kind styling tool computes YOUR look based on your style picks. My look is Classic Tailored with a touch of Casual Cool – yup, that's me ECLECTIC! Between the tips and tricks and great discounted offers, I'm LOVING StyleUnited. It's become one of my "shiny things" (just another distraction from my work…lol). With great how-to videos, and one-on-one live chats with experts, it's like having your own personal fashion & beauty consultant at your beck and call.
Choose from four fun quizzes (take ALL FOUR for your FULL profile):
Fashion Focus
Mad for Makeup
Hair Affair
Skin Deep
Want to join? It's absolutely FREE and I have the "IN" to JOIN.  If you join StyleUnited too, you'll be eligible to win the  StyleUnited: New View, New You Giveaway! Click here for more details. Two lucky winners will be chosen at random to win a $500 gift card for Macy's or Nordstrom – winner's choice! Entries are now open until June 8th!
What are  you waiting for? GO!
I will receive product/compensation to facilitate this review from P&G/SheSpeaks. All opinions are strictly my own.