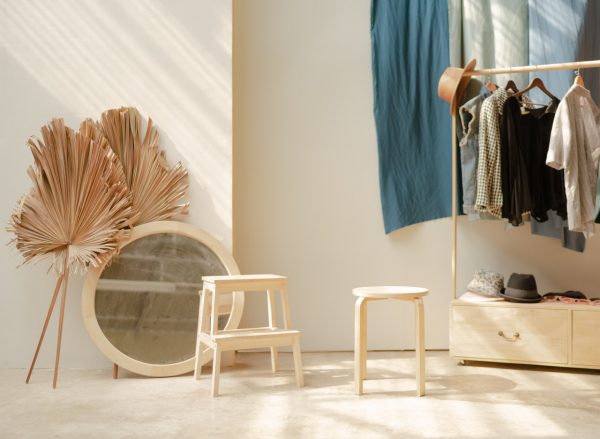 Has the last year and a half left you feeling in not just an overall rut but a style rut as well? As the world opens back up for business and travel, why not reinvent yourself with a new look? After all, while comfortable, the last couple of years spent in athleisure have us itching to kick things up a notch! Let's review how you can revamp your wardrobe and step into the New Year a New You.
Start By Shopping Your Closet 
Before you go out and put a major dent in your credit cards, take stock of what you already own. Do you love it? Does it fit you well? Have you worn it in the last six months? If it passes the test on those three questions, if it doesn't – consider donating it or giving it to a friend! Why keep things around that you don't love distracting you from what you'll actually wear? Sure, this is a minimalist approach to dressing, but it also makes room for new pieces you'll use often. 
Take A Style Quiz 
If you don't already know what your personal style is (hey, it's ever-changing for some of us), or you want to mix things up, it could be worth taking an online survey of what you want your look to be. These can be found with a quick search on the internet. Whether your new ideal look features a tie dye dress and Birkenstocks or all black everything, it will point you in the direction of where you should be shopping and what you should be shopping for. 
Hire A Stylist 
Life is all about creature comforts, and if you're the kind of person who's either too busy to spend hours shopping and curating your new look or you don't love shopping in general, it's worth it to hire a professional stylist to help you. Stylists can do the shopping for you, but more importantly, they will consult with you about what will realistically work with your body type, skin tone, everything. Stylists become trusted friends the same way your hairstylist or injector does – so conduct some zoom interviews and don't settle for someone that doesn't share your vision or you don't vibe with. 
Subscriptions Are Fun 
In addition to hiring a stylist, you can sign up for subscription clothing deliveries if you don't feel like working with one. Much like the style quizzes mentioned earlier, these services ask you questions to gauge where you want to go with your esthetic. From there, they carefully select items that they think you'd look good in and want to wear often. These subscription plans aren't limited to just clothing either. They can incorporate accessories like jewelry, shoes, and even makeup. So, take advantage of all the different companies online offering this service. Wardrobes aren't a one-size-fits-all approach, and neither are these plans, so go with the one whose vibe pairs with yours.
Quality Over Quantity 
Quality pieces in your wardrobe will always win over the quantity you have – forever and ever, amen. Not only do designer clothes feel better on, but they also fit and flatter you more too. Throw in the fact that you're supporting true artistry and not decimating the planet through buying fast fashion, and it's a win for everyone involved. While it's alright to make impulse purchases on less quality clothing sporadically, recognize it's not the best investment. These pieces tend to lose their form, not feel great and end up in the donation pile of your closet quicker than their luxury counterparts. By consciously deciding to purchase quality pieces, you'll curate a wardrobe you're proud of and feel good in – and confidence is always in style. 
Have Fun, Always 
Lastly, don't forget that your style is an outward projection of who you believe you are internally. So, with that in mind, have fun with your look! Life is too short to play by anyone else's rules, especially when it comes to fashion. Step into the new year with your new look and own it! You deserve to feel good and have fun with your wardrobe. Happy shopping, and here's to you!