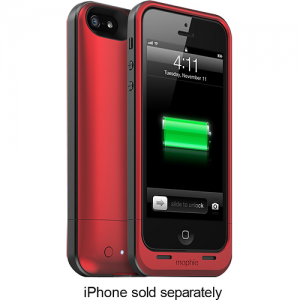 I'm a phone geek, when it's time for me to upgrade I always go with whatever is newest (I picked up the iPhone 5 on release day), but that comes with a price. I'm always scared that I'm going to drop my new phone without any protection. Having a case is an essential item for owning an iPhone 5, especially since much of the phone is actually made of glass.
Summer is the worst time for protecting your phone. There are many more dangers in the summer because you're in a bathing suit without pockets half the time. Being in Florida the summer rain is insane so protection of the elements are a must. The first thing I do when I buy a phone I buy a case and I go to Best Buy when I do. The variety of cases that they have are crazy.
Because I hate carrying around a TON of equipment, I'm personally a big fan of Mophie cases. Not only do they protect the phones, but  they are back up batteries (because the last time I checked, there were no electrical outlets to recharge my phone at the beach…LOL). With great styling, Mophie cases are perfect for summer protection of your iPhone and they look GREAT.
Mophie, wants to be sure your iPhone stays safe this summer with an exclusive offer of 10% off a number of their cases for a limited time. What a great way to surprise dad this Father's Day, or to protect your new graduates phone while he's out there looking for his first job.
The reviewer has received a gift card from BestBuy.com to facilitate this post.
A full selection of these Mophie cases is available at BestBuy.com and don't forget to grab your 10% off coupon. HURRY, because this offer is only good through June 28, 2013.