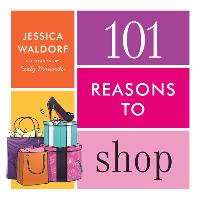 If you do…this book is for YOU, if you're already a self-proclaimed patient of retail therapy, this is still a fun little book offering reasons to leave the house and hit the stores. This small coffee table book would make a fun gift for a girlfriend that needs a smile, or for yourself if you just need that push to get out the door and go to the mall.
101 Reasons to Shop is written by writer and fashionista Jessica Waldorf of http://www.101reasonstoshop.com and illustrated with fun, colorful pictures by Carly Monardo. This is by no means a book you'll sit down and READ, it's just a fun book to flip through…almost like tossing darts…pick a page and you've got a reason to go SHOPPING.

101 Reasons to Shop is available for purchase at Amazon.com and bookstores nationwide.

I received a copy of this book to facilitate my review. All opinions are strictly my own.