My mother used to tell me that everything old becomes new again at some point. I suppose it was those bell bottom pants that she was talking about that I wore back in the early 70's (my dad had been in the navy and could NEVER understand why I'd actually WANT to wear them). Looking back along the decades I can see how right she was. Sometimes the throw-back to earlier times was good, other times they should have stayed where they belong….in the past.
Tonight I will be dining at a NEW restaurant (that will open later in the week) – Max's Harvest, located in Delray Beach's Pineapple Grove. It is the NEWEST innovation by Rock-Star-Restaurateur Dennis Max (if you've never been to one of Dennis' restaurants you MUST try them). Just when you thought that he couldn't outdo himself (Max's Grille), Dennis Max brings the farm to table concept full circle.
The new 120 seat. 3500 sq. foot restaurant will be open for dinner's only and will feature locally grown, seasonal ingredients produced at  farms throughout South and Central Florida, including Palm Beach County's Swank Specialty Produce, Farmer Jay's Organics, and Heritage Hen Farms. Using only products that are:
from animals that were raised humanely and free of steroids, growth hormones & antibiotics
seafood caught or raised without damaging the ecosystem
treat these products responsibly and prepare them simply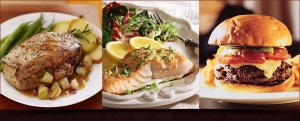 The menu will change seasonally but includes such favorites as Wahoo Crudo Yellow Chili Emulsion, Prime Grass Fed Beef, Hand Cut Papardelle with Spring Lamb Ragout, Day Boat Swordfish, fresh Cocoa Beach Cobia,  and Broward County Burrata.
You can follow along as I sample some of the many dishes that Max's Harvest will be serving by following the
Hashtag: #HarvestOpening
Watch Champagne Living for my review and photos of Max's Harvest "farm to fork" restaurant soon