Part 1:

I usually go on vacation with a girlfriend or family.  Vacations are rarely taken with my guy friends, and if it is, it's usually just a night or two going skiing.  I've never done the Vegas vacation with the boys or anything like that, until now.  About a month ago I got to take a trip to Myrtle Beach with the boys thanks to the people from Myrtle Beach, SC, and let me tell you that it was this was the most fun I've had in a very long time. Ariel & Peter from AskMen, Bob on our mancation from Mantripping, and I met up  on the Monday after the Masters and the party began quite quickly.
Monday after Masters
You've seen it on TV (at least I had), MAM (Monday after the Masters) is a celebrity Pro-Am Tournament organized by Darius Rucker of Hootie and the Blowfish each year following…yes, the Monday following the Masters Tournament. Held on the Dye Course at the Barefoot Resort in North Myrtle Beach, there were tons of great golfers, actors, sports legends, and musicians playing in the tournament. Why did the party start so quickly?  Because we quickly found out that our VIP passes meant…open bar.  We couldn't believe it either. Wait, if you have VIP tickets to this event you can get free drinks (top shelf and all) while getting to watch pro golfers?  Yeah, my memory is kinda' foggy because just about everywhere that we stopped on the course there were free beers for us and people to goad us into taking more beer (it was pretty amazing). The great part of this event is that it happens ANNUALLY, and the tournament and after-event have become one of the biggest fundraisers in South Carolina history.  With tickets starting at just $15 for viewing, it's a great way to see your favorite duffers and support hundreds of charities.
Our Digs for the night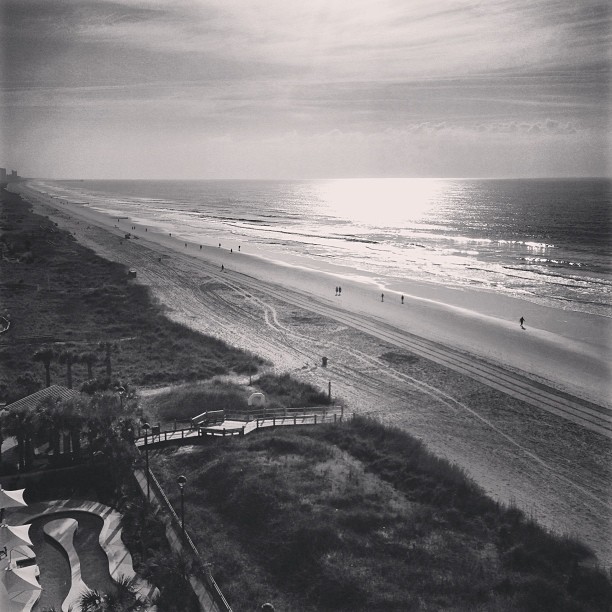 Next, we were off to the hotel to sober up for dinner for a bit (because it was about to get a little Leaving Las Vegas).  We were staying at Mar Vista Grande, located in Myrtle Beach. The big question was who was going to get the master bedroom, as we stayed in a 4 bedroom suite.  How do men settle this on a mancatation?  Draw straws ~ and I won!!!  So, I got to spend the night in the bedroom with a balcony overlooking the ocean.  To say that the room was amazing would be an understatement.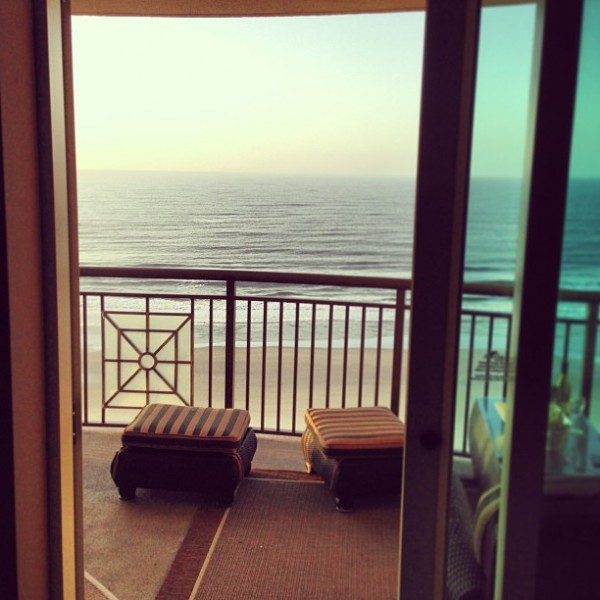 Chowing Down
By this time we were hungry, and what better place to eat when in Myrtle Beach than 21 Main (located at  21 Main St. in North Beach) . From the moment we started with the bottles of wine and appetizers we knew that this restaurant was special.  Offering a marriage of steak house and sushi bar, the two different styles were blended well with the talent of  Hell's Kitchen runner up Chef Lou Petrozzza.  We basically ordered the entire menu and shared  with each other.  My suggestion, if you're going with a group of guys. Just order MORE than you want and share. Check out the Scallops 21 in the right hand side of the picture below. You don't want to have to say "I wish that I had tried that."  Offering great wine, paired with perfectly cooked food ~ 21 Main is THE place for a great night.

But it didn't end there.
We capped our first day in Myrtle Beach by going to the Monday after Masters Concert at the House of Blues.  I would have stopped at the ATM to get some cash for drinks again, but I didn't need any because yet again we were at an open bar event.  Just another perk of buying tickets to the Monday After the Masters package. This day was getting pretty kickass —- but the icing on the cake was the music.  As all of you know, I'm not much of a country fan, but this show still rocked.  Hootie And The Blowfish, Joey Fatone, and Colt Ford among others played in this giant jam session.  Honestly it rocked!!!!  The highlight was about 20 musicians on stage jamming out to Stevie Wonder's "Superstition."
At around 1:00 AM we stumbled back to the Mar Vista Grande, cracked another bottle of wine (that made what felt like drink number 500 of the day) and sat around throwing the bull about how awesome our day was.  I was so excited for what the rest of the trip had in store but I also feared the upcoming hangover…..
To Be Continued…..