The Lauderdales on the weekend are a virtual CIRCUS of events.  I say LauderdaleS because this past weekend I divided the days between Lauderdale by the Sea with my friend Lisa who was visiting on behalf of Traveling Moms (Saturday) to learn more about the Lauderdale by the Sea Family Fun Week (coming  from June 23 – 30) and a day with my brother on Sunday. I have a small pied-à-terre on the beach that my brother had converted for me in his oceanfront condo. At night I see the lights of the city (while the building  is oceanfront, my room faces downtown Ft. Lauderdale & the intracoastal just a block away).  We're extremely close (since both of our parents passed away & it's just the two of us) and do a LOT together – including socializing, travel and we even own properties together.
In the quest for something different to do, we headed to Starbucks in Wilton Manor as we often do. After an Americano and a yummy yogurt we headed back to the car and found…not one, not two, but THREE lucky pennies (one for each of us, including a friend who had joined us for coffee).
OUR DAY WAS TO BEGIN.
We drove the streets rather aimlessly, looking at beautiful homes for sale in Victoria Park and Colee Hammock neighborhoods (trying to decide whether my next home would be in Fort Lauderdale) and stopped at garage and estate sales that looked intriguing. I had two finds at $1 a piece – a beautiful Eileen Fisher brown linen top and a book about living rich ;-).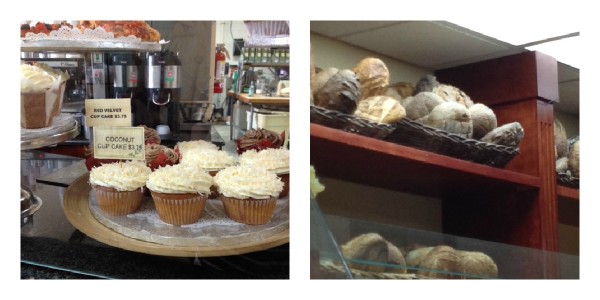 Of course Las Olas Boulevard was so close that we headed for lunch at the award winning Gran Forno bakery. Splitting a tuna sandwich didn't sound exciting, until I realized it was the BEST tuna sandwich I've EVER EATEN (filled with wonderful spices, onion, olives, olive oil and dark Italian tuna). Somehow they've been able to import an ENTIRE bakery from  Brescia, Italy to downtown Fort Lauderdale. I couldn't leave without eyeing the pastry and buying bread to go with dinner.
Once outside we meandered in and out of stores, like EVOO Market,  a store devoted ENTIRELY to selling varieties of their own bottled olive oil.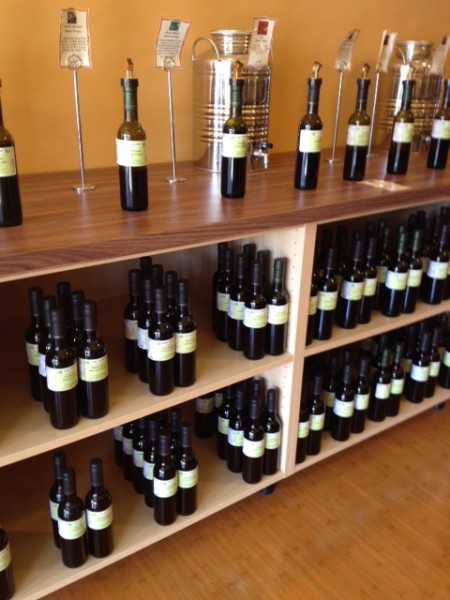 With 8  minutes left on the parking meter, we noticed a small farmer's market out of the corner of our eyes. Quickly walking over we found four or five booths with fresh fruits & veggies, including LOTS of organics, fresh spices and pastas, homemade honey and more. My brother picked up some beautiful veggies to accompany the chicken he was making for dinner and we made it back with barely a second to spare on the meter. While we had been visiting a garage sale, a woman had suggested visiting some of the vintage and antique shops in the area, so we followed her suggestion and hit Jezebel, which offers a collection of both new and vintage gifts, clothing and accessories,  and then went over to the mid-century modern furniture store Domicile in the same plaza.
It's HOT in the city in June, and after walking around outside we needed to duck into some place that was air conditioned. It was no shock when my brother said, the mall's a couple of blocks away, let's drive over and go to the Godiva store. I think he does this EVERY WEEKEND….head into to Godiva store at the Galleria and buy just 2 pieces of chocolate – no more, no less. We're both members of Godiva's Rewards Club, so hopping in for a piece of free chocolate each month is a regular thing.  I opted to try the new yogurt shop, as I needed something COLD after being outside in 95° heat. Red Mango was pretty good (it wasn't Pinkberry – but it served the purpose).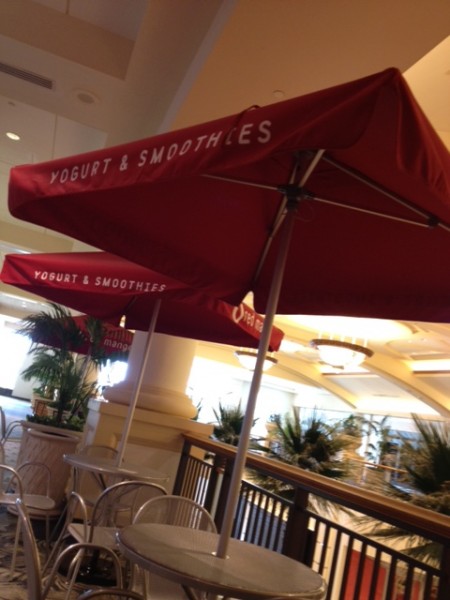 Exhausted from all of this eating and exploring we headed back to the beach. I needed to get back home. My brother grabbed a book and went to read on the beach, while I hit the road after a FULL day of doing NOTHING in Fort Lauderdale.
People often ask me why I prefer the city over the suburbs or the country….I think you just read why.