Each month Cross Country Cafe feeds my coffee addiction by sending me coffee to try. All opinions are strictly my own…they are simply my pusher. LOL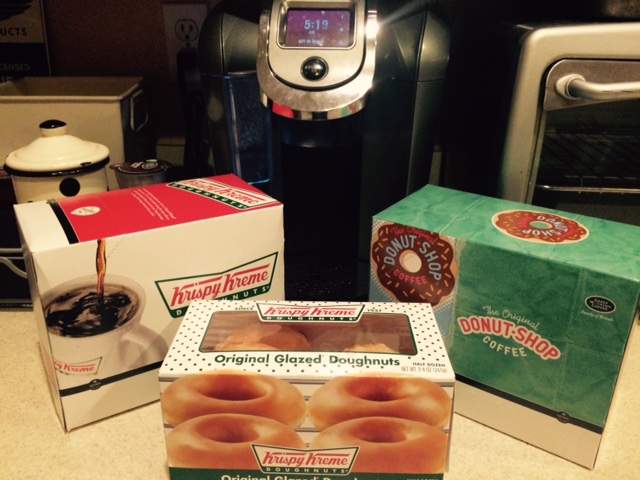 GAME ON!!
Most of you know that I used to work for a major coffee shop company. I can't live without coffee, which is why I write about various K-Cups that I LOVE every month. This month I decided to put two coffee shop style coffees head to head in a COFFEE SHOP THROWDOWN. I specifically left out the company that I used to work for, since I knew that I'd be biased.
ROUND ONE
The Original Donut-Shop Coffee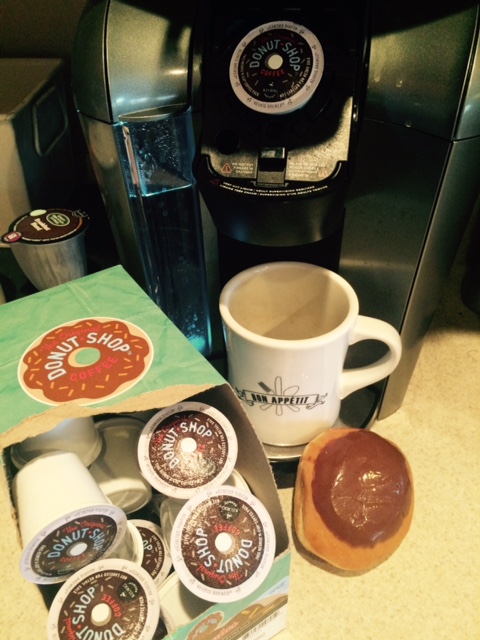 Since I would rather savor one and then the other, I'm making the rounds 2 separate cups of coffee. To cleanse my palate in between….there are DONUTS. Because what goes BETTER with a donut shop style coffee than the food that inspired the coffee to begin with? My first was our "usual" The Original Donut-Shop Coffee. It's what you'll always find at the mansion, and while it is not affiliated with any particular donut shop, it is a coffee that both Mr. S and I can both enjoy. We have VERY different taste when it comes to coffee…I'm more of a Sumatra and he's a Colombian kind of coffee lover. We make it work.
Tasting notes:
Balanced flavor with just a bite of acidity
Slightly bold
Tends to be a bit darker than the average donut-shop coffee – label says "MEDIUM roast"
Chocolate undertone with an almost nutty finish
[bctt tweet="It's an all out fight to the finish between these two donut shop coffees "]
ROUND TWO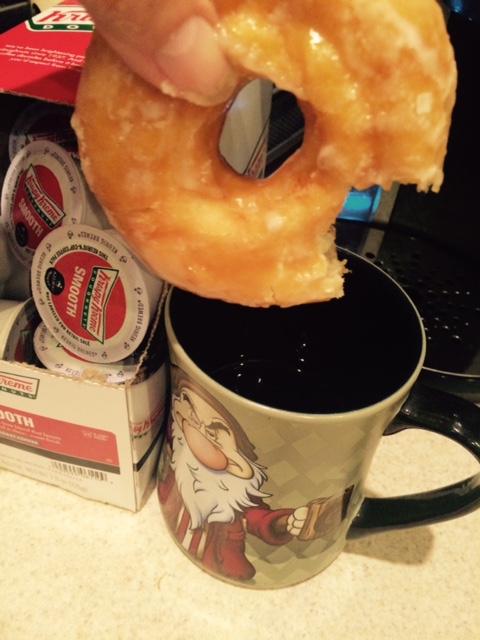 Frankly, it's been YEARS (as in over 10 years) since I've visited a Krispy Kreme location, and had forgotten what the coffee tasted like. The fact that they put SMOOTH right on each K-Cup appealed to me, because as I said earlier I LOVE my Indonesian coffees and they tend to be extremely smooth. The description didn't let me down.
Tasting Notes
SMOOTH – just like the label says.
Balanced – you can taste that this is a Latin American coffee (no hint of anything from Kenya here), but it is not over-roasted
Bright – this coffee dances on your tongue rather than linger with a bit of a citrus feel
Sweet – if you only add a little sweetener to your coffee, you might like this one black.
As soon as I tasted my first sip, I remembered loving this coffee and wondered why I had stopped visiting Krispy Kreme. Maybe it was the fact that those donuts are addictive.
WINNER
I'm not sure there was a real winner here, as I love the smoothness of the Krispy Kreme, yet I wouldn't drink it late in the day. It's a definite MORNING coffee, while the Original Donut Shop Coffee I could enjoy after dinner as well. I think that the extra boldness of it makes it a perfect balance for with dessert. Mr. S definitely like the Krispy Kreme more, but I actually caught him pairing them TOGETHER (one K-Cup of each) in his over-sized mug. It's the chef in him.
Why not do your OWN challenge?
You can pick up boxes of EACH of these at Cross-Country Cafe. Let me know which one YOU loved more.