Who am I kiddi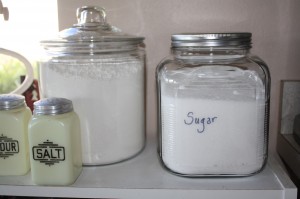 ng? No my kitchen does NOT look like it belongs within the covers of Better Homes and Gardens, but that doesn't mean that I haven't made it functional with all of the equipment that I need to enjoy working in there from time to time.
I love to bake. I'm much better at baking than I am at creative cooking. The main reason is, that baking is very scientific and although there's plenty of room for creativity, it really comes down to following directions. When I bake, I know that if I'm cooking a cake in an 8″ pan at 350, it should take about 50 minutes in my oven. If it doesn't, I put it in for 5 minutes longer. I can tell if it's done when a toothpick comes out clean or it springs back.  I know that I must MEASURE my main ingredients.
So, as you can see…my kitchen is really set up to do the thing that I love the most.
When I moved from Rhode Island to Florida, I gave up a lot of my kitchen in the move. We were retiring and there would be only 2 of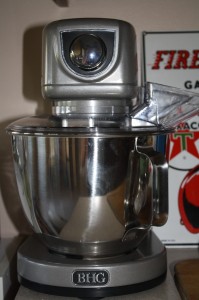 us, so I didn't feel that I needed quite as much. One of the things that I missed the most was having a stand mixer.  Last week Better Homes and Gardens came to my rescue and supplied me with this GORGEOUS, gleaming, silver mixer that I seem to have used every day (and I wonder why the weight is creeping back on).
They actually outfitted my kitchen with the appliances that I'd need to create my favorite hobby. BAKING? Well, that too. I was thinking of sitting and enjoying coffee and a snack. That's right, along with that beautiful mixer, they also sent me a full set of Better Homes and Gardens baking pans, so that I can create snacks here at the mansion, just like I did when I lived in New England.
Amazingly, thes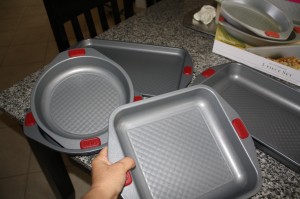 e pans can be purchased at Walmart. Why amazing? Well, after giving them a COUPLE of test spins, I found the weight of the pans to be perfect, meaning that my cakes cooked evenly, PLUS cleaning them up is a breeze. If I hadn't just had a cake in mine, a rinse would have done the trick. At under $35 for the ENTIRE set of 5 baking pans, it's a STEAL.
Finally, they graced me with ONE more piece of enjoyment.  A red hot coffee maker. Oh, this is not just ANY coffeemaker. Look closely and you'll see that the coffee flows into a THERMAL pot, keeping the coffee warm for a good long time. Did I mention the BUILT-IN COFFEE GRINDER? Yup! I can toss in my Kona Beans and my Better Homes and Gardens Grind & Brew Coffee Maker will give me the FRESHEST cup of coffee.
The only thing that you have got to remember though is that if this appliance ever breaks, you have two options. The first is that you get rid of it and purchase a new one, but this can be expensive. The second option is that you look into appliance repair services and allow someone to sort it out for you. It's likely cheaper than buying a new appliance depending on the damage, and it's usually faster.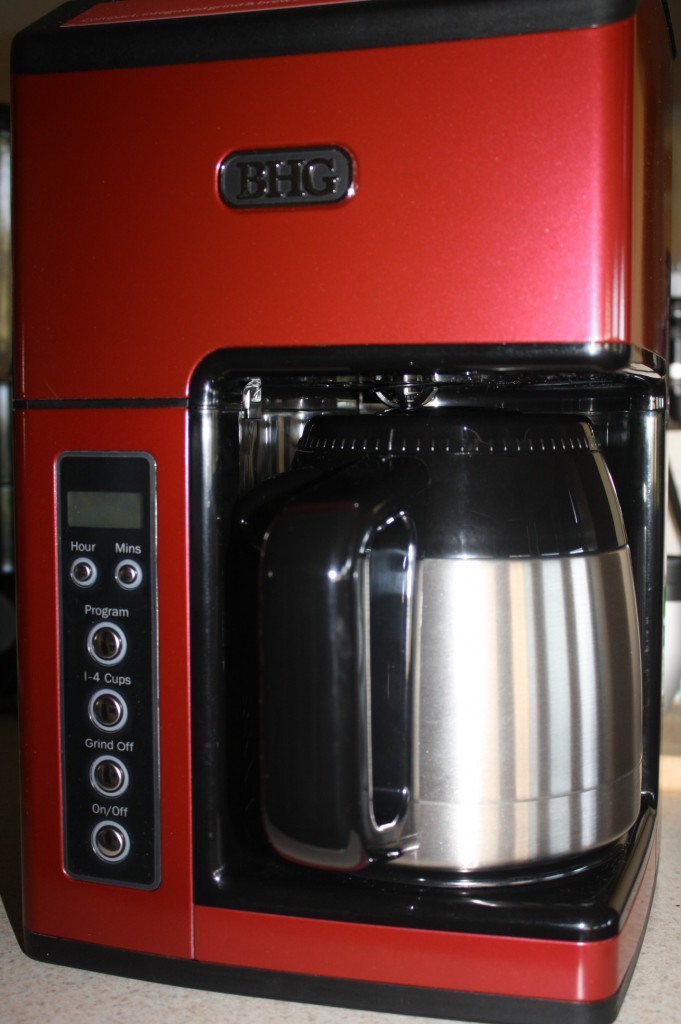 The catch for all of this? Better Homes and Gardens asked me to bake for a competition on their Facebook page. In my next post, I'll show you JUST what I  made along with the recipe so that you can enjoy my BLUEBERRY COFFEE CAKE along with me. I'll include all of the information for voting, because if I win, then you win along with me as the winner gets to GIVE AWAY THREE SETS OF Better Homes and Gardens baking pans,  just like the ones that I used to create my snack.
I received product to facilitate this review. All opinions are strictly my own.