This post has been sponsored by Omron. All opinions are strictly my own.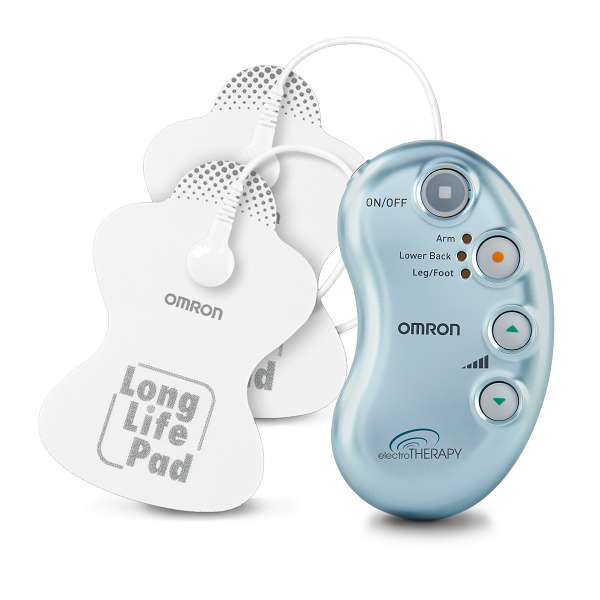 It doesn't matter if I'm standing, walking, or sitting…if I do it TOO LONG my back will hurt and I need pain relief DAILY. It's something that I've lived with since I hurt my knee (yes, I said my KNEE) almost 20 years ago. It left me a little off kilter, since I have a flexion contracture in one of my knees. As a result, my back is not in alignment as I stand or sit, and I get terrible backaches. One of the remedies that my physical therapist has used on me is TENS...no, not the number after nine…
Transcutaneous Electrical Nerve Stimulation
At $75 per visit, I had been going to my PT for YEARS for pain relief just to have her place the sticky pads in key places on the lumbar region of my spine. Within minutes my pain was reduced and I was able to do my back strengthening exercises without having to take long breaks. I'd go twice a week, and know my strengthening exercises well (it helps that I have a degree in dance therapy).
I most certainly could do the exercises at home…
…but I didn't have a TENS unit to stimulate the nearby nerves and relieve my acute muscle and joint pain. I was already spending a small fortune. I didn't want to waste more money by buying a cheap unit that didn't get the job done.
Similar (but smaller) than the TENS unit that my physical therapist (and hubby's chiropractor) uses in their practice the Omron TENS Unit temporarily reduces those pains in my back, Mr. S' shoulders, as well as arms, legs & thighs, feet, knees and elbows and ankles. It offers an at-home solution to pain control with 3 pre-set programs, each with 5 intensity levels depending upon your need.
Unlike the unit at my PT's office
The Omron Pain Relief TENS Unit is completely portable and fits into my pocketbook or pocket (it's small enough to hold in your hand, at LESS than the cost of ONE physical therapy session. It's easy to use, and you should notice a difference in your pain level within 15-20 minutes. The self-adhesive pads are reusable (up to 150 times), have a plastic holder to store them, and replacement pads are inexpensive. The unit is safe & effective, plus it's FDA cleared and prescription free for home use.
Everything you need is included, including:
Omron TENS unit

electrode cords

2 Long Life pads

pad holder

2 AAA batteries

instruction manual

quick start/pad placement guide


Learn more about how the Omron Pain Relief TENS Unit works at omronhealthcare.com, where you can purchase it as well as on Amazon.com, Drugstore.com, Walmart.com, Walgreens.com, CVS.com, , Walgreens, and CVS stores.