Disclosure: I was a guest at this event. All opinions are strictly my own.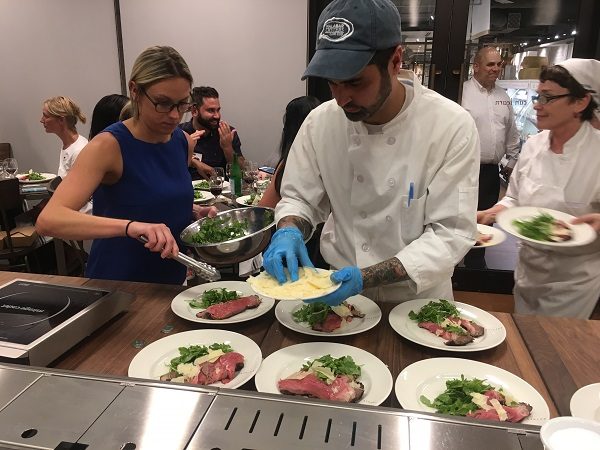 I attended the "From Wedge to Rind" event at Eataly with the Consorzio. Along with cheese shop owners and cheese mongers we learned about the history of Parmigiano Reggiano as well as amazing recipes. I am a cheese lover and was in awe of how versatile cheese could be in recipes. Two of my favorites were the Olive Oil Cake with Parmigiano Gelato….that's right! Ice Cream!
My other favorite was this mouth-watering sliced steak with shavings of Parmigiano Reggiano! This will be a hit with the family or when you have friends over for dinner. A great wine to pair with this meal is CAPANNA, MOSCADELLO DI MONTALCINO, TOSCANA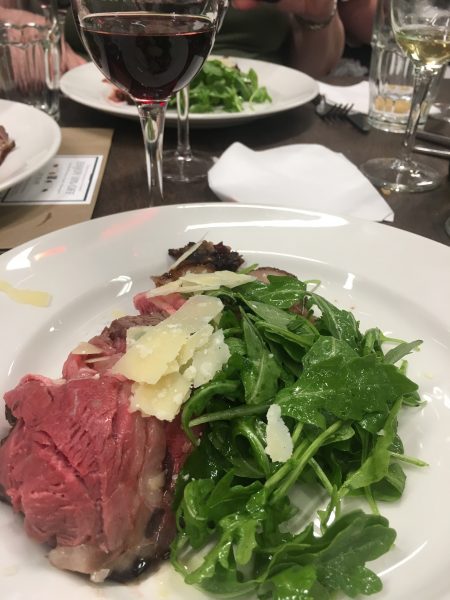 TAGLIATA DI MANZO CON SCAGLIE DI PARMIGIANO REGGIANO™
Sliced Steak with shavings of Parmigiano Reggiano™
INGREDIENTS
2 pounds hanger steak or strip loin, cleaned & cut into 5-ounce portions
Extra virgin olive oil, to taste
4 ounces parmigiano Reggiano™
Salt & freshly ground pepper, to taste
YIELDS: SIX TO EIGHT SERVINGS
Directions:
Heat the oven to 400°F.
Remove the strip loin from the refrigerator and allow it to temper for at least 10 minutes.
Season it heavily with salt and pepper and set it aside.
Heat a pan over high heat and add enough extra virgin olive oil to almost cover the bottom of the pan.
When the pan is hot, add the strip loin, being careful not to crowd the meat.
Cook until it has developed a deep color.
Sear it on all sides, then place the pan in the oven to finish cooking the meat.
Remove it after a few minutes until the strip loin has reached an internal temperature of 125° 130°F.
Allow it to rest for several minutes.
Cut in strips and serve it over a bed of arugula, with shavings of Parmigiano Reggiano™.
Side note– squeeze fresh lemon over the arugula and toss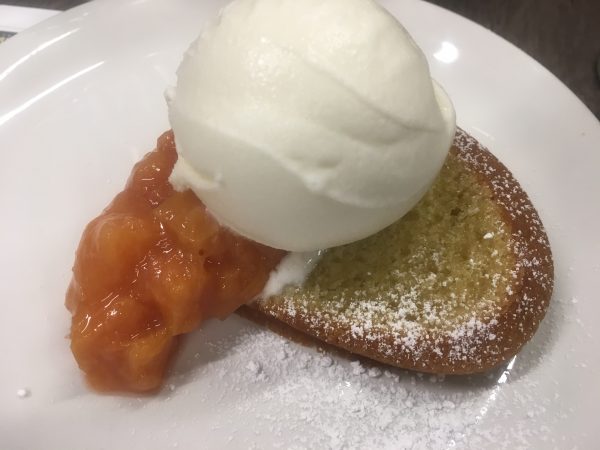 All Parmesean cheeses come from Parma, Italy or at least they should in order to be called parmesean. Parmigiano means simply "of or from Parma" and, likewise, Reggiano means "of or from Reggio."
Depending on where they lived, cheese makers in the area between Parma and Reggio called their cheese Parmigiano or Reggiano. Eventually, the two terms were combined to form the name familiar to us now: Parmigiano Reggiano® cheese.
Parmigiano Reggiano is made with partially skimmed raw milk from cows fed only on the local grasses and hay of the place of origin. The milk is gently heated and, following the addition of rennet, coagulates to form curds, which are molded into large wheels and brined.
Other hard grating cheeses contain additives or are pressed, but these characteristics do not apply to Parmigiano Reggiano. Because the quality of the milk is high, Parmigiano Reggiano is suitable for lengthy aging, typically 18 to 36 months—longer than for most other types of hard grating cheese.