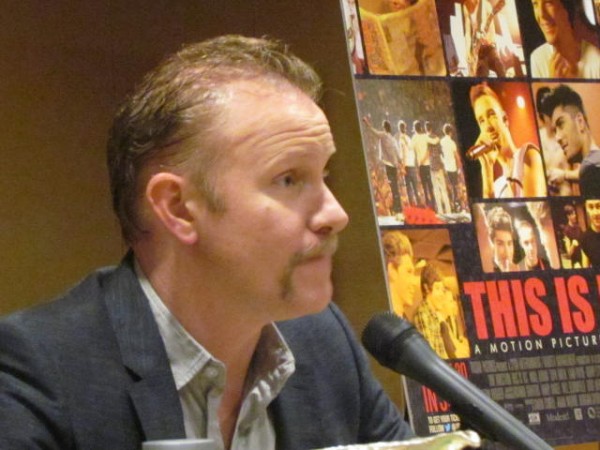 Today One Direction: This is Us opened in theaters around the country. Last week I had the good fortune to sit down with Morgan Spurlock, Director of the HOT new documentary, followed by a conversation with the boys in the band.  We only had a few minutes with each, but I got a good sense of why Mr. Spurlock took on this project.
How did you get involved in this project?
Two years ago I was called by Paramount to meet about doing the Justin Bieber movie, but I was filming The Greatest Movie Ever Sold. Then I was called to do the Katy Perry movie, but was working on Comic Con and   When I was called by the studio and jumped at the chance.
After doing films like Super Size Me, what attracted you to doing a documentary about this band?
There's this massive fan base that's already in place, and I have a great story. I have these three guys who went to a talent show three years ago and never came home. That's remarkable.
Why was it important to include the families in this film?
It was important right from the beginning to put the families in there. Part of the reason these guys are so popular and so humble is because of where they came from. They come from good stock as  my mom would say. It's important to see where they came from, the humblest of humble beginnings as well as the sacrifices that they've had to make to be who they are.
What is it that you wanted to show?
I wanted to show just how much goes in to putting a concert and a tour together, that people don't realize, and this movie gives you a good idea just how much work it really is. With great success comes an infinite amount of sacrifice. A lot of these sacrifices come in terms of relationships. Not being able to see friends and families, or spend holidays at home.
How does this differ from other Pop and Rockumentaries?
What the film does, is that it's this incredibly intimate portrait, and I got closer to them then I've ever seen in any concert films before.
XXXXXXXXXXXXXXXX
Whether you're a One Direction fan or not, One Direction: This is Us is a fascinating look at the reality of being a band on the road.
The film opens today at a theater near you.
For more details visit: http://www.1dthisisus-movie.com/site/
Thank you to Screen Gems for allowing me access for this interview, and for providing my trip.