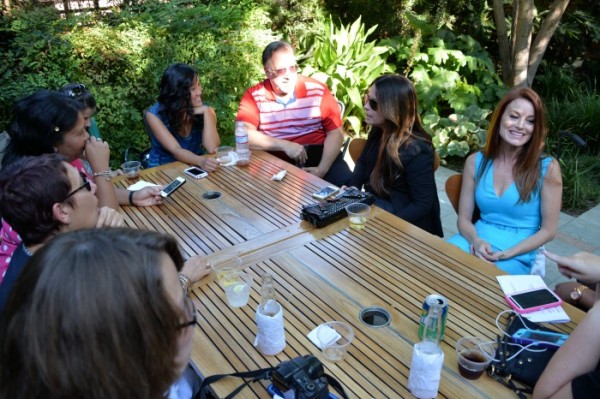 There's nothing like sitting down with a few television celebrities, drinks in hand, some FAB hors d'oeuvres and great conversation.
No…this wasn't an interview
No…we didn't chat about what it's like to be on TV
No…there was little talk of "Hollywood"
Instead, I had the opportunity to just chill over a glass of chardonnay with Marlee Matlin and Constance Marie of "Switched at Birth", as well as Holly Marie Combs and Laura Leighton of ABC Family of "Pretty Little Liars."  The conversation ranged from putting kids in public school to how to deal with teenagers, and the separation anxiety of the college years.  There were the apologies for not having time to put on make-up, to what was going to be on the dinner table that night.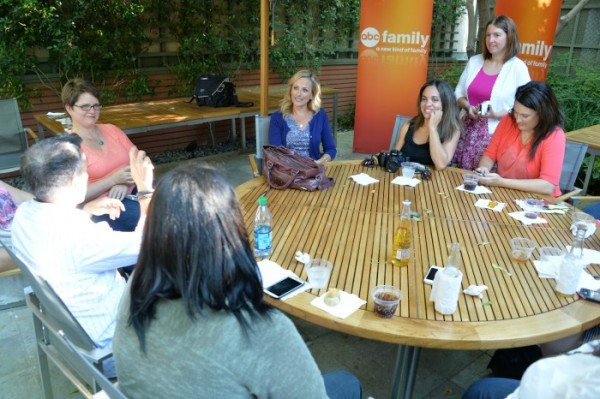 If that sounds like a familiar friends conversation…you're absolutely correct. It was a few gal (and guy) pals hanging out and talking about life. On a personal level, sitting down and having a conversation creates a relationship that an interview can never do. I came away feeling that I really know these women, and that they are no different than you or I. When I hear someone like Marlee Matlin, say that she wishes she could write, or Holly Combs ask what it's like to be a blogger, it drives home that what EACH AND EVERY ONE OF US DO IS IMPORTANT. It also reminds me that we each have gifts given to us, and it is our mission to use it the best way that we see fit for our lives, just as they have with their acting careers.
If you haven't tuned in to ABC Family lately, you're missing some wonderful programming.
THIS WEEK ON:
Switched at Birth
Regina, Kathryn and John are shocked when Bay tells them about the extent of Daphne's self-destructive behavior, prompting the parents to set some ground rules. Bay reconsiders attending the prom when the school board implements a new rule regarding dance dress code. Daphne continues her downward spiral when a bad decision puts her job at the clinic in jeopardy.

Meanwhile, Tank helps Toby grow his deejay business, but their bromance is tested when Toby accepts a gig at Omega Psi
 Tune in on Mondays at 8:00pm ET/PT on ABC Family.
Pretty Little Liars
The pressure is on for Alison to identify the man police have in custody for her kidnapping, but the Liars know if she does it would be sending an innocent man to prison and possibly walking right into an "A" trap. With Emily trying to convince Ali not to play into "A's" hand, Spencer comes up with a plan B in case Ali decides to make the wrong decision.

Meanwhile, fed up with all of the Ali drama Hanna tries to lead a "normal" teenage life.
 Tune in on Tuesdays at 8:00pm ET/PT on ABC Family.