The items in this post were sent to us by the brand. We do not charge them for consideration or placement as we prefer to retain the right to not place an item that we don't truly love.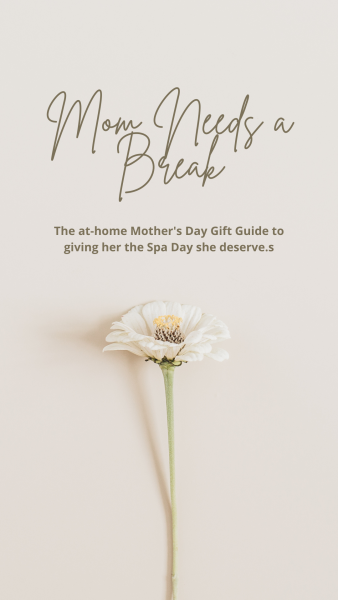 Sure, here are some ideas on how to create an at-home spa day for your mom this Mother's Day:
Set the mood. Dim the lights, light some candles, and put on some relaxing music. You can also put up some fresh flowers or greenery to add a touch of luxury.
Wrap her luxury towels. Find some fluffy towels that feel like she's an a luxury spa.
Give her a foot soak. Fill a basin with warm water and add some essential oils or bath salts. Let her soak her feet for 15-20 minutes while you give her a foot massage.
Do her nails. Give her a manicure and pedicure. You can use her favorite nail polish colors or try something new.
Give her a facial. You can buy a facial kit at the drugstore or make your own using natural ingredients.
Give her a massage. Use a massage oil or lotion to help her relax and de-stress.
Get her a spa covering. She loves the soft robes and terry dresses as well as headbands that her favorite spa offers.
Spend time with her. Talk to her, listen to her, and just enjoy her company.
I don't know many moms who would EVER say no to a day of pampering and while going to a spa is great, creating a spa experience at home can be even better. Why? Because she'll have many of these products to use over and over again so that she creates a WEEKLY spa ritual of her own.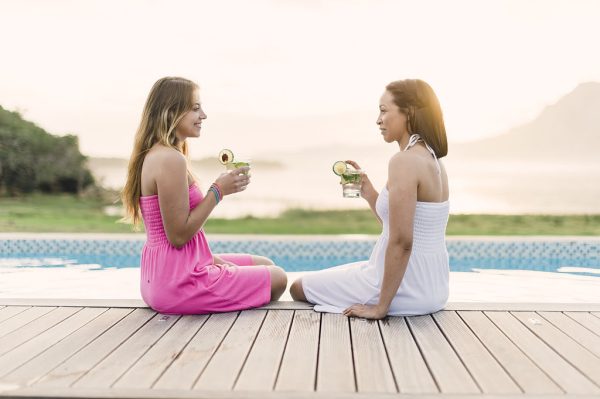 I can't think of anything better to spend the day in (especially a spa day) than an iconic terry cloth dress that's half slip-on towel, half comfy cover-up. For that spa day at home, The Spa Dress is your MUST-HAVE item (especially if you're like me and spa robes make me look like a 3-year-old in a giant's robe).
The Spa Dress offers a  new way to use and wear a towel with less wardrobe malfunction, leaving hands free for worry-free pampering and as a remedy for 'towel dropping syndrome.' Practical for the spa but versatile as body-enhancing, walk-around attire on the beach, by the pool, or anywhere your spa excursion takes you.
I wear mine for spa days and ALL SUMMER LONG when I'm sitting by my pool.
The Spa Dress is available in Pampering Pink, Pearly White, Reinvention Blue, and Confidence Black. ME? I have one in pink and one in white and as Daniella Cracknell, the designer of this dress says…Stay Calm and Spa On!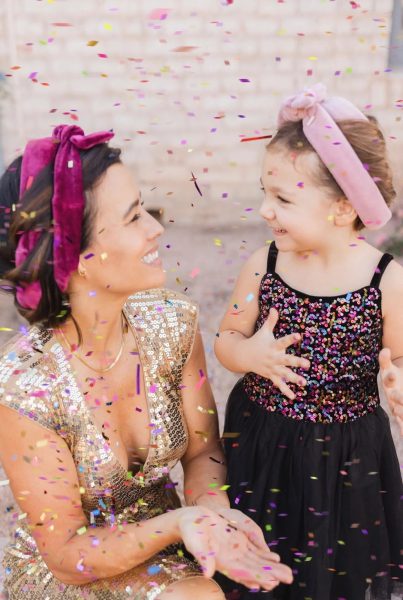 "Ready in 10!" has officially become a reality for mom! Sleep in it, wear it to the beach, or pull her hair back for her spa day to keep it up for low maintenance during the day, and then just take it out before heading out for dinner… Voilà!

Mane Label Hair Co. brings us a solution-based and time-saving must-have item that all women are searching for… Introducing, the Sway, the new healthy way to curl your hair! The Heatless Velour Curling Ribbon comes in multiple colors, materials, and sizes for both women and children, made of super soft bamboo viscose/plush cotton velour and with eco-friendly dye, right here in the US. And the extra long ribbon keeps your hair shiny and strong, without the frizz and breakage you get with heated curlers. It's an uncomplicated hair care tool that you'll find yourself capable of wearing overnight, around the house, or even out as a super cute hair accessory!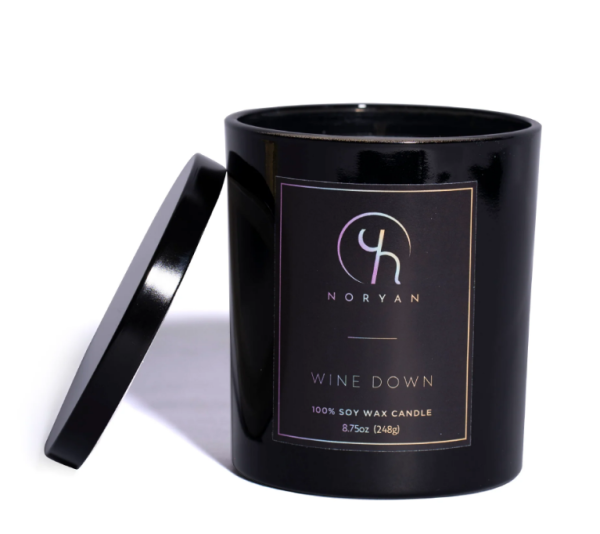 "
Where there is scent…there are memories.
" Brian and Norah Watkiss know this well, and their passion for this mantra led to the creation of their fragrance company 
NORYAN
. What better way to make your own memories this Mother's Day than to set the scene for her spa day with a delicious NORYAN fragranced candle? So, pour her a glass of her favorite wine and light a Wine Down candle for a total mood reset as she soaks in the tub as the room fills with the fragrant blend of citrus, butter, and hints of spice. Inspired by wines from Napa Valley this candle blends notes of caramel, oak, and lemon expertly together just like her favorite bottle.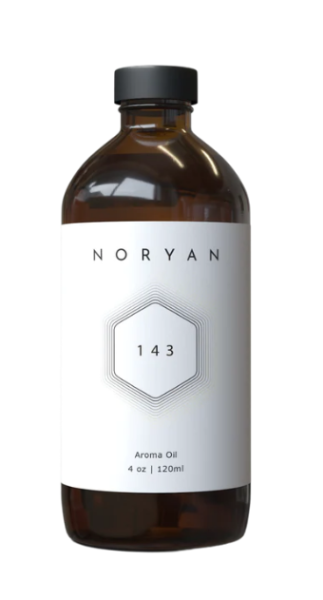 While she's relaxing, you can add some 143 (I LOVE YOU) Aroma Oil to her fragrance diffuser and her home becomes a delicate and sophisticated blend reminiscent of an amber floral and woody breeze. She'll completely forget that Monday even exists as she inhales airy top notes of bergamot and crisp, sweet berry as they harmonize with a hint of jasmine and saffron, and finish= with the base notes of ambergris and woody tones of freshly cut oakmoss.
Inspired by the mood-boosting power of scent,
NORYAN
 provides aromas for all areas of life, including home, car, and business.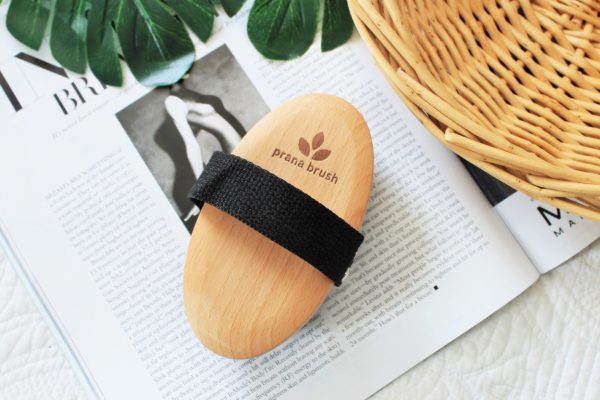 Dry brushing has long been recognized as a beneficial health practice, and its benefits are enhanced through the use of an ionic body brush, which has its origin in ancient Ayurvedic practices. These unique brushes are made with extra-fine ion-charged copper bristles, which naturally create negative ions (created by the friction between the copper bristles and the skin) that help protect mom's body from free radicals.
Using an ionic dry brush also stimulates natural lymph flow, which helps make her lymphatic system more effective at purging toxins and pathogens from the body. For a luxurious experience, mom should brush the skin twice a week using light strokes towards the heart before bathing. FYI – I have used a dry brush for many years.
Amplify, Harness, and Direct the energy all around her with ilaStrate's beautiful Hand Painted Yoga Mats. Mom will appreciate the beauty of the designs available and these professional yoga mats inspire support and honor hour practice and the sustainable materials that are used. She can use it at home or at the Yoga Studio (don't forget to pick up a Yoga Mat bag so she can sling it over her shoulder and bring it to class as well).
"Come as you were, leave as you are . . . energize your flow. Honor your practice with a sacred space."
ilaStrate is a partner of One Tree Planted. For every item sold, 1 Tree will be planted.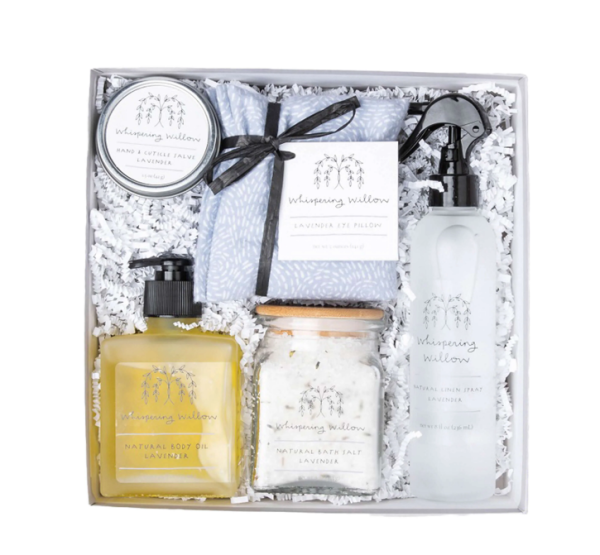 Looking to pamper a mother who has given you so much?  Look no further than this beautifully packaged gift for a day of at-home spa.  Whether Mom is moisturizing with Whispering Willow's body oil and hand salve, enjoying a nice soak with the natural bath salts, finding balance in the breath with the eye pillow, or using the linen spray to spritz their pillow before bed, the Lavender Luxury Gift Box will provide her with the luxurious and pampered experience that she so richly deserves.
All products are handcrafted in North Carolina, made with organic oils and essential oils, and are certified cruelty-free.  Plus, it arrives in a beautiful linen wrapped, embossed box ready for gifting.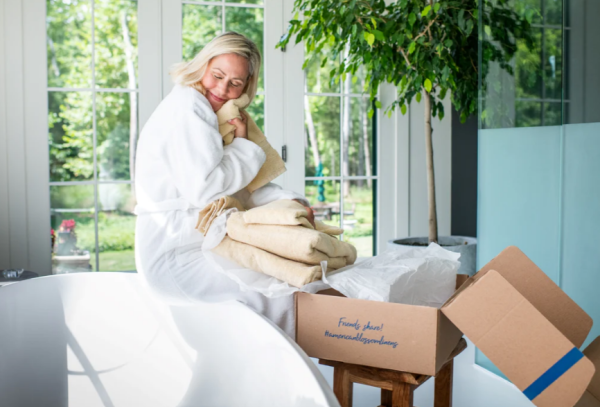 Give Mom more of the LUXURY spa experience as she steps out of the tub to dry herself in organic cotton towels from American Blossom Linens.  Wrap mom inn the most luxurious, thick, oversized, best organic cotton towels Made in America. These long-lasting absorbent heirloom quality towels will surround her with the plush comfort you can expect from 100% USA Organic Cotton.
She'll immediately feel the softness of the ring-spun combed 2 ply cotton loops against her skin. The hefty 700 GSM towels and washcloths are made in Georgia, in a sustainable and environmentally conscious manufacturing plant whose main goal is Weaving a Better World®. Each set includes 2 Bath Towels, 2 Hand Towels, and 2 Washcloths and she will love using them every single day.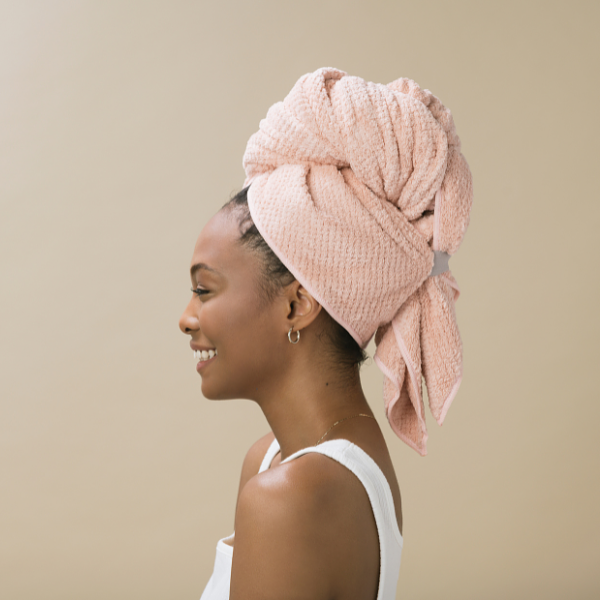 No wet head while spaahing allowed! She'll wrap her locks in a VOLO Hero Towel made SPECIFICALLY for her hair. Mom's hair is most vulnerable when wet. Enter the VOLO Hero hair towel. The VOLO Hero is made from an extra plush Nanoweave™ material to gently absorb water from her hair. The unique snug strap keeps the towel secured no matter what she gets up to, and it's so light she'll forget she's wearing it. Damage-free hair has never been so easy. Peace out, frizz.
It's the most gentle fabric you can use on your hair, absorbs 10x it's own weight in water, and won't cause damage. Nanoweave is an exclusive fabric by VOLO Beauty and has different benefits than a generic microfiber towel!
FYI – It received the Allure Best of Beauty Winner 2021, 2022!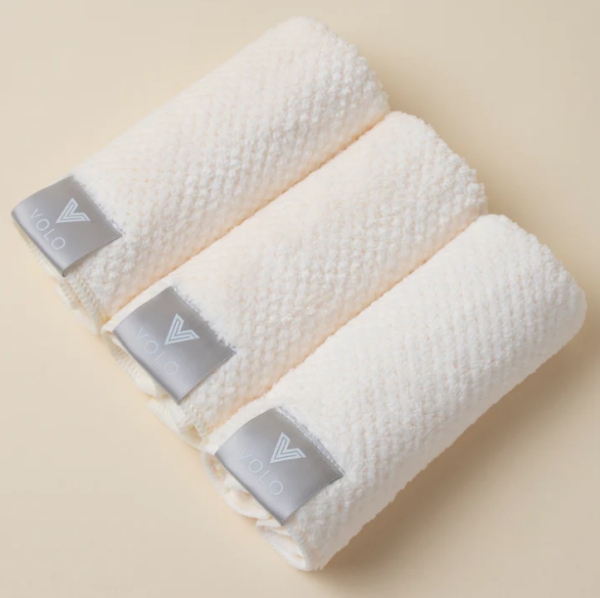 While you're shopping at Volo Beauty, pick up a few of the softest face towels she'll EVER experience.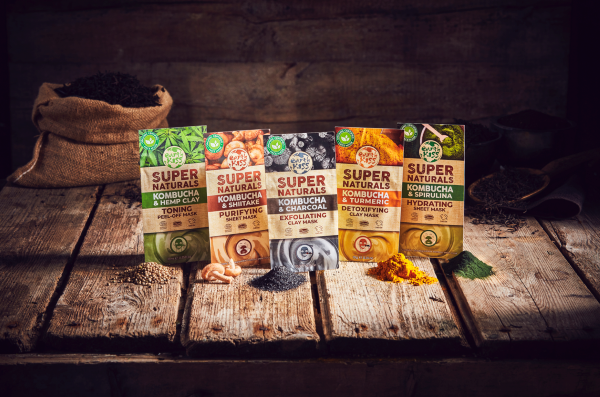 Did you know that in the same way that the probiotics in Kombucha improve the health of your gut microbiome, scientists have now found that these friendly microbes can also improve the appearance, texture, and overall health of facial skin by balancing out harmful bacteria and boosting production of the good kind?
That's the reason, Earth Kiss created their Super Natural Range. WIth superfoods such as turmeric, spirulina, and shiitake to naturally-sourced hemp oil, clay and charcoal – every ingredient in this range has been carefully chosen for its ability to support and enhance the cleansing, brightening, nourishing and revitalizing effects of its star ingredient, Kombucha. As always, Earth Kiss products are cruelty-free and vegan AND every mask is certified organic!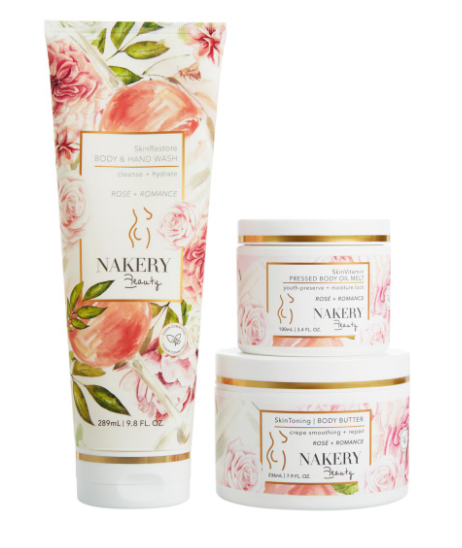 She'll bath in the scent of Rose + Romance, with notes of sweet pear champagne topped with strawberry and apple and smoother her skin with the skin-toning body butter with the same scent to help smooth and repair her skin.
When Mom steps out of the shower or tub she'll love dusting herself with a light, silky barrier for the skin & a first line of defense against sweat when she uses this All Over Body Magic Dust from Nakery Beauty. Because of the incredible moisture-absorbing power of Kaolin + arrowroot powder, it doesn't just absorb moisture it also absorbs impurities & draws excess oil out of the skin. With aloe for cooling, this powder was designed for all over the body from top to toe use such as the belly, and armpits. Mom can apply directly to the skin, or sprinkle inside clothes or shoes with no clumps or strange odor, just the fragrant Nakery Signature Scent.
The Glide & Go Magic Friction Stick offers a balm-like formula that creates a barrier that allows thighs that rub together to glide seamlessly and smoothly against each other. Formulated with a unique combination of oils, esters, and waxes to prevent chafing of the skin Glide & Go Magice Friction Stick leaves a non-greasy, silky, powder-like feel on the area that allows a smoother glide and helps promote healing to existing chafe, while preventing additional peeling and dry skin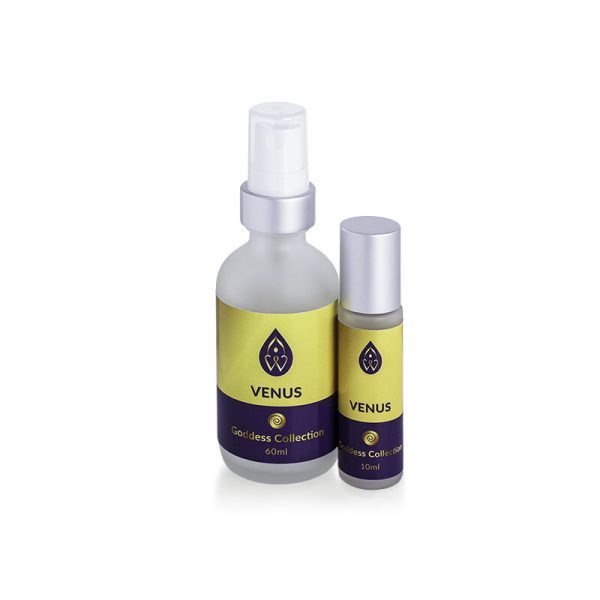 Help her to increase compassion, self-love, and patience with the Goddess Collection Quan Yin Aromatherapy, roll on with undertones of jasmine, neroli, and bergamot. It has been lovingly curated to bring gentle, loving energy to the wearer and to open mom's heart to deeper levels of love, compassion, and grace. Use it, and nourish your being and environment with soft, sweet energy.
She'll also love the specially curated Goddess Collection Venus aromatherapy mist with top notes of Gardenia Monoi, Ylang Ylang, Carrot Seed, and Neroli. It has been lovingly curated to awaken the remembrance of her inner beauty, femininity, creativity, and sensual expression. Open her heart to be more loving towards yourself and your loved ones and allow her to embrace the journey of aging gracefully to bless every step of her life thus far.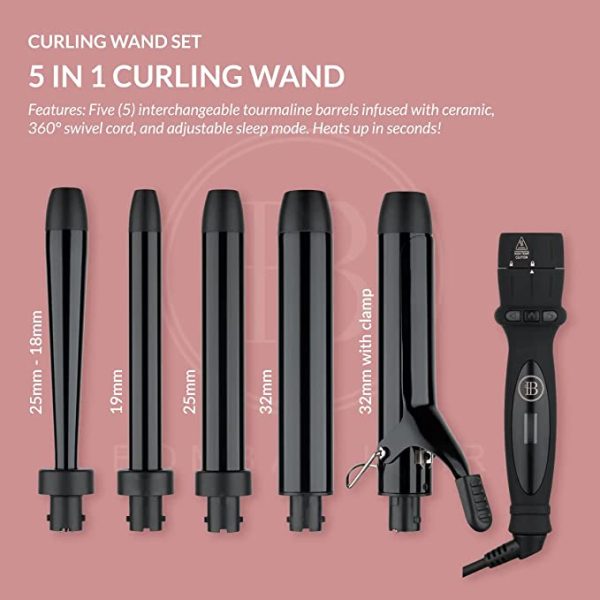 Two consecutive years as one of Oprah's favorite things and on Page Six! The Bombay Hair 5-in-1 curling wand set is the number one hair tool set! Don't forget about their bestselling hair waver and their gorgeous, seamless new hair extensions that just launched for moms as well! Plus, they offer quality-made hair accessories, clips, and ties too!
Hair tools make it possible for Mom to master salon style from the comfort of her own home. Their Hair Waver gives her mermaid locks, and their three-in-one wands are ideal for multiple options with less drawer space. The wands are interchangeable, meaning she saves some serious drawer space no matter what her bathroom cupboard size!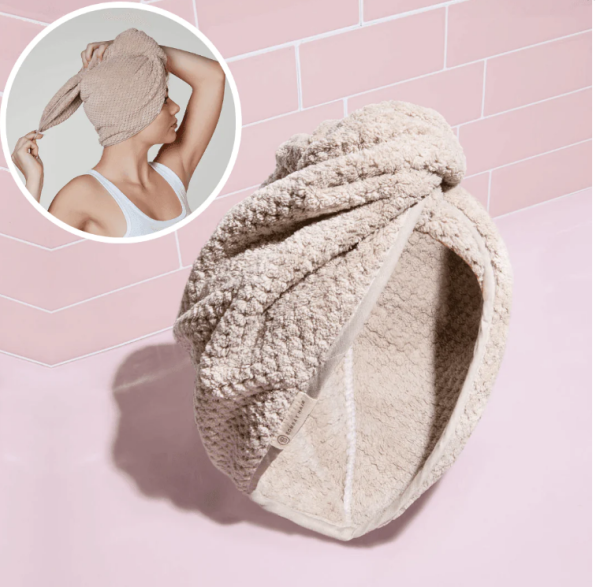 While you're shopping pick up one of their great hair wraps that will help dry her hair 3 times faster and reduce frizz.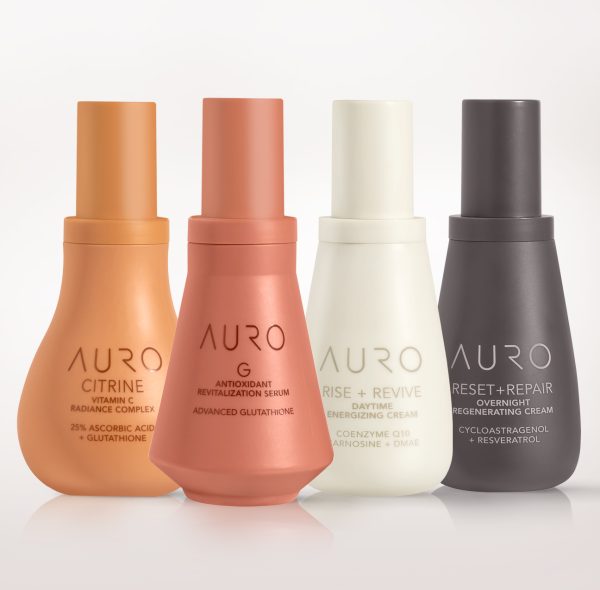 Mother's Day is a great time to introduce Mom to Auro Skincare, the first ultra-potent antioxidant delivery system that revolutionizes skin treatments. The line uses premium, pharmaceutical-grade ingredients, and patented technology (Auro GSH™ Antioxidant Delivery System) that is like nothing else on the market.
She won't need a prescription for its one-of-a-kind products, making them accessible to beauty lovers willing to commit to its four-step system. It transforms the skin from the inside out and is worth the investment. The secret ingredient is her own body's antioxidant called Glutathione! Glutathione, the Master Antioxidant, is vital and essential for defending skin from the aging effects of oxidative damage caused by environmental stress. Auro Skincare is clinically proven to improve fine lines and wrinkles in one week, based on a study of 27 women ranging from 43 to 70!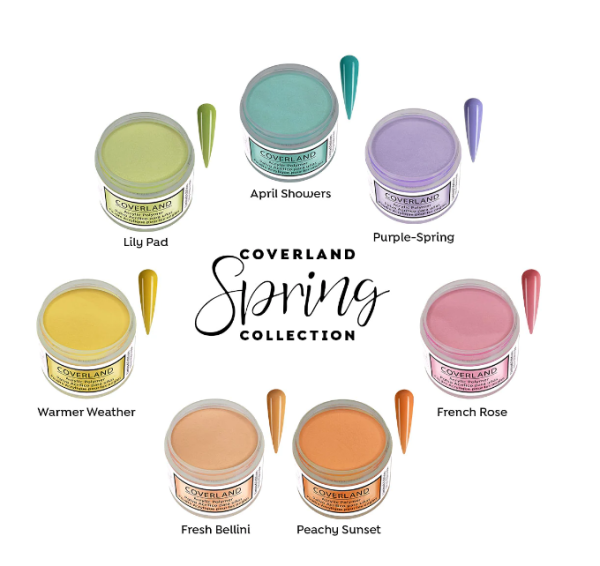 Don't neglect mom's spa day manicure! There's no need for a Tinkerbell style mani/pedi anymore when you can have professional grade Tones Products by your side. Tones Products designs and manufactures nail supplies across the globe, including gels, powders, nail art, tools, accessories, and much more. With over a decade of experience sharing its unique beauty products with tens of thousands of customers, Tones seeks to continuously improve and evolve as a company, embodying its mantra, "Perfection within Reach."
So now Mom CAN get those acrylics, gels, AND nail art that she loves right at home with Tones. For the mom who loves being on-trend, check out the Mermaidcore collection. Is mom more of a traditionalist? She'll love the array of Gel Polishes and the new Nude Colors available. Why not make up a gift basket with EVERYTHING she needs for a year of at-home manicures and pedicures so that she can make her own spa day month after month, all year long?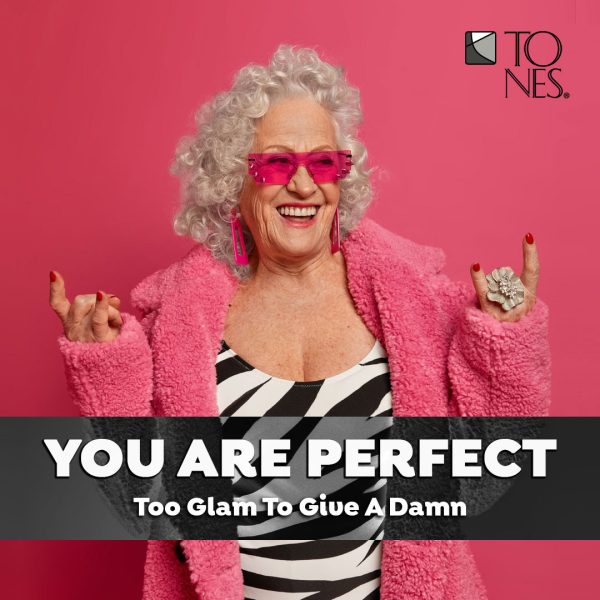 Did you know that the majority of women worldwide feel more self-doubt than self-love? According to an international survey, 60 percent of women wish they had more respect for themselves. Tones Products hopes to combat this self-love crisis with its "You Are Perfect" campaign (one of the graphics seen above).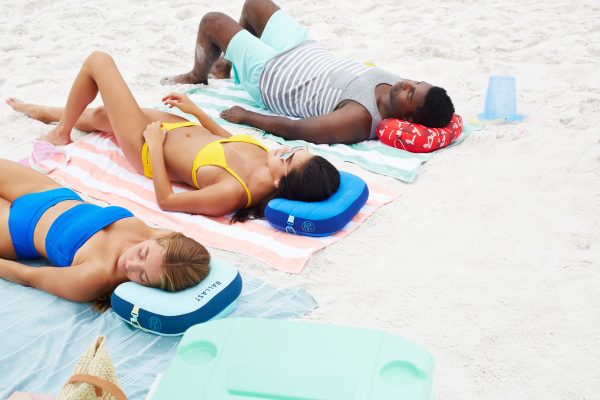 Part of her spa experience should be relaxing by the pool or at the beach. The Ballast pillow is perfect for Mom's spa day break!! This gift is perfect for a much-needed getaway or for the mom who likes to get some R&R on her back porch or deck at home!
Created after the founder, Brian Kirk, went looking for a functional 

pillow

 to use at the 

beach

 – the key was a 

pillow

 that wouldn't fly away while not being too heavy! Perfect for the 

beach

 or a relaxing day in the park, a 

Ballast

 

pillow

is soft, weather-resistant, and inflatable so it's totally packable whether you're hitting the local 

beach

 or the 

beaches

 of St. Tropez! 
Your mom will love this special day that you've created for her. It's a great way to show her how much you care and appreciate her.