By: Kathy Chin Leong
Swanky. Swanky. Swanky. The moody and brooding TETRA Hotel struts into Silicon Valley with unique bravado, given its eight-story steel and glass modern build, big-scale original art, and outdoor pool suspended as a bridge between two structures.
TETRA is the newest bauble on the Marriott chain of Autograph Collection boutique hotels. Fans adore the Autograph hotels that each reflect the nature of the surroundings.  TETRA, derived from the Greek, means four, and TETRA management stresses that the hotel's theme is anchored on four pillars: work, life, nature, and technology.
Speaking of tech, the Sunnyvale hotel sits in the epicenter of what we locals refer to as Google-land.   And its sky-scraper architecture blends in well with its surrounding neighbors in this technology zone.  Even as I write this, two colorful Google bicycles are parked outside the hotel. Most likely Googlers have arrived for a drink after work or are meeting clients.
While serving mostly as a business hotel, the leisure traveler can take advantage of the comfortable amenities, most do not have at home.  On Level 3, the pool, while small, is integral to a beautiful patio with potted olive trees and attractive outdoor seating.  Its living room couch with fire pit is a perfect gathering spot at sunset.  The view of Silicon Valley is stunning as you see the glow of lights of the buildings emerge come nightfall.  Swimming-wise, you can do short laps in this 3.5-foot-deep pool, that bridges the TETRA and the AC Hotel Sunnyvale Moffett Park.
Downstairs, the two hotels share a breezeway patio with three zones called the Nexus with tropical plants and intimate couch seating.  Guests can hang out in the public areas playing corn hole or wooden Connect Four and later dine at either property.   More and more hotels are adopting this twin pairing concept to share resources and even employees.
The TETRA vibe is a blend of Japanese simplicity intersecting with Mid-century Modern.  TETRA's owner, says the management, loves the Japanese aesthetic and ambiance as well as Japanese food and beverage. In keeping with today's modern palette, TETRA's shades are gray, gray, and more gray with hints of black, brass, and white.   The open concept lobby boasts sand gray tile floors throughout with see-through dividers between its Coffee Manufactory java spot, Adestria restaurant, and Nokori Japanese whiskey bar.  Black wooden slats serve as the lobby ceiling, and parallel lines indoors and outdoors are a theme there.  All these design elements come from the team at Gabellini Sheppard, a New York design firm.
Right after the glass doors open at the entrance, you encounter the first mobile by artist Sharon Levy featuring a canopy of what resembles pale green maple leaves that dance with the wind, and when you look up, the leaves are to evoke that childhood feeling of feeling small when looking up at a grove of trees from lying on a picnic blanket.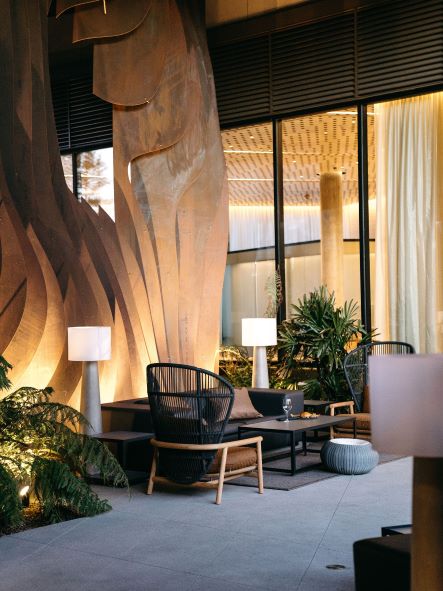 Outside, the generous greenery of potted trees and lush plants creates a tropical environment. The natural live edge communal table, an outdoor bench hewn from a fallen tree, and wooden sculpture by David Franklin in the shared space called the Nexus are a refreshing jolt of nature against industrial building materials.
In-room high-end amenities certainly make you feel pampered. My favorite is the Dyson hair dryer which retails at $399 and is available for purchase. In fact, there is a nice "Curated for You" card that lists the many expensive guestroom items such as the Fellow electric kettle at $159 and the Bellino hooded robe at $99.  In other words, if you steal any of these things, the note says: "we will apply a charge on your room for any item removed during your stay."  If you think you can hide that dryer in your suitcase, Dude, you're busted.
Our corner abode, Room 604, featured a cement pillar on one wall and plank flooring. Two walls of windows gave us great light and a stellar view of the mountains.   Every bed in each of the 186 rooms features white Bellino linens, an alternative to the popular Frette brand, as Bellino's are considered "free from harmful materials during the production process."  Bathrooms throughout  TETRA jut out like frosted glass boxes that light up when you turn on the lights. Echoing that design sentiment is a tabletop light sculpture of a frosted box on the marble table.
If you come, dine at Adrestia, the TETRA restaurant. Expect New American fare with Japanese elements. On a Friday night, all the tables were filled with hungry guests, and the vibe was energetic.  Service was swift and friendly.   We practically arm wrestled over the hamachi appetizer – fresh and thinly sliced, perfectly arrayed, and with a proper amount of jalapeno pepper heat.  Along with that, we ordered the Japanese lobster roll, cut in four pieces, rich and yummy.  Tri-colored carrot salad and the seared mushrooms were generous in portion and, as they say, "cooked to perfection."  The branzino was a smart choice for the fish was crunchy on the outside and tender within. The farro risotto blended well with the Brussel sprouts and was so delicious I could have gone vegetarian the entire night.
And given that this is a boutique property, activities are also up to the owner and management team. TETRA offers weekly yoga on Wednesday afternoons followed by a free whiskey tasting, even for those in the community. Once a month, the hotel plans on providing a Sunday afternoon mixer by the pool. The Nexus will be featuring lectures by local luminaries.
When you want a getaway in Silicon Valley, know that you will get designer style, a good swim, and a good meal at the TETRA Hotel, the place where work, life, tech, and nature converge.
For more information or to book your stay visit TETRA Hotel