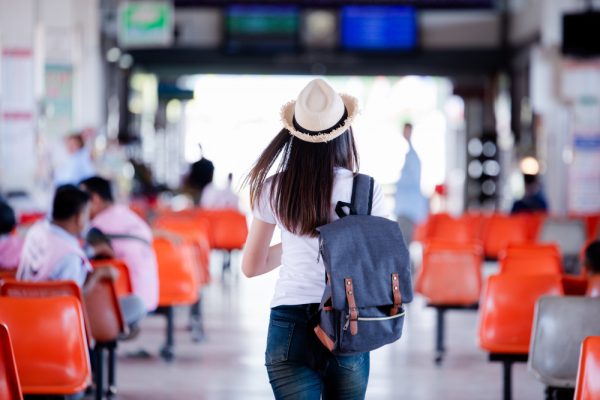 Travel is truly something that every student should do as much as they can. However, many students are also on a budget and have to make ends meet without ever considering potential travel. This quickly dissuades many students from going abroad or planning a trip because those plans can easily fall through.
According to recent findings, about 20% of students took a gap year during 2020-2021 due to the global pandemic and other personal reasons. Taking a gap year is a good excuse to travel someplace, so let's take a look at how you can travel on a budget as a student and still have the time of your life doing it.
     1. Spend a Semester Abroad
While applying for a semester or a year abroad may not sound like an exciting travel plan, it is. You'll not only be able to travel to and spend a year somewhere new, but you'll also have many of your living expenses covered.
Depending on what you study, you can apply for universities and courses across the globe and benefit from their transfer student programs. Once you're back, you'll be able to pick up the next year's courses and have your year abroad count as a regular college year with no gaps whatsoever.
     2. Volunteer with an NGO
Volunteering is an amazing way for you to do something good for others, add valuable points to your resume, and travel abroad on a budget. Plenty of NGOs around the world are looking for students with certain skills and know-how to help them on social projects in exchange for food and lodging.
This will make it easy for you to travel abroad and only spend minimal money on transportation if even that. Look for volunteering opportunities based on your skill set and the location you'd like to visit and you'll find something interesting to apply for.
     3. Consider Couchsurfing
Couchsurfing is a popular way for people to travel on a budget and meet new friends while doing so. Couchsurfing represents the process of using someone else's "couch", (not always literally) to sleep over for a few nights.
There are many platforms and groups online for you to find couch surfing opportunities around the globe. This is a great budget option for backpackers and students who like to keep moving instead of exploring a single location.
     4. Look for Cheap Flight Tickets
Affordable flights are available all year long and if you plan ahead of time, you can spend very little money on going somewhere new as a student. Flight companies that offer cheap flight tickets do so for a good reason.
You won't be able to pack a lot of things to go and you'll have to make do with less than stellar seating and leg space. However, this is a must-have option for students on a budget.
     5. Travel in a Group
Traveling with a group of friends is an easy way for you to spend less money than you would if you went solo. Ask around campus and see if you can find people who are interested in visiting the same locations you are. Here's why you should travel in a group besides the budgetary savings:
You'll feel much safer in a group
You'll learn valuable teamwork skills
You'll make ends meet abroad more easily
You'll make long-lasting social connections
When you and your friends head abroad, you should keep your college obligations in mind so that you can still submit assignments and projects on time. You can get professional essay help wherever you are and work with a professional writer who will assist you in writing your assignments. This will allow you and your friends to focus on traveling instead of overthinking what's happening back on campus.
     6. Pack Dried Foods and Snacks
Depending on where you travel, you can easily save some cash by not eating out and packing food from home instead. Cereal bars, nuts, dried fruits, and other foods which can be stored without refrigeration are great for students on a budget.
You can also find food places with daily menus which are not only affordable but much better options than fast food places you'll come across. Consider your options before heading out and try to pack as many dry and long-lasting snacks from home.
     7. Look for Student Discounts
Many tourist and travel agencies have special discounts and offers for students who provide proof of attending a school or university. The same applies to the places you'll visit and their attractions, such as museums or art galleries.
Remember that you can always use a reliable essay writing service to get some of your essays and papers written or edited by a professional while you're traveling. Make sure to always search for student discounts online once you're set on the place you want to travel to. Odds are that you'll find at least a few student discounts you can use to your advantage and save some money.
     8. Don't Ignore Local Travel Options
You likely won't have to look hard to find amazing places to travel to in your local area, state, or country. This travel option will save you considerable money which you can spend on food, souvenirs, or save for later. Traveling locally also broadens your travel options, meaning that you can rent a car, travel by bus, or hitchhike to your destination.
If you have out-of-town friends somewhere and would like to check out their cities or local areas, you can couch surf with them and repay them with food. Don't neglect local travel options as not exotic enough – you'd be surprised as to what you might discover.
Traveling the World as a Student
One thing that might dissuade you from traveling on a budget is the fact that you'll still have college assignments and projects to worry about. However, there are ways to work around that by taking a gap year, traveling between semesters, or by asking a friend to keep tabs on your courses for you.  Where there's a will there's a way, so don't get discouraged from traveling from the get-go. Explore your options and set your plans up so that you can enjoy yourself fully, even on a budget.
Bio: Diane Sherron is a content writing specialist, blogger, and editor. She enjoys covering the topics of learning and development, travel, and personal growth in her articles, essays, and papers. Diane loves to spend her free time seeing new places, journaling about them, and simply disconnecting from the digital world whenever possible.