NOTE:  I am a NETGEAR Ambassador and I received this product in exchange for my honest, unbiased opinion
​.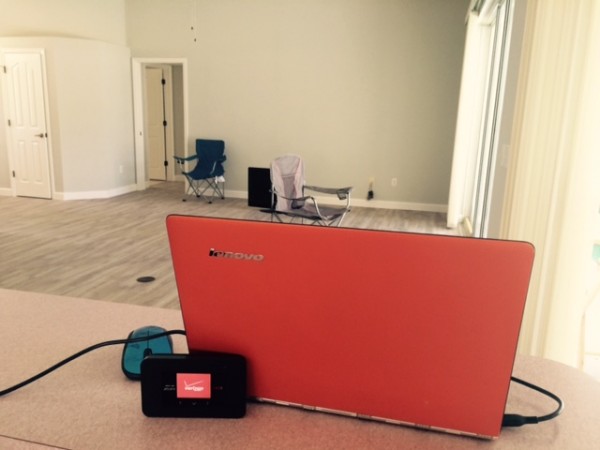 Over the past month I've spent a lot of time in empty rooms with no Internet. It was two months to be exact. Two months of checking on the contractors, two months of cleaning the new place (and then the old), two months of spending up to 8 hours in a house with only some outdoor folding chairs and a few sodas in the fridge. For a blogger, that could have been a DISASTER.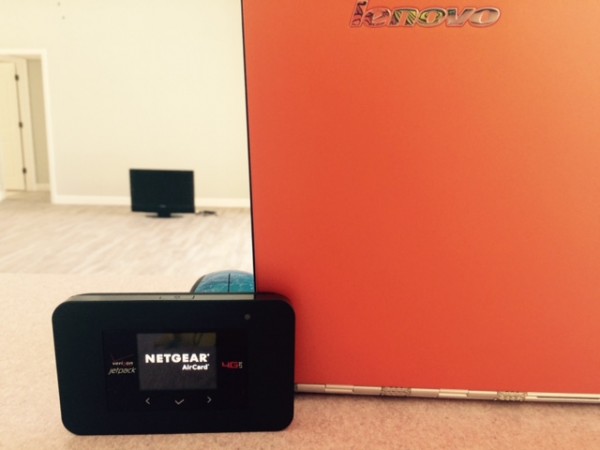 I say COULD HAVE BEEN, because as you can see…even thought the new mansion was not all wired up with cable until just a few days ago, I've been able to get my work done thanks to my . Under NORMAL circumstances I'd be telling you how I'm trotting around the globe and need Internet in yet another remote location, but THIS…THIS was much more important. Being AWAY without Internet is an inconvenience, being at HOME without it, is MAJOR.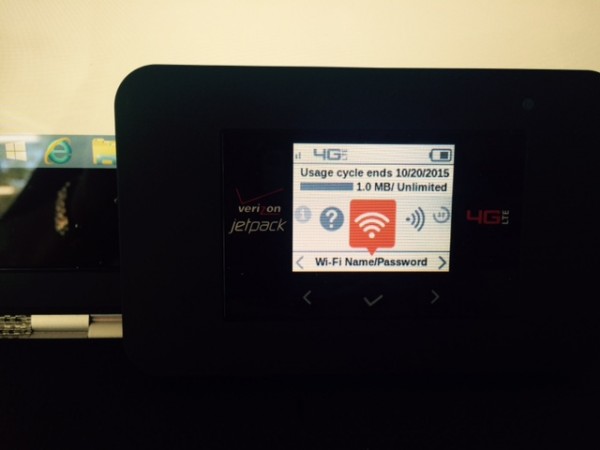 I'm finding that I rely on a mobile hotspot more and more. Between the move, my travels, and the fact that my cable company is not exactly reliable, I find that having the Verizon Jetpack® 4G LTE Mobile Hotspot (AC719L) by Netgear has become as necessary as my phone.
The GREAT thing about this mobile wifi unit is that is VERY inexpensive, and right now there's even a $50 rebate on it, making the cost only $49.99 (with a 2 year contract from Verizon).
Yes, I work online, but I'm probably the FARTHEST from being a techie as you can get, so I appreciate the plug and play start up of this device. It arrive partially charged and all I had to do was turn on my laptop and type in the password when the wifi name popped up on my computer.
I find that for MY usage that 5 gb of data is enough, since I'm not using it as my primary Internet device.
I LOVE
The fact that it has a VERY long lasting battery life (24 hours), allowing me to work without having to be near an electrical outlet to recharge. You can even charge your mobile phone from the Jetpack, making it a REAL lifesaver when you're stranded. The connection is stable and it's as fast as my home connection, as it has 4G LTE advanced (where available) with dual band wifi (both 2.4 GJz and 5 GHz).
BEST OF ALL
If Mr. S is driving and I want to work, I can even get access from the car, making those road trips from Florida to New England seem to fly by.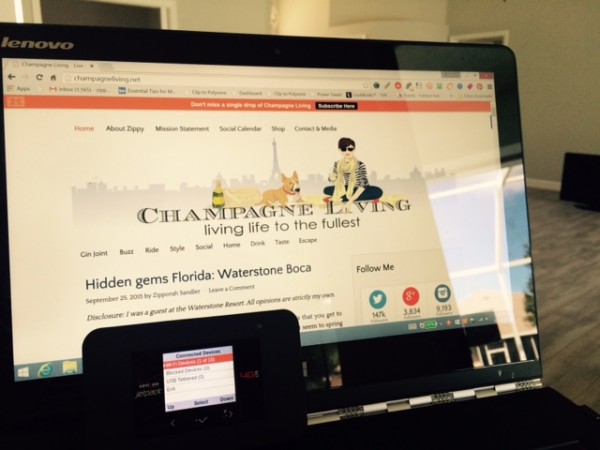 What does 5 GB get you?
3000 emails
1500 hours of web access
300 minutes of video streaming
60 photo uploads/downloads
Not sure how much data YOU'D NEED?
You can calculate it at: verizonwireless.com/datacalculator
There are plans to fit YOUR needs including
The More Everything Plan
Allows you to share one data plan amongst a group of devices. (ie. mobile hotspot + smartphone)
Mobile Hotspot = $10/month + the cost of a data plan
Data plans are offered in various packages starting at 4GB for $30/ month
The Mobile Broadband Plan
Ideal for activating a standalone mobile hotspot.
5GB for $50/month
10GB for $80/month
The Jetpack AC791L lets you bring WiFi with you wherever you go, across town or across the globe in more than 200 countries. Keep your tablet or laptop connected while on-the-go, and rest easy knowing you've got access to a reliable and secure Internet connection, and up to 24 hours of battery life
Details
For more information  or to purchase one for yourself visit: Netgear.com