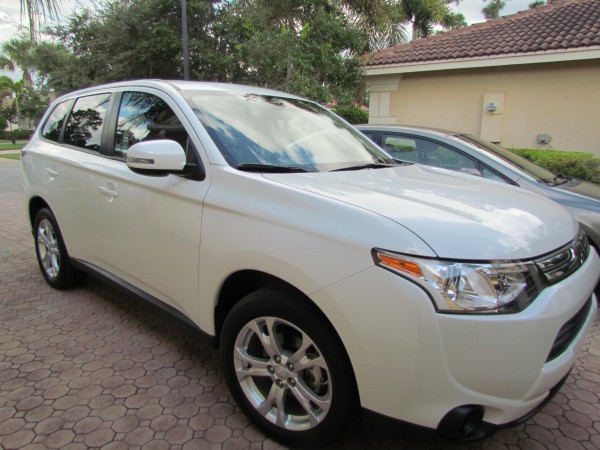 Another week, another car in the driveway. I feel like I'm back home with my parents. My dad owned a wholesale automobile dealership and he would swap out cars on me every so often depending upon what was coming & going to the auction, or what the dealers were looking for.
Last week Mitsubishi swung by with a BEAST of a car, the 2014 Outlander.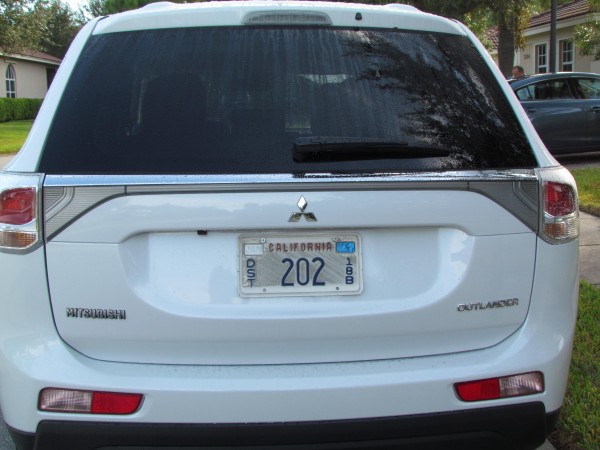 When we first arrived in Florida we DROVE down from Rhode Island in a Dodge Durango, which we lovingly called "the beast." It was the largest car that I had ever owned, it was powerful, I could pack it to the gills and still have room, and yes it was reliable. Once in Florida I wanted what every sunshine state girl does, a convertible. So, it was so-long beast, hello sexy.
The 2014 Mitsubishi Outlander brought back a flood of memories with a design that reminded me more of an SUV than a crossover, a trunk that would make my closet(s) happy if I had to make a run for the border, and wouldn't you know that they brought me the "diamond white pearl" color (someone understands my "diamonds are a girl's best friend" motto).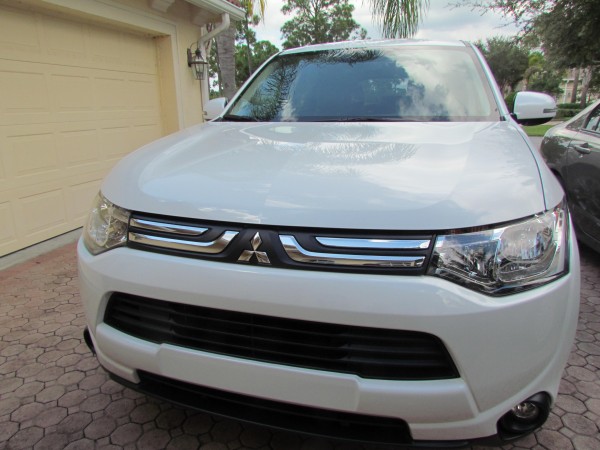 Don't get me wrong, I found the deep doors a little intimidating looking and thought a good old boy would bolt from the car each time I looked at it. It definitely lacks a feminine touch, but what it lacks in femininity it makes up for in features.
1. CVT 
Since driving a hybrid, I've become accustomed to the smooth ride that a continuously variable transmission gives. The ride is smooth and the car is tight enough so that you don't hear any of the humming of the CVT from under the hood.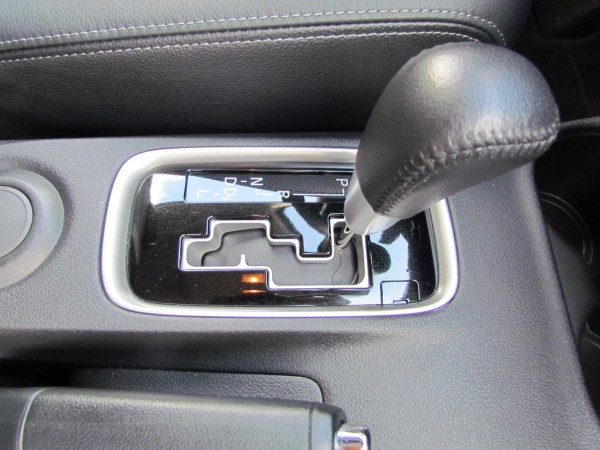 2. TOYS 
My favorite part of reviewing a car/truck is playing with those toys and the Nav system equipped with a back-up camera, satellite radio, touch screen display, and hands free usage provided me with plenty of entertainment. The push button trunk open, made loading my mall purchases easy, and the keyless entry meant that I never had to fish around in my handbag for the keys in order to unlock or drive this car.
3. SAFETY 
Thankfully I never had to test the hill start assist, but the active stability control and traction control were great in one of those dreadful Florida rain storms we got. I OWNED that road, felt secure behind the wheel, and didn't have to crawl at 10 mpg through a puddle (my hybrid is small & low to the ground making puddles a hazard) when faced with water that would have normally approached the bottom of my door. There were airbags a-plenty, including side and a DRIVER'S side knee airbag (one day I'll tell you the story about my knees and a car accident I had).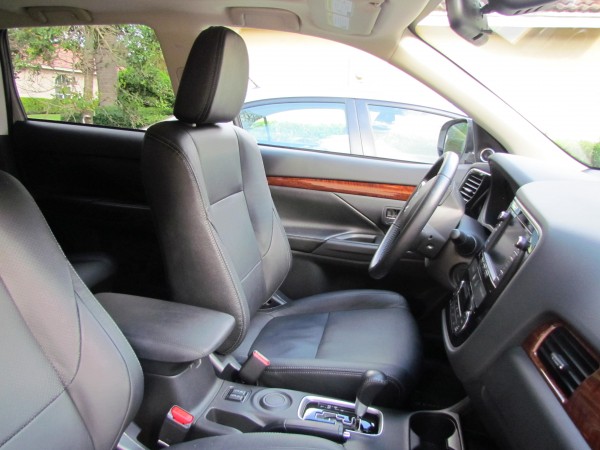 4. THE LOOK 
While I loved the white exterior with classic black leather interior, the car was a little too unfashionable for me. I didn't feel like I could pull up to an event and comfortably get out wearing a gown. When others have started to incorporate some freshlines to their looks, the Mitsubishi Outlander just looked boxy to me.
5. THE DRIVE 
At 27 mpg city, 31 highway, it was in the average range for gas mileage. Once behind the wheel I realized that this 4-cylinder engine was just not enough power for a big car like this. If I was going to drive a beast, it has to hold the road like a beast. Thankfully, the Outlander is available in a 6-cylinder engine, while I'd give up gas mileage I'd gain the POWER that this car should have.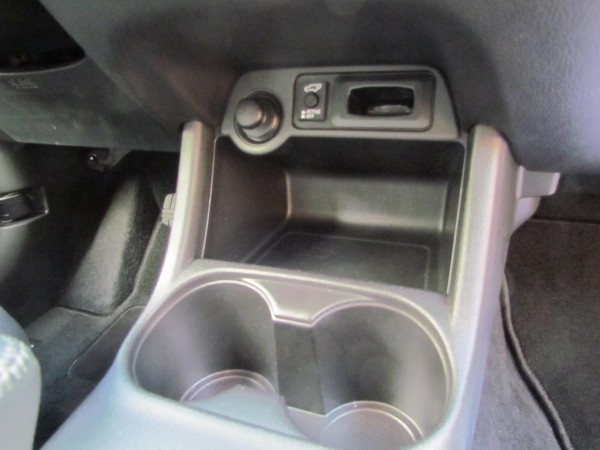 6. AND THEN 
Two vanity mirrors mean that girlfriends don't have to share when putting on lipstick. With 2 outlets Mr. S could plug in his iPod, while I could plug in the chromebook and get a little work done while we were on the highway. The heated seats would have been GREAT for our upcoming trip to New England (but not necessary here in Florida), and there are enough cup holders to throw a bachelorette party.
7. THE BEST  
It's not that often that I see a car with a 10 year, 100,000 mile warranty anymore, and this beast of a car will stay on the road with NO HASSLES for a LONG time with THIS warranty.
The model that I drove was equipped with all sorts of goodies, making the MSRP just over $30,000. The base model runs around $24,000 making it a GREAT price for a lot of car.
MY TAKE
This is a great car for sports lovers. With enough room for everything from golf clubs to ski gear, and great traction in bad weather, I'd be happy to head to the ski lodge while the guys worked their way down the slopes having arrived in the 2014 Mitsubishi Outlander. For those of us who like a little more luxurious look and feel, I'd pass – but then again, that's NOT what this car is about.