Ben received compensation and a weekend at the Courtyard Coconut Grove to facilitate this post. All opinions are strictly our own.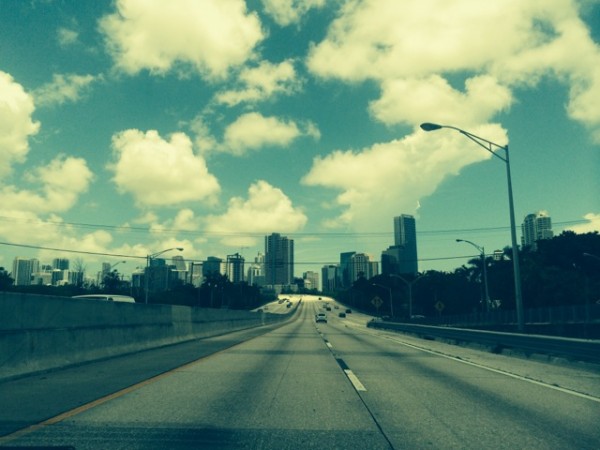 I love living in Florida,  so technically every day is my Florida wish but this past weekend was particularly amazing.  I participated in the Florida – Wish I Was There campaign with Marriott, and had amazing weekend in Coconut Grove (a bit south of  Miami), thanks to the Courtyard  Miami Coconut Grove.  I picked up a friend and headed down south from Vero Beach down Rte. 95 for a little over 2 hour drive. While that SEEMS close to home, it's felt like a world away. Yes, I REALLY needed a vacation.
Our secret getaway 
Our goal was to explore some of the fun areas of Miami, so we looked for a getaway that would be close enough to South Beach without having to spend $1,000 for two nights in a hotel. What we found was one of the BEST KEPT SECRETS in the area.
COCONUT GROVE
If you're looking for GREAT restaurants, clubs, boating, art galleries, and good old fashioned FUN…we found it for you. Oh, we knew that South Beach was all of those things, but at a HIGH cost, so after a bit of research we learned that Coconut Grove offers all of that and MORE.  But, how do you stay in a popular area without breaking the bank? We found it at the Courtyard Miami Coconut Grove.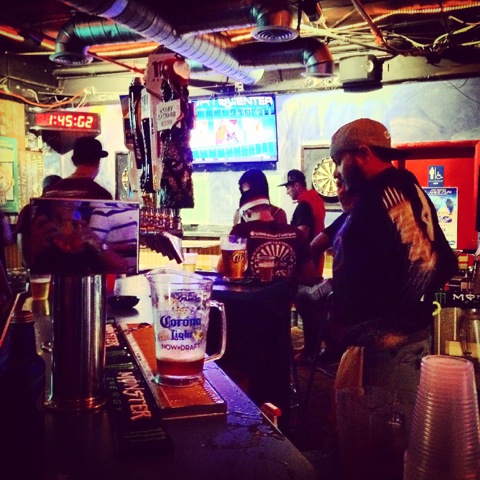 We got off of work around 6 pm and started our 2.5 hour hike down to "the grove," but we were hungry along the way, so we stopped and got a bite to eat and checked in to the Courtyard Miami Coconut Grove late (I love a hotel that let's you do that). We were determined to have a great weekend, so we changed our clothes and walked out to the nearby hot spots along Grand Ave.  One of the KEY things we look at when we travel, is walkability. While Coconut Grove is extremely walkable, we were happy to learn that our hotel was located an easy jaunt on foot to just about everyplace we wanted to visit.
So, in classic Gin Joint fashion we started to party.  There were drinks, and drinks, and more drinks.  We hit a dive bar that reminded us of where we met, a wine bar that reminded us of the places we go now, and there were tourist bars along the CocoWalk which had some of the best people watching I've done in years. Letting loose after having worked for months without a break is a good thing, especially when you can WALK back to your hotel.
Location, location, location
We walked back to the Courtyard Miami Coconut Grove  and took a moment to appreciate our amazing view of the bay, and proceeded to knock out.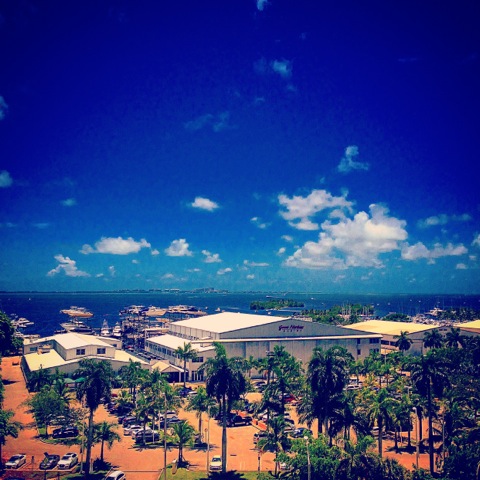 Knocking out was EASY when you can smell the water from your room, and sink into a comfortable bed. After the noise and fun on Grand Ave, returning to a hotel that was nearby, yet QUIET is the perfect solution.
Morning
Waking up on vacation is easy because we are both early risers. We checked out the hotel pool, before taking off…(we planned to come back and relax poolside, but unfortunately the weather had another idea for us).
But, we were HUNGRY!
For breakfast, we went to a place her mother recommended to us called Bagel Emporium where I consumed the best lox platter I've ever eaten (and I've consumed quite a bit). One of our biggest pleasures when we're exploring a new area is to find GREAT places to eat that are NEAR where we're staying.
Next,  it was time to hit the water and we decided against SoBe, mostly because we figured there would be weekend crowds. We found one of the areas secret treasures, and it was a quick drive from our room at the Courtyard Miami Coconut Grove .
The Venetian Pool
Amazing. While most people in the area know about this historic pool in Coral Gables (just a few minutes from our hotel), as tourists we didn't.  I highly recommend paying a little extra and getting some lounge chairs, it made all the difference in our day.
The pool was created in 1923 from a coral rock quarry, where much of the original coral rock was used to border and further accentuate the pool. It also features two large historic lookout towers, with a view to the City Beautiful.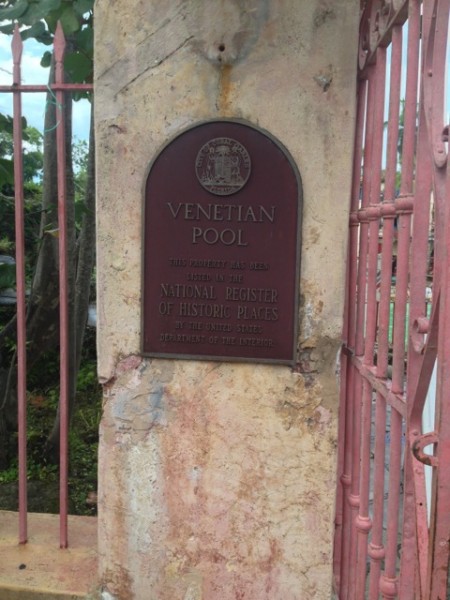 The pool holds 820,000 gallons and is filled with spring water . In the spring and summer seasons, the pool is filled and drained daily!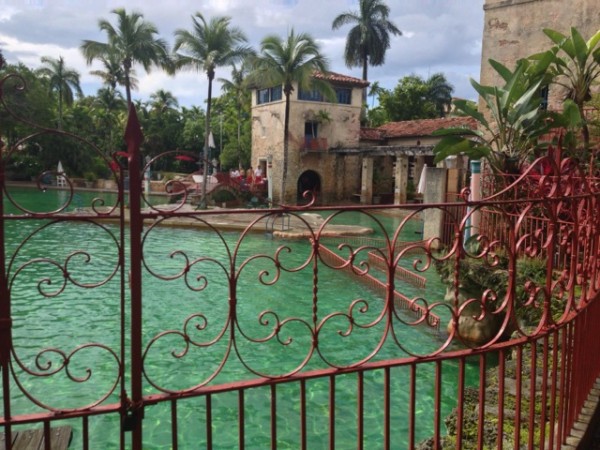 With waterfalls,  cave-like grottos,  loggias, porticos, palm trees and  bridge, not only is the swimming FUN, but it's absolutely beautiful.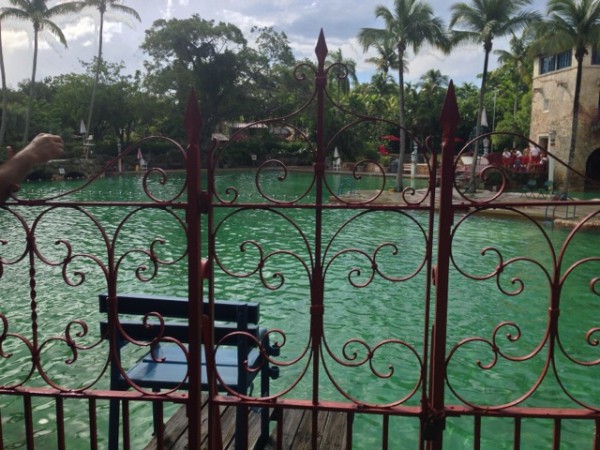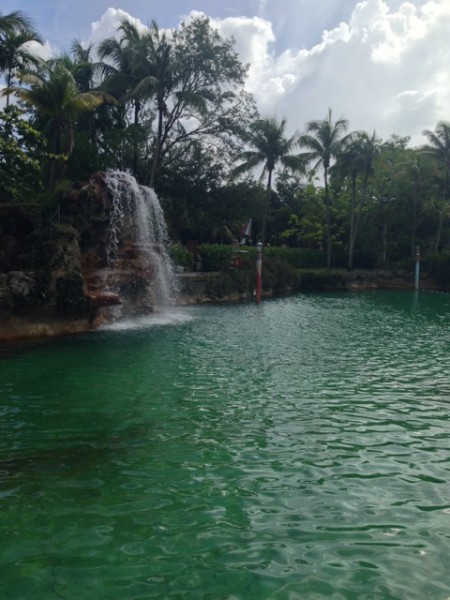 But, it's summer in South Florida
So, you've got to enjoy BEFORE all of the tourists show up, so after a couple hours relaxing poolside we headed back to the hotel to change our clothes and head to South Beach to shop and people watch on Lincoln Road. Thankfully, we were located in the PERFECT area to go back and forth between Coral Gables, Coconut Grove and South Beach.
We filled a couple Starbucks cups,  and walked Lincoln Road, did some people watching, and some shopping.  My favorite store (French Connection) was having a serious sale so I was happy (although my wallet was a little leaner from the experience). Lincoln Road Mall is the main shopping and dining street in an area filled with gorgeous beaches and nightclubs. You'll find chain stores, boutiques, art galleries and great places to grab a bite to eat. But, MOST of all it's about PEOPLE WATCHING. Hey, this is South Beach.
Having fun is HARD WORK 😉
It was FUN, but that bed at the Courtyard Miami Coconut Grove was calling our names once again.  So, it was back to the hotel for a nap, did I mention the view from our hotel is amazing at sun up and sun down?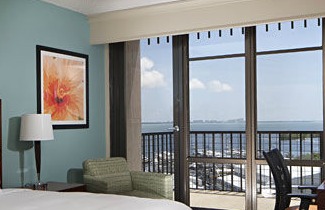 Well it is….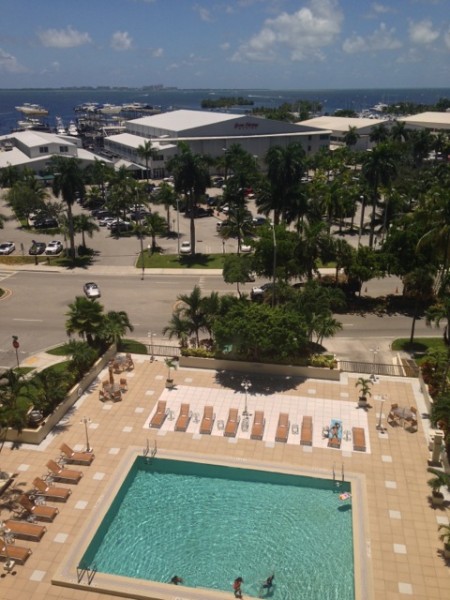 The PERFECT location
Directly across the street from our Courtyard is Monty's. We thought, what better place for an appetizer and some drinks?  Talk about a hotel that's right in the MIX of things. All we had to do is walk out the door and cross the street to get GREAT food.  Monty's also came recommended and it was more than we expected.  The place looks like a tourist trap but had some great fish dip, oysters and the most amazing cocktail called a Pain Remover (it's true, I had NO pain after a couple).
After our appetizers, we took a walk back downtown again (I love this location – walking, walking, walking) and went to a burger place called LoKal.  This was amazing and the best burger I've had in a while, and my friend commented that it was the best one she had had in her life (and burgers are our comfort food,  if one of us had a bad day you better believe that burgers are in our future).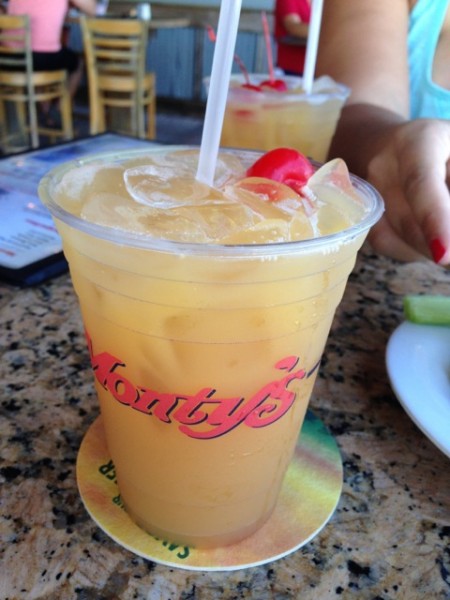 After enjoying dinner, we took a leisurely stroll back, enjoying the view as we headed back to our room.
As we laid in bed, looking out at the marina, we realized, that we had just found Miami's Best Kept Secret. Not only is Coconut Grove fun, but by staying at this Courtyard Marriott Coconut Grove, you can enjoy a TRUE Miami vacation on a budget. Unfortunately, we had an early day the next day but we had had an amazing time for the previous 36 hours.
Details:
Check out our area finds above….for a great time and be an insider into Miami's Best Kept Secret!
Thank you Courtyard Marriott Coconut Grove for giving us our Florida wish.