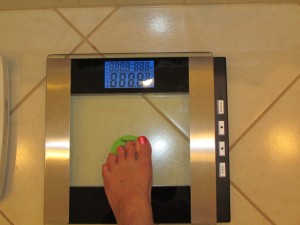 It's no secret that I've been working HARD at losing weight. Between Nutrisystem, my Total Gym, walking, taking supplements, and adjusting my hormones I've been focused and diligent. While the process is now almost second hand to me and my progress has been steady, I still need to consistently measure how I'm doing in order to tweak my program.
You've been seeing photos of me on an OLD scale. It measures my weight and that has been a good barometer. So have the notches on my belt buckle (just yesterday I had to use the LAST hole in my belt – off to buy a size smaller this week). Truth be told, there are better and more efficient ways to measure success when dieting.
Pounds lost
BMI
Body FAT
Body Water
The question is…how do you measure it all? Weight Watchers by Conair Glass Body Analysis Scale measures all of the above PLUS bone mass (and at my age, that's just as important as my weight). I LOVE being able to see my BMI go down along with my weight (that's the one I'm most obsessed with). Since B and Mr. S are all watching their weight as well (and I need to give BOTH of them a standing "O" for sticking with their programs), we needed a scale that had a memory. This Weight Watchers by Conair scale can remember all of those measurements for FOUR family members.
I love the sleek, modern look of the glass body and the stainless steel foot rests. B has claimed it for his bathroom, which is fine (since we're all in the same household).
ONE NOTE – when you switch scales you may see a difference in weight. This scale has me weighing almost 2 lbs. more than my old one. REALLY? It doesn't matter. As long as I see those numbers going D-O-W-N it's all good.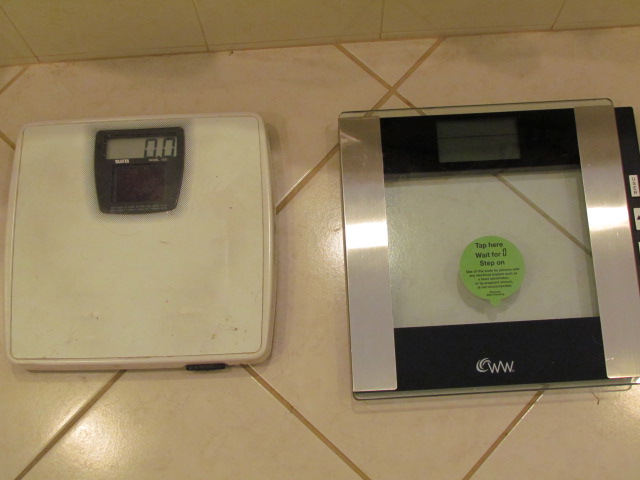 By the way, along with the scale they included a chart letting me know EXACTLY what my body fat, BMI, bone mass, and body water should be for my age. It's nice to be able to know that ALL of my numbers are going in the right direction.
You'll also find that Conair makes Weight Watchers scales that are more basic if that's all you need, like this Weight Watchers digital scale that works on lithium batteries.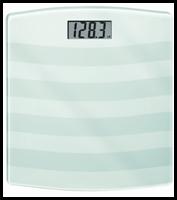 Whatever method you use to measure your successes – the BIGGEST measurement is HOW YOU FEEL. For those who have joined me in the Healthier Me challenge to get BETTER. CONGRATULATIONS.
Want to WIN a Weight Watchers scale like the one shown here? Scroll down and enter and let's get healthy TOGETHER.
I received product to facilitate this review, all opinions are strictly my own.
GIVEAWAY
* Tweet me @zipporahs and tell me your weight loss goal
* Comment below with your tweet
* Subscribe to Champagne Living, "Join the Clique", follow me on facebook or twitter – all found on the sidebar (each counts for 1 extra entry)
* Tell your peeps on your blog, facebook page or twitter about this or any post (each counts for 1 extra entry) and link to us.
This giveaway is open to US residents, 18 and over and ends on October 20, 2011.
No purchase is necessary.
Odds of winning are dependent upon the number of entries received.
Void where prohibited by law.
Winners will be selected by Random.org and sent to Conair for fulfillment. Champagne Living is not responsible for prizes that go unfulfilled by the aforementioned sponsor.