I am a paid Petcurean ambassador. This post is a result of my affiliation with the brand.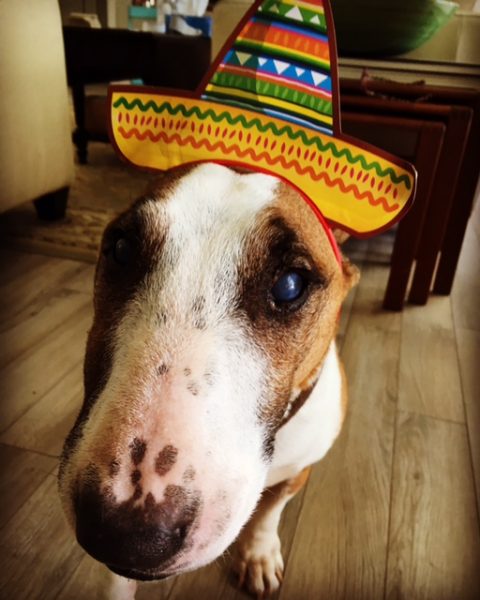 Oh Clem, don't you know that Cinco de Mayo was almost two weeks ago? I know you love celebrating, which is why I thought you and all of the dogs and the humans who love them should know that
MAY IS NATIONAL PET MONTH
Which makes it a GREAT time to adopt a new four-legged friend to complete your family. When I'm away from my silly bull-terrier, I realize just how much joy and companionship he brings to us. As a vital member of our family, he is always there for us, so it's just as important that we're there for him.
Just like me…Clem is a senior citizen of the dog world. At eleven years old, he has different needs, as he's slowed down.
If you have a senior dog it's important to
Keep them active: Exercise helps senior pets maintain a healthy body weight, and it helps slow the degeneration of joints from arthritis. Walking is excellent exercise. Swimming in a heated pool is also an excellent way to maintain joint mobility.
Ensure they get proper nutrition: As older pets are less active, they need fewer calories. A high quality, limited ingredient diet is a great way to maintain weight in older pets, while addressing and sensitivities and ensuring they get the nutrition they need, like Petcurean's Go! Limited Ingredient Duck Recipe for dogs. Dogs with joint problems may benefit from supplementation with glucosamine or fish oils.
Practice good dental hygiene: Dental care is just as important for pets as it is for humans. Dental disease is painful and may make eating difficult for your senior pet. If your dog won't tolerate you brushing its teeth, consider dental treats, or dental toys designed to help keep the teeth clean and healthy. Teeth cleaning by your veterinarian will also help to maintain oral health.
Provide an accessible home: Older dogs may develop arthritis or other joint problems, which can make it harder for them to get around. You can help by providing ramps to help them navigate around the house, get up on the bed, or get outside.  Orthopedic pet beds may help keep your pet comfortable and relieve pressure on the joints.
Love them up: Nothing tells your pet that you love them like a good belly rub or ear scratch. As your pet ages, physical contact is more important than ever. Every moment you have together is precious, and increasing the physical connection between you will strengthen your bond immeasurably. Maximize every opportunity for bonding with your pet – you will both be glad you did.


As you know Clem dines on his favorite dinner of Now Fresh every night.