"I participated in an Influencer Activation on behalf of Influence Central for Bella Gravida. I received a complimentary subscription and a promotional item to thank me for my participation."
Pregnancy has always been amazing for me. I love just about every minute of carrying my baby and the anticipation of meeting them for the first time. My biggest gripe with being pregnant was never the pregnancy itself, but the fashion. If you are trendy- or simply don't want to wear big frumpy sweats- clothing can become your biggest challenge. When I was pregnant with my first son and working in a corporate position, it was nearly impossible to find a suitable outfit without spending hundreds of dollars.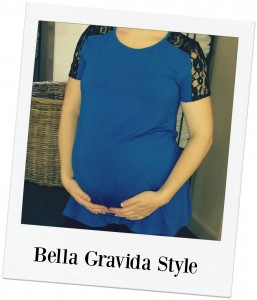 Bella Gravida is the answer for EVERY pregnant and nursing mom! For a flat monthly fee, you receive a revolving closet with thousands of designer maternity and nursing outfits. Select from six style categories: Classic, Modern Trendy, Romantic, Bohemian, Dramatic, and Southern Chic. Once you create your account, you simply go through the "racks" (aka pages of clothes) and select the styles you'd like added to your closet! Bella Gravida automatically selects and ships items directly from your closet and delivers (for FREE) right to your home. When you are ready to return, you simply place the item in the prelabeled shipping bag (from Bella Gravida) and send it on its way! Go online and let them know your item is on its way, so they can get the next item ready to ship!

As if no return deadlines and unlimited exchanges wasn't enough, Bella Gravida includes a laundry service—which means you wear it, put it in the bag, and send it on its way- so no need to do your own laundry! With monthly pricing plans starting as low as $39, the service is perfect for those women looking for an extensive closet without spending a fortune! Bella Gravida is currently offering any user their first month FREE! Simply create your membership at BellaGravida.com and get the first month of your subscription free.
As the holidays approach, you can glow in your pregnancy with the latest styles! Don't stress about what to wear to that holiday party or on Christmas Eve, Bella Gravida has plenty of styles to meet everyone's taste! Plus Bella Gravida can get a shipment out to you within 48 hours after filling your closet! If you know someone who is expecting, you can 'Give The Gift of Style' this holiday season with a Bella Gravida subscription!
For more about Bella Gravida
Website: http://bellagravida.com/
Facebook: https://www.facebook.com/MyBellaGravida
Twitter: https://twitter.com/bellagravida
Being pregnant means you can still be stylish and look your best!