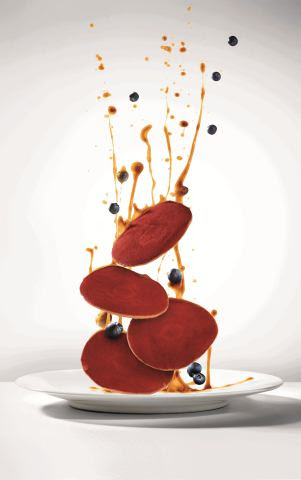 If you've ever been a guest of one of my favorite Las Vegas hotels, you've probably had them. Those FABULOUS Red Velvet Pancakes that Chef Anthony Amoroso entices me with every time I'm there.
Whether you've enjoyed them in the ARIA Café or had room service bring them up to your room, you've probably been thinking about them ever since. If you HAVEN'T tried them, don't worry, because this week Chef Amoroso has a VERY special surprise.
"The Red Velvet Pancakes are one of our most popular breakfast items," said ARIA Executive Chef Anthony Amoroso. "Guests continue to ask for an at home recipe so for National Pancake Week, we're going to let everyone in on a few of our top preparation secrets."
On February 11th at 10 PM PST the ARIA Resort & Casino will invite guests to get their flapjack fix with signature Red Velvet Pancakes during National Pancake Week, Feb. 9-15, as Chef Amoroso teaches you step-by-step instructions on making these indulgent pancakes AT HOME. Chef will be available directly after his master class at 10″30 on ARIA's Twitter account using #RedVelvet with any questions you might have.
Me? I'd rather be dining at the 24 hr ARIA Café located on the casino level next to the guest elevators. For reservations,
Details
Call ARIA Restaurant for Reservations at 702-590-8544.