The reviewer has been compensated in the form of a Best Buy Gift Card and/or received the product/service at a reduced price or for free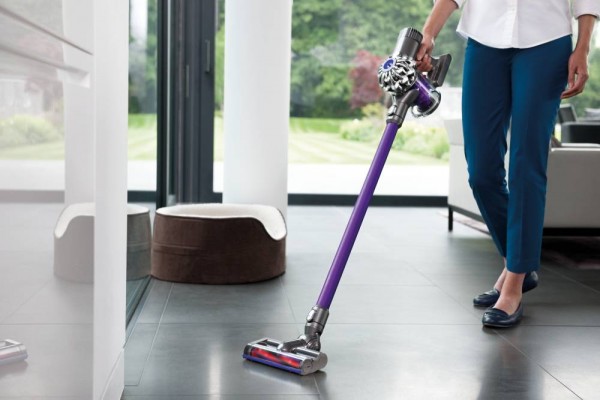 It's a fact that I HATE CLEANING. I always marveled at my friends who actually got some sort of satisfaction out of dusting the furniture or scrubbing the floor. Even the simple act of washing dishes is a major chore for me. If that's the case, then why am I reviewing Dyson's newest cordless stick vacuum sent to me from Best Buy?
I asked myself that same question.
Reviewing a vacuum means that I actually have to…gasp…CLEAN! As I said in the first sentence…I HATE CLEANING. But, for you….I'll DO IT. But, when I opened the box…it was in PIECES…
ASSEMBLY REQUIRED
Luckily the pieces snap together easier than Lego's for a 5 year old. It was plugged in and ready to charge in NO TIME. I love the ease with which I can change the attachments! Snap on…snap off.
TIME TO TRY IT
Unplugged and in my hand, not only was this stick vacuum FUN to use, but it handled my tile floors without shooting dirt at my shin WITH the beater brush going. One of my biggest pet peeves is a vac that can only handle carpet OR tile. This baby does BOTH with equally great suction (it's got 3 times the suction of any other cordless on the market). Because it is cordless, it can maneuver into spots that my large vacuum can not.
The DC59 Animal Bagless Cordless Stick Vacuum holds it's charge for a full 26 minutes, which according to my estimation is JUST the right time to hold my interest in cleaning PLUS whizzz through the mansion. I was shocked that it actually SUCKED everything in it's path and did a BETTER job than my bulky upright.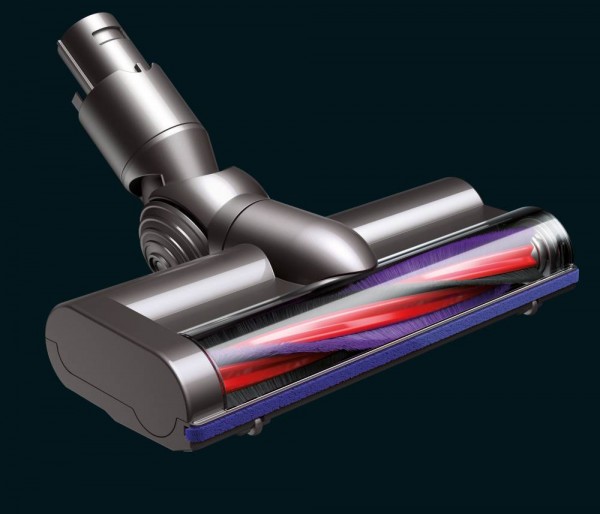 With Dyson's famous 2 Tier Radial Cyclone technology brought to cordless for the first time it cleans like NO OTHER. Because it's lightweight at under 5 lbs, I easily went over the baseboards, and even the overhead fans. The stick of the vacuum snaps off as easily as the attachments, meaning my window sills are now dust free…and the CAR! That's right…
Because it's cordless this is GREAT for cleaning the carpet in the car as well as ANY upholstery.
JUST THE FACTS MAAM
V6 motor
Spins at 110,000rpm (5 times faster than a Formula One racecar engine)
4-pole magnet that delivers 50% more power than its predecessor, V2
3 times smaller than a conventional vacuum motor
350 Watts with a re-engineered nickel manganese cobalt battery
1.5 times more power than its predecessor (same run time, however – the extra capacity is used to power the V6 motor)
3.5 hour charging time (vs. 5 hour in the DC44)
Boost mode still available from the 2 Tier Radial Cyclone technology
15 cyclones, arranged across 2 tiers
Work in parallel to increase airflow and capture fine dust with its re-engineered brush bar
Wider (approx. 10" vs. 8" on the DC44)
Improved maneuverability due to smaller ball at the back
Self-tightening mechanism keeps the brush bar stable
New configuration of carbon fiber filaments and nylon bristle tips to remove fine dust and dirt across all floor types
Extended neck for greater ease of use – with ergonomic updates
Soft-touch trigger is easier to hold (makes for longer clean time – people don't need to keep it on when moving furniture, etc. – less wasted energy)
Handle now more comfortable to hold
Only 4.65 lbs
Hygienic one-touch bin emptying, now on both sides (for lefties and righties). One push empties bin, 2nd push detaches bin completely for washing, etc.
 Pre-motor filter located at the top; now much easier to take out for washing
Available at Best Buy for under $500
THE BOTTOM LINE
Mr S's response (aside from SHOCK that I was vacuuming)….why did we wait until they sent us one to get a Dyson? Followed by…you get what you pay for (after I balked at $500 for a vacuum), and finally …
"I TOLD YOU SO" – yeah, he went there.
HE WAS RIGHT
I LOVE this lightweight stick vacuum by Dyson from Best Buy, and YES, I actually have used it again and again. Now if only Dyson would make a product that dusts, washes floors, and scrubs toilets I might actually clean the mansion MYSELF.
DETAILS
The Dyson DC59 Animal Cordless Stick Vacuum is available at BEST BUY stores & ONLINE
Priced at under $500
The reviewer has been compensated in the form of a Best Buy Gift Card and/or received the product/service at a reduced price or for free