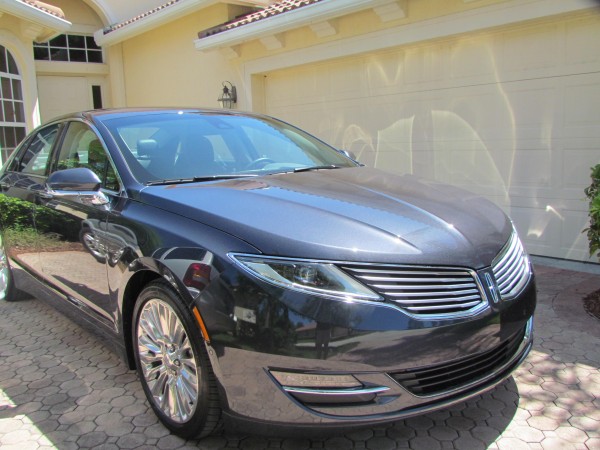 Having grown up in the automobile business, I had NEVER had to go out and buy a car on my own. My dad just handed me the keys to whatever wasn't selling on the lot (dealer plate attached) and that was it. It was my car, until another one came along that wasn't selling. After selling his restaurants, Mr. S. followed in my dad's footsteps, taking over the wholesale automobile business, and once again I was simply handed the keys to a car. But, since Mr. S retired, it's different, although he still wants to be the one who goes into the dealership and handle it all (it's the thrill of the hunt for him).
NOT ANYMORE! This time I'm going to be doing it ALL on my own, but having never made the decision myself I needed some help, so I turned to  Lincoln Motor Company's Kim Cape.
Here are you tips on how women can make the most of luxury vehicle shopping.
Tip 1: Cyber stalk
Before heading to the dealership, do some online research from the comfort of your couch (pajamas optional). Many luxury automakers can save you time by helping you narrow down your car of choice through digital tools like virtual tours of the car, video chatting and vehicle comparisons. Check to see if the automaker offers services that will make the shopping experience more efficient for you, like the Lincoln Concierge – offering services like real-time, email or phone conversations that provide valuable recommendations before visiting a dealer.
Tip 2: Make the first move
Your time is valuable, call ahead to confirm the dealer has the specific vehicle you want in stock. If so, schedule a time to visit the dealership to ensure you will be taken care of upon arrival, saving your valuable time.
Tip 3: Spend some time together
Purchasing a car is a long-term commitment; don't rush into a relationship with the wrong vehicle. Ask your dealer for an extended test drive so you can spend some time getting to know your vehicle without a salesman watching your every move. Some luxury dealerships may even offer special perks for extended experiences like the Lincoln Date Night offering a 48-hour experience complete with dinner for two at a Zagat-rated restaurant in your area.
Tip 4: Picture your future
Now that you have driven the vehicle for an extended period of time, ask yourself the tough questions because it's the little things that make the difference: Is there room for your purse on the console? Does the trunk fit your favorite luggage, yoga mat and gym bag? Do your sunglasses fit in the holder? Will the cup holders fit your morning latte or afternoon smoothie?
Tip 5:  Don't Settle
You will most likely be living with your vehicle for the next few years, make sure you found the right fit for you. It's time to determine your engine option – do you want a standard or Hybrid? What exterior and interior features are important to you? Which entertainment system would you like? Which safety features are a must? Once you have an idea of what you want in your next vehicle, don't settle. Ask your dealer, how much your custom vehicle will cost; you may be surprised by what you learn – for example the Lincoln MKZ Hybrid is available at the same pricing as the standard MKZ.
These five tips will ensure your luxury vehicle purchase is a happy long-term relationship vs. a Hollywood marriage.
For more information about Lincoln Motor Cars