Living in the Sunshine State definitely has its pluses. I don't have to heat the house, with the exception of 2-3 days per year. Lighting the grill is a 365 day a year way to cook without having to clean pots & pans. I can be outdoors pretty much every day without having to put on layers of clothes. For Mr. S and me, leaving New England winters was a good choice. But, after two years of living in shorts and t-shirts, I started to look like Polka Dot Dottie. I admit that I'd been so keen on soaking in the sun as I took Clem out for walks, or sat outside with a book, that I wasn't always vigilant about slathering on my sunscreen.
I noticed a spot on my hip and a mole on my face that didn't look like the others. After calming down from a mild panic attack, I called the dermatologist who suggested that I come in for a FULL BODY CHECK. UGH…I'd have to stand there exposed in front of my doctor. My appointment was quick and easy. The entire check took minutes as he and his assistant checked my spots, dots and moles…and I learned a LOT about what I should and shouldn't be doing, now that I was an official southerner. Happily, there were no signs of cancer, and armed with my new information, I went out to buy sunscreen for my body and makeup WITH sunscreen to use on my face.
#MelanomaMonday (Not To Be Confused With The Bangles Song "Manic Monday")
May 2nd is Melanoma Monday, and the American Academy of Dermatology (AAD) wants you to take a minute to make sure your skin is " Looking Good in 2016 " by checking it for signs of skin cancer. One in five Americans will develop skin cancer at some point in their lives, and more than 8,500 people in the U.S. are diagnosed with skin cancer every day, with one person dying from melanoma, the deadliest form of skin cancer, every hour. May is Skin Cancer Awareness Month, and a GREAT time to get into the habit of checking for skin cancer.
Did you know?
That melanoma is the deadliest form of skin cancer, and men ages 50+ are at a higher risk of developing melanoma than the general population. Mr. S has to be poked into going to the doctor, and if your husband, boyfriend, brother, dad, or friend hasn't had a skin cancer screening, it might be time to have that conversation. You remind them to go to their primary doctor for check-ups, have their eyes checked and teeth cleaned right? According to the AAD, this is a vital part of everyone's healthcare routine.
Join Me
I get regular skin cancer screenings and put on sunscreen every day before walking out the door. Do a check as you pass that mirror each morning to either hop in or out of the shower. Not just during skin cancer month (May), but every month!
The A-B-C-D-E's of checking for melanoma
A is for Asymmetry: One half doesn't match the other.
B is for Border irregularity: The edges are ragged, notched or blurred.
C is for Color that varies from one area to another.
D is for Diameter: Melanomas are usually greater than 6 millimeters (the size of a pencil eraser) when diagnosed, but they can be smaller.

E is for Evolving:

Look for a mole or skin lesion that looks different from the rest or is changing in size, shape or color.
If you notice any spots that are different from the others, or anything changing, itching or bleeding on your skin, see a board-certified dermatologist.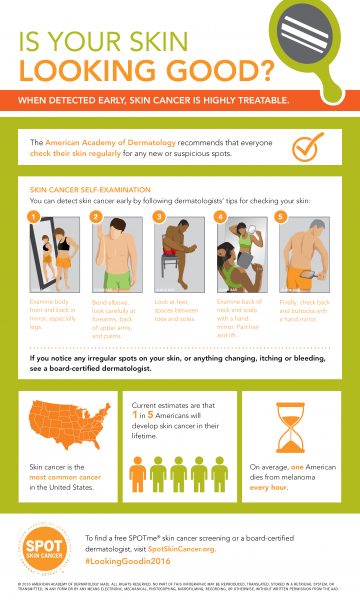 The good news
If you spot skin cancer early (including melanoma), it is highly treatable, and the five-year survival rate for people whose melanoma is detected and treated before it spreads to the lymph nodes is 98%. Luckily this is one cancer that you can actually SEE on the surface of your skin, making it easier to detect and get to the doctor for treatment.
Protect Yourself
Buy that big floppy hat you've been eyeing,  seek shade, wear protective clothing, and generously apply a broad-spectrum, water-resistant sunscreen with an SPF of at least 30. Remember to reapply every two hours or after swimming or sweating….not only at the beach, but when walking, gardening or even just running errands.
Free Cancer Screenings
Free SPOTme® Skin Cancer Screenings are year-round, but a majority of them fall during the month of May. Screenings are offered across the country and information about dates and locations can be accessed on the AAD website .
Share Plans on #LookingGoodin2016
Lastly, don't forget to check out AAD's site to upload a photo and share with the public here what motivates you to check your skin for signs of skin cancer!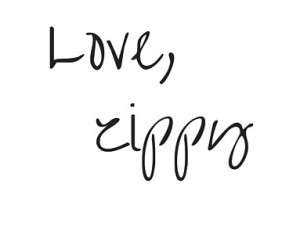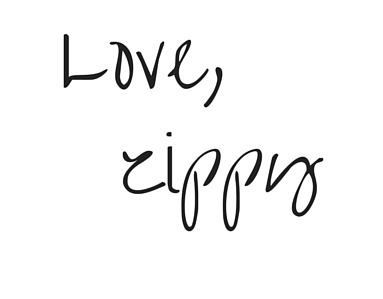 This is a sponsored conversation written by me on behalf of American Academy of Dermatology. The opinions and text are all mine.