Our roving travel writer, Kathy Leong visited Wisconsin recently and enjoyed a leisurely stay in Elkhart Lake as their guest.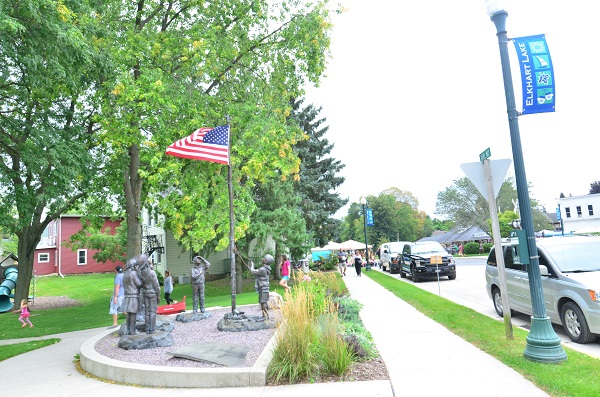 If you are like me, on vacation you want to bolt out of your hotel room as soon as the sun rises in order to get the most out of the day. You go for your morning run to get the lay of the land, read the local paper to get the regional context, and by 8 a.m. you have already exercised, showered and eaten breakfast.
However, there are those needed times where you really should take it slow, reflect, and enjoy the moment.  Secluded Elkhart Lake, Wisconsin is one of those places. One hour from the Milwaukee International Airport, the town of Elkhart Lake began as the dwelling for the native American tribe, the Potawatomi. Years later, it turned into a healthy haven for those who came to recover as it was believed that Elkhart Lake possessed healing waters.
Today, the small, 292-acre lake represents that proverbial hidden gem mostly frequented by the Chicago set.  Few super travelers, it seems, think of Wisconsin as a destination worthy of those precious vacation days.  But let me tell you, if you are in desperate need of some mental and emotional R&R (and who isn't these days), consider this sanctuary for a three or four-night getaway.
Position yourself for these next days at the AAA four-diamond Osthoff Resort, the most upscale property in the area.  It is a historic grand hotel from 1894 fronting the lake with multiple colonial white buildings connected together. The Osthoff features gardens and gazebos, a walking path, small lake beaches, rental gear, and swimming pools.
There are, plenty, I mean plenty, of benches and alcoves indoors and out for journaling, napping, and praying and meditating if that is what your soul needs at this moment.  In fact, this place is so spacious it is the site of many faith retreats and corporate meetings with groups of up to 1,500 attendees.
Room offerings come in standard single rooms as well as one and two-bedroom suites. If you can, grab a suite during your multiple-day mental detox. A suite will have a separate bedroom with TV, and a living room and dining room combo. A kitchenette featuring full refrigerators and microwaves, stoves, and cabinets with cookware and place settings makes it extremely convenient to make coffee or tea in the morning or warm up leftovers from your dinner the night before.  The décor is best described as comfy old world with classic wood furnishings in a palette of browns, reds, and greens.
Consider getting the most out of your time by sleeping in and ordering room service for breakfast.  Then you can read the paper while snuggling up in front of your gas fireplace.  Rooms also feature balconies or patios so you can enjoy the ambiance of the outdoors.
The expanded and renovated Aspira Spa is a must-try when staying at the resort. You have your choice of facial options and massage treatments aplenty.
Few resorts can boast their own cooking school.  L'ecole de la Maison at the Osthoff Resort is a fully stocked, comprehensive, lovely cooking school kitchen with wide countertops, vast kitchen island, state-of-the-art appliances, ample lighting, and professional chefs at the helm.
The cooking school is not just a mini add-on to the hotel.  It is a full-fledged gourmet cooking school that offers group classes for children through adults.  Topics cover iron skillet cooking, holiday cookie decorating, and many others.  You cook and eat and drink in the same surroundings where you have prepared the meal.  It is a memorable activity worth the price of admission, great for families and groups of friends.  The cooking menu repertoire is ever-evolving. In the future, the school plans to bring guests mushroom foraging in the woods and to pick fruits and veggies in the hotel's own farm garden a few minutes away.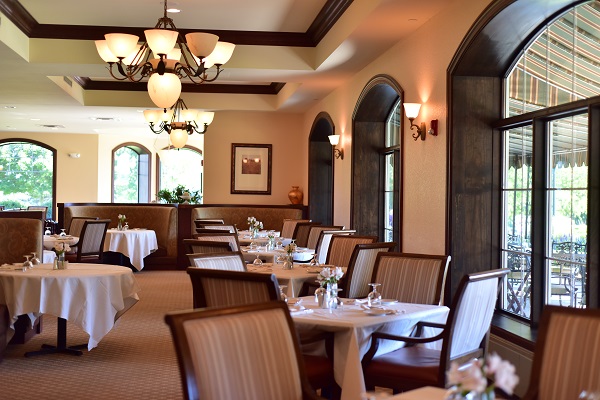 When eating is more on your radar then cooking, elegant Lola's on the Lake at the Osthoff is its high-end restaurant where chefs cook with as much farm-to-table cuisine as possible. Like we said earlier, the hotel operates a 2-acre chef's garden with year-round veggies and fruits.   Staffers pick hundreds of pounds of fresh produce so guests can enjoy farm ingredients in their dishes that same day.  You can expect special Mother's Day brunches, Thanksgiving dinner, and other ornate meals that are served with grandeur. On warm days, the meals are served outside with views of the lake.
When you are ready to venture out on the lake, you can rent your own paddleboard or kayak. Most relaxing is the morning pontoon boat ride where you can have coffee and get your bearings for the day.  There is also a boat ride at dusk with a history talk about Elkhart Lake supposedly named after the shape of an elk's heart.
Walking around the downtown core, positioned around its restored train stop, will take about 15 minutes.  There's an ice cream shop, a Nordic store, an art gallery or two,  Two Fish Galley with pottery and work from local craftsmen and craftswomen,  and a few gift shops and clothing boutiques.
Remember, you've come here to dial down, not dial-up charges on your credit card!
A handful of restaurants, casual Lake Street Café to the trendy Paddock Club, feature tasty pub food and local bistro fare at affordable prices.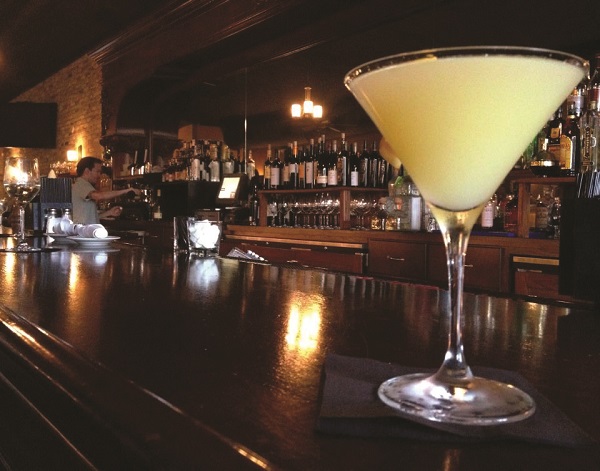 At brick-clad Paddock Club, you can enjoy handmade pastas, fresh fish, steaks, chops and unique desserts like none other.
The 1,000-plus member community is also home to Road America, a permanent four-mile course track used for a variety of speedway races.  It is nationally known among the car lovers, and the facility hosts weddings, birthdays, and all sorts of events.  In the dry and warm months, the track allows people to run or walk for exercise.  At Road America, visitors come for other activities such as go-cart racing, driving education programs, camping, vintage car festivals, and more.

On your chill-out weekend at Elkhart Lake, you can treat yourself to the best of the best in activities, spa treatments, cooking classes, and lodging.  Just listen to your heart.
For more information about what to do and where to stay in Elkhart Lake visit ElkhartLake.com
[mappress mapid="4″]