Disclosure: Trip sponsored by Walt Disney Studios, all opinions are strictly my own.
[bctt tweet="Inside the glass slipper – an interview with Lily James"]
Have courage, and be kind.
Lily James floats into a room. A tiny wisp of a woman with a kind smile, you are immediately drawn to her like a bee to honey. You can understand in that first second why she was cast in the role of Cinderella. Our group sat down with her last week to ask a few questions about her work in the new Disney movie.
What would you tell young girls today about the relevance of your character Cinderella? 
Lily James: This is a girl that's not sitting around waiting for a prince to come and save her.  She's got this unbelievable strength and it doesn't come from fighting,, it comes from within.  Strength is her courage and her kindness and if she has that, she can deal with as best she can what life throws at her. She's being the best version of herself, and with such an open heart when she does meet the prince not knowing who he is, he falls for her because she's a strong, powerful, beautiful from within woman.  
That DRESS…tell us about that dress.
Lily James: The dress is insane.  There's a scene from Runaway Bride with Julia Roberts where she looks, she puts this dress on and she looks in the mirror and, I think Richard Gere is looking really  handsome somewhere and she just goes like swoosh, swoosh.  She makes this sound and I put it on and I felt like Julia Roberts, it was just the best feeling ever.   Cinderella is a fairy tale, it's this sort of thing that's very far removed from me.  Then I put on that gown and I just felt transformed and it felt like a suit of honor.  But it was really hard to wear and it was incredibly tight and it had a life of it's own basically.
Next to the dress you think about the glass slippers.   
Lily James: They were really made out of Swarovski crystals, so they were even more amazing, and they're so beautiful but, sadly, I hate saying this, but, they don't fit any human foot.
What was the most emotionally difficult scene to shoot?
Lily James: The beginning scenes were  hard and even the stuff watching the younger me.  Last night (at the premiere), one of the little girls came up to me at the end and she was like, 'it's so sad, both your parents died.'  I said to here: 'I've got the mice and the prince.'  Those scenes were really hard, and the scene where the farmer comes and tells me the news.  There was a bit in shooting when I felt like I was crying all the time.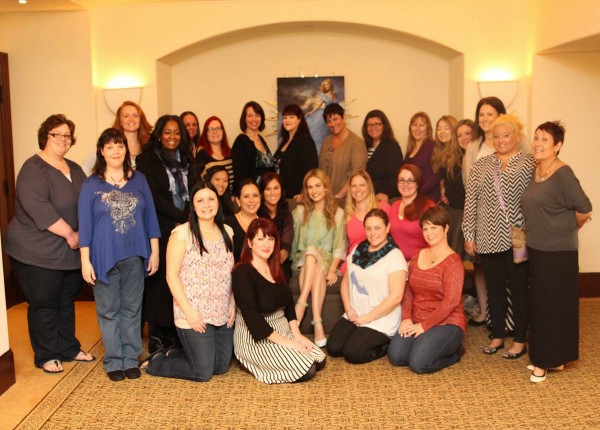 I don't want to give TOO much away, so you'll have to wait a few days and go see Cinderella for yourself.
Cinderella this Friday March 13th, 2015. 
DETAILS
More of Cinderella on Champagne Living