**Sponsored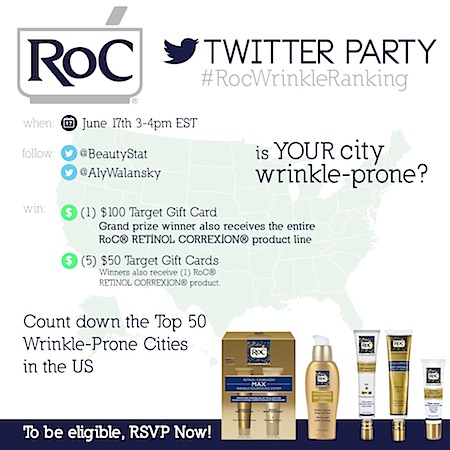 Even better….come spend an hour with some of my friends on twitter as we get to the bottom of how WHERE  you live affects HOW you look and WHAT you can do to help.
Do you ever wonder if your city is making you look old?
That's right YOUR CITY! Factoring in your region's climate and weather conditions is an obvious indication of how your skin will look.
But, how about your lifestyle?
How you eat, drink, sleep and take care of yourself? Even your job!
According to the New! "Wrinkle Ranking" brought to you by RoC®, the skincare Brand has determined the Top 50 Wrinkle-Prone U.S. regions where residents' skin is most at risk according to various lifestyle, environment and occupational factors.
To learn which 50 cities made the list, and to find out if your hometown is one of them…
Join , @BeautyStat and beauty/travel/lifestyle writer @AlyWalansky as they take you through each city, where they rank and what causes their wrinkle woes during the #RoCWrinkleRanking Twitter Party. All will be revealed on Tuesday, June 17th, 2014 from 3-4PM EST.
Will your city make the cut?
You'll have to RSVP to the Twitter Party first to find out!
But, what can you do to protect yourself?
We'll also be talking about the latest retinol products from RoC® Skincare including the RoC® RETINOL CORREXION® Deep Wrinkle Night Cream, Eye Cream, Deep Wrinkle Serum, Deep Wrinkle Daily Moisturizer with Sunscreen BROAD SPECTRUM SPF 30 and MAX Wrinkle Resurfacing System!
But wait. There's more!
6 Lucky Winners will be walking away with amazing Prize Packs! After every 10th city revealed, we'll be giving away a $50 Target gift card with a RoC® RETINOL CORREXION® product (5 winners). And at the end of the chat, only 1 Lucky Winner will win a $100 Target gift card with the entire RoC® RETINOL CORREXION® product line (worth around $250 in value).
Are you ready to see if your city is causing you wrinkles?! Don't forget to RSVP down below and make sure to join the party and use #RoCWrinkleRanking in all your tweets! I'm looking forward to seeing you there!
#Sponsored Post: I will be tweeting alongside my friends as a paid participant as we all learn just WHICH cities put your skin at risk, and what we can do to protect our skin.