This post has been sponsored by Perdue Farms in collaboration with Ninja. All opinions are strictly my own.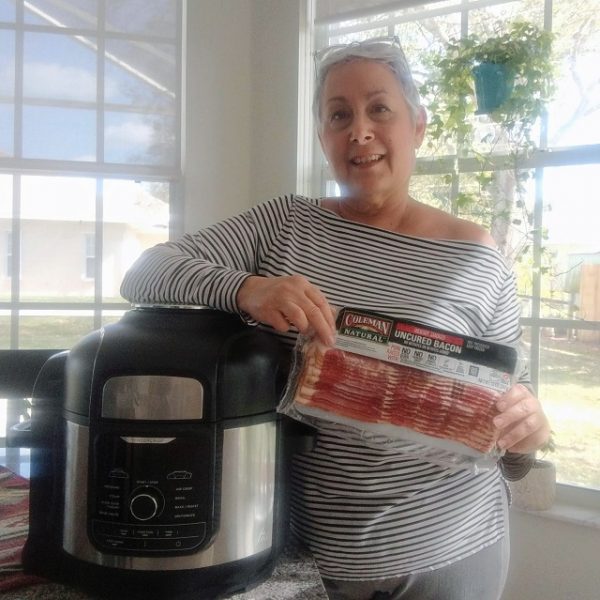 I never give myself enough credit
I have a bad habit of putting myself down as a cook. I suppose part of it comes from being married to a former restauranteur and chef. It's so difficult to cook for him knowing how creative he is with a piece of meat and some spices. But, honestly, he doesn't EVER cook at home…EVER. He rarely did when we were young. The only time he'd rattle those pots and pans was for a major holiday or gathering of a lot of people. I slowly became to realize that he couldn't cook for two. He didn't understand cooking in a home kitchen. He was used to having prep cooks, dishwashers, etc. Unfortunately, I was none of those things (or at least I had no desire to be). But 2020 was such a crazy year and for someone who is used to traveling most of the year, being home was a challenge…until I challenged myself. It was not that this was not about making the best of a bad situation, it was about making the situation feel like an adventure. Why couldn't I have the same feeling of joy that I get watching the salmon run in Alaska or being on a luxury train traversing the Canadian Rockies? So, at 67 years old, I've decided to cook more. To learn new techniques, to travel through my taste buds, and at the same time to make sure that we eat better. I don't do well with crazy diets, I do well best with simple portion control and intermittent fasting, so I've been fasting 'til noon and stopping any foods at 8 pm and just eating less of what I really love. That way there's no reason to FALL off of my diet.
I love lamb, but I could never quite get it just right
I received a Ninja Foodi to create a recipe for Perdue Farms. I knew that I wanted to take those Niman Ranch Lamb Loin Chops that had been sitting in the bottom of my freezer for a while and try to get them just right. I thought that since I had a rasher of  Coleman Natural Bacon in the fridge that I'd attempt it. They came out PERFECTLY! As a matter of fact, I was shocked that the house didn't have that over-powering lamb smell, and even HE enjoyed dinner (he's always said that he doesn't like lamb….this recipe proved him wrong.
Using the Ninja Foodi
I have a general fear of anything other than the grill. Even my oven is a mystery to me. The Ninja Foodi just seemed a bit less intimidating, since it's so compact and so simple to use. With 9 functions including Pressure Cook, Air Fry/Air Crisp, Steam, Slow Cook, Yogurt, Sear/Sauté, Bake/Roast, Broil, Dehydrate I could easily make anything that I want in it. But, my favorite has been the Air Fry/Air Crisp feature with its crisping lid that allowing Miss "No Patience for cooking" here to cook quickly and air crisp, air fry bake/roast, and broil my food without the worry of overcooking. The TenderCrispTM Technology combines the best of pressure cooking and air frying all into one nonstick pot. My oven may never see a pan again. I even stacked up some of my favorite nuggets on the deluxe reversible rack for a quick lunch without having to wait in the drive-thru! Next up, I'm going to try using the pressure lid to pressure cook, steam, slow cook, or sear/sauté a few dinners. Not only has the Ninja Foodi created an endless variety of dinner options for the two of us, but because it automatically turns off after I set the timer I'm no longer burning dinner because "I forgot" to check it.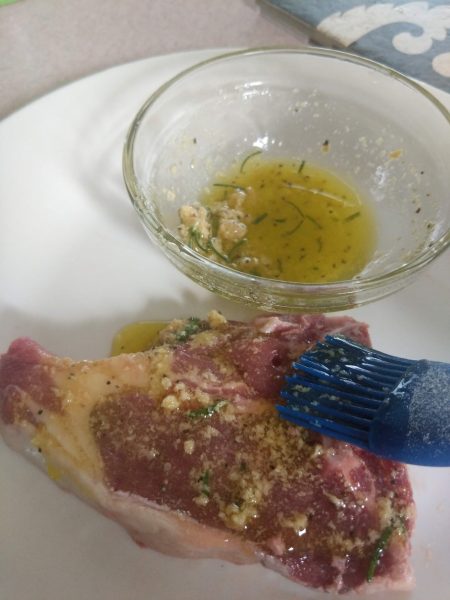 Simple lamb chops
Ingredients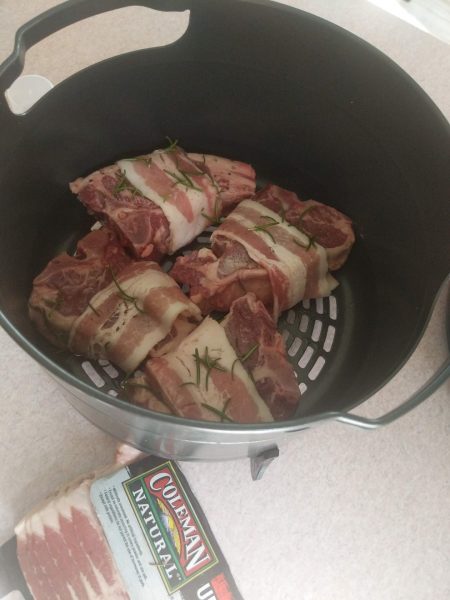 Directions
Add olive oil, garlic paste, rosemary, salt & pepper in a small bowl
Whisk together and marinate the lamb chops in the mixture
Wrap each lamb chop with a strip of bacon & tuck in a sprig of rosemary
Set the Ninja Foodi to air crisp, 390° and pre-heat
Place the chops into the cook & crisp basket and place into the Ninja Foodi
Set the timer for 15 minutes
Remove and plate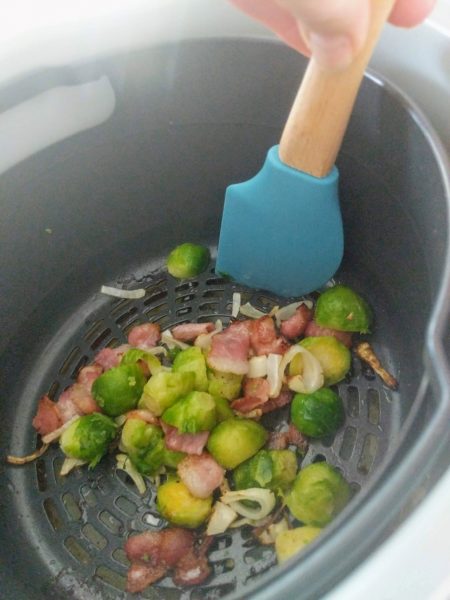 Brussel Sprouts
Ingredients
  Directions
Slice bacon in ¼ in pieces
Chop onion
Keep the Ninja Foodi at the same setting and cook the bacon & onion for 7 minutes
Cut Brussel sprouts in half
Add the Brussel sprouts after 7 minutes and cook for another 15 minutes, stirring every 5 minutes
Remove and add to the plate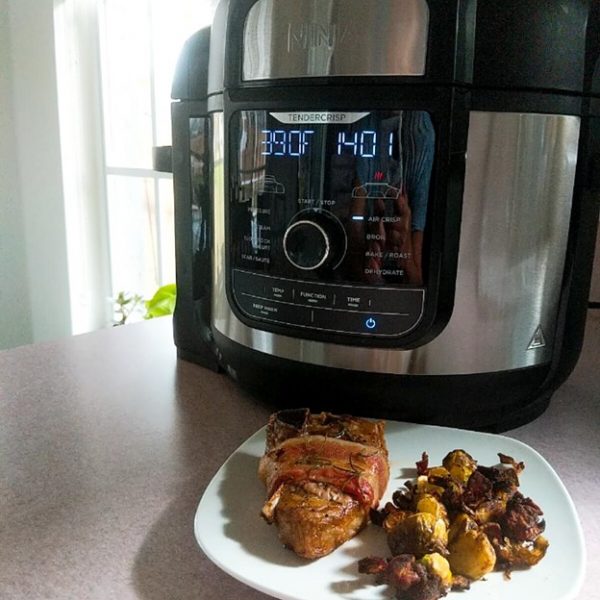 ENJOY YOUR DINNER