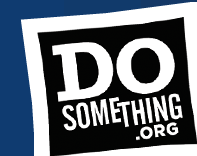 I'm sure you have some extraordinary young people in your life– whether kids, tweens, highschoolers or college students. To celebrate young people who are making a difference, since 1996, DoSomething.org has honored the nation's best young world-changers, 25 and under*.
Do Something Award nominees and winners represent the pivotal "do-ers" in their field, cause, or issue. In 2011 the five nominees will be rewarded with a community grant, media coverage and continued support from DoSomething.org. The grand prize winner will receive $100,000 during the live broadcast.
You'll have to act quickly, because the application deadline for the DoSomething awards is March 15th, 2011 5pm EST.
The Award**:
5 Nominees: Each nominee will receive a $10,000 community grant.
1 Grand Prize Winner: One Grand Prize Winner will receive a $100,000 community grant.
Applicants must be 25 or younger (born on or after 9/1/85) and be a US or Canadian citizen or permanent resident
**The Do Something Award community grant money is paid directly to the nominee's organization or the not-for-profit of the nominee's choice. All winners have the option of receiving $5,000 of the total money awarded in the form of an educational scholarship.
For more information, please visit http://www.dosomething.org/programs/awards