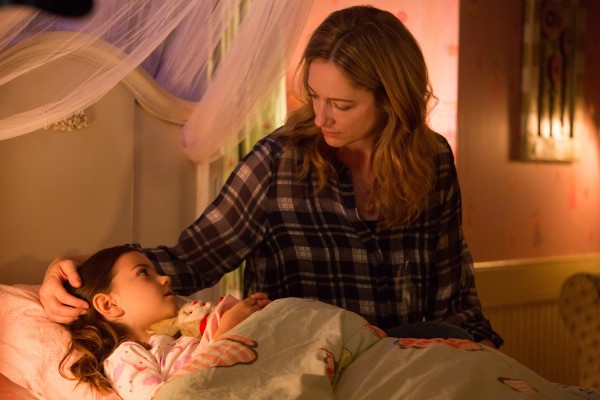 The next evolution of the Marvel Cinematic Universe brings a founding member of The Avengers to the big screen for the first time with Marvel Studios' "Ant-Man." Armed with the astonishing ability to shrink in scale but increase in strength, master thief Scott Lang must embrace his inner hero and help his mentor, Dr. Hank Pym, protect the secret behind his spectacular Ant-Man suit from a new generation of towering threats. Against seemingly insurmountable obstacles, Pym and Lang must plan and pull off a heist that will save the world.
While it all sounds so super-human, the beauty of Ant-Man lies in the backstory of a family in turmoil. As the ex-wife of Scott Lang (played by Paul Rudd), Maggie (Judy Greer) brings a mother's instinctive protection of her child to help create the backstory. I was able to sit down with this funny woman who can make you laugh with just a quick one-liner.
What made you want to audition for the role?
I love Peyton Reed. I was really excited to work with Peyton because he's I think really funny. I think what some of these super hero movies lack is like a genuine sense of comedy in them.  I think that the serious like super hero movies are great for like the super fans, but it's the comedy that's gonna keep like us interested in them when we're watching them over and over with our kids. You know, like Guardians of the Galaxy was so funny. 

Plus with Paul being Ant-Man, I knew it was gonna be funny.
Were you familiar with Ant-Man or comics at all?
I'm a Rom-Com girl, and I'm not a big comic book person. So,my agent as a start gift bought me a giant really beautiful hard cover coffee table book about Marvel comic book heroes and said: brush up. But, I do think super hero movies are great because they do teach a really good lesson to all of us.
What's it like to be in a Marvel feature?
It's really fun to be here. I can tell you that. Like it's just been such an easy job because everyone's nice and cool. I feel like they're giving us a lot of space and a lot of time to figure those interpersonal scenes out. And I really like that. But it's also really fun because the combination of Peyton and Paul Rudd and Bobby Cannavale is awesome. They're really funny.
Tell me about your character Maggie.
I play Scott Lang who's Paul Rudd's character's ex-wife. We were married when we were really young. Scott Lang's character is extremely intelligent and able to do kind of like I don't know like cyber law breaking. When I got pregnant I asked him to stop, and he didn't. He ended up getting arrested and going to jail, so we got a divorce.  I met Jim Paxton, Bobby Cannavale's character, and we're engaged, but Scott and I have an amicable divorce. I want him to see his daughter, and I want him to have custody. I want that stuff for my daughter, but he can'tput her in danger anymore, which is what I felt he was doing by breaking the law whenshe was a baby. So that's my role. I'm like you have to get a job and be responsible…
Ant Man opens in theaters on July 17th
For  more info