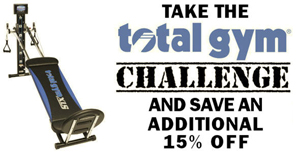 Which is why I'm SO IN LOVE with my Total Gym XLS. My "usual" form of exercise is to walk. I have to walk Clem the mini-bull-terrier, walk to keep my knee moving, and walk just to get away from the day to day dealings at the mansion.  There's a heat wave across the nation and South Florida is ALWAYS good and hot (and humid) in the summer, so walking when the heat index is about 100° is just not an option….as least for very long. Having home exercise equipment like those from Total Gym help me stick with the program, without excuses.
I may walk by it (or over it) in the mornings, trying to avoid the obvious, but the fact that I can see it out of the corner of my eye has been a constant reminder (or thorn in my side on those days that I just don't feel like it) to get up off of my behind and exercise.
I've now added a diet program along with my exercise, which has helped SO MUCH. I'm down 3 lbs. in 3 days. HOORAH!!!
Learn more about the Total Gym from these fabulous Total Moms Total Gym participants as well:
Want to join me in getting yourself in your BEST SHAPE EVER? Champagne Living readers get 15% OFF of Total Gym (discount is in the link).