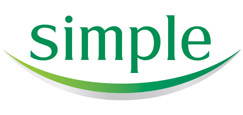 Have you noticed that most of the better skin care regimes begin across the pond and come to the United States later? I can think of at least a dozen cosmetic, beauty and skin brands off the top of my head. There's a new product that has his the US shelves and it's touted as the UK's #1 facial skincare range (non-medicated) and it's geared to ALL types of skin, especially those that are sensitive.
Infused with vitamins, with no perfume or dyes to irritate your skin, Simple uses the purest of ingredients and has for 50 years. The interesting thing is that you can purchase Simple products at your neighborhood Walgreens. No over-priced mall store necessary, you get this simple goodness at a drugstore price.
Today I had the opportunity to try two of the products
Simple Smoothing facial scrub – Usually I think of a scrub as being irritating, but the rice granules that they use to exfoliate your skin are so fine that there was no redness after I used them. It cleaned my skin well and because it exfoliates, my complexion was brighter.
Simple hydrating light moisturizer – I love the fact that this has no scent, it's one of my pet peeves. This moisturizer includes pro-vitamin B5 and Vitamin E (the ingredient that my plastic surgeon tells me is a MUST USE for plumper skin). This would be a great product for someone a bit younger as it's nice and light. My skin needs a VAT of oil to hydrate.
If you'd like to learn more about Simple and win some prizes. We're having a twitter party tonight
Party Details:
When: Thursday, February 16th
Time: 9:00pm EST
Who: You and your friends!
Where/Tweetgrid: http://bit.ly/Auee9s
Hashtag: #simpleskin
RSVP: http://bit.ly/wr4wNK 
Party Sponsors: @SimpleSkincare, @Walgreens
Party Hosts: @SheSpeaksUp, @RachelFerrucci
Party Panelists: @AmyBHole, @CherylBudge, @MommaDJane, @StacieinAtlanta, @zipporahs,@lisasamples
Prizes:
We're giving out over $500 in prizes, including a variety of the new Simple® skincare products and gift cards to Walgreens! You could win our grand prize, a $150 gift card to Walgreens.
I received compensation & product to participate in this twitter party. All opinions are my own.