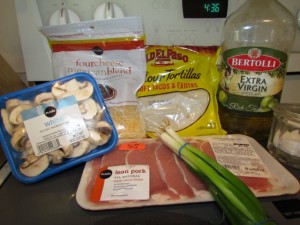 One of the easiest ways to live the good life is to expand your horizons  and look beyond what you normally do on a day to day basis. When you learn something new, go out and have REAL FUN, spend time with your friends and family that's  Champagne Living. At the end of the day, I just want to know that I've lived with gusto, and truly enjoyed myself. For my new friend Nikki, it's celebrating with a glass of champagne every day, for me it can be traveling to an exotic locale or just enjoying a wonderful dinner with my family.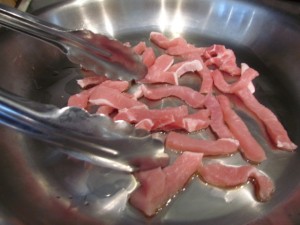 For these last four weeks I've spent each Friday making a dinner that I'd never have attempted before. I'm not much of a cook, especially when compared to Mr. S who cooked in our restaurants and is extremely creative in that department. SURPRISE – I've actually enjoyed trying something new. I realize that when I get out of the same old dinner rut that cooking can actually be fun. I have the National Pork Board and Publix to thank for that, because had they not asked me to be a part of this program, I would have never attempted ANY of this.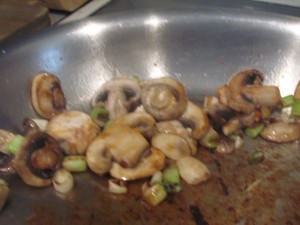 On one hand I'm sad that this program is ending, but on the other hand I have a great new resource for recipes and great deals at Publix on pork. I'm excited to continue to expand my repertoire even more.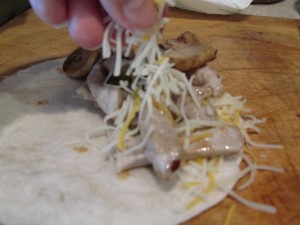 This week Pork Sirloin Cutlets are on sale at Publix through 2/22 – so, off I went to buy a package. I decided to make a great healthy comfort food, since it was just Mr. S and I and I have a big weekend ahead. Relaxing and enjoying pork and mushroom quesadillas and then watching a little TV was just what I needed with all of the running around that I've been doing lately.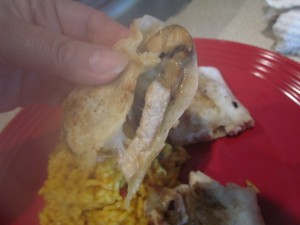 Pork And Mushroom Quesadillas
Ingredients
12 ounces pork cutlets, pounded 1/4-inch thick (I bought thin ones, not pounding required)
1/4 cup olive oil with garlic, OR olive oil, divided
salt , to taste
6 ounces fresh mushrooms, sliced
1/3 cup green onions, sliced
8 ounces Swiss cheese, OR Gruyere cheese, shredded (2 cups)
4 large flour tortillas, (9-to 10-inch)
Directions
Stack cutlets and cut crosswise in half, then cut each stack lengthwise into matchstick-size pieces.
Heat 1 tablespoon oil in 12-inch nonstick skillet over high heat; stir-fry pork for 2 minutes or until no longer pink.
Remove pork from skillet with slotted spoon.
Season to taste with salt.
Add 1 tablespoon oil to skillet.
Add mushrooms and onions to skillet; stir-fry for 1-2 minutes or until crisp-tender.
Remove from skillet.
Wipe skillet with paper towels.
To assemble, sprinkle 1/4 cup cheese over half of each tortilla.
Top each with pork and mushroom mixture.
Sprinkle each with 1/4 cup of remaining cheese.
Fold tortillas in half; pressing gently.
Add 1 tablespoon oil to skillet.
Cook quesadillas, 2 at a time, over medium heat for 2-4 minutes or until golden and cheese is melted, turning once.
Remove quesadillas from skillet; loosely cover with foil to keep warm.
Repeat with remaining 1 tablespoon oil and quesadillas.
Cut quesadillas into wedges to serve.
Serves 4.
Time
Prep Time: 15 minutes
Cook Time: 10 minutes
This post is a result of a campaign by the National Pork  Council, Publix Supermarkets and The Motherhood. This campaign has inspired me to cook more often…that is when I can't get reservations. All opinions are strictly  my own.
GIVEAWAY
Extra entries
Like Pork be Inspired on Facebook – let us know in the comments below
Tweet me @zipporahs  with the hashtag #Publix4Pork and tell me your favorite pork recipe (maybe I'll try it).
Comment below with your tweet
Subscribe to Champagne Living, "Join the Clique", follow me on facebook or twitter – all found on the sidebar (each counts for 1 extra entry)
Tell your peeps on your blog, facebook page or twitter about this or any post (each counts for 1 extra entry) and link to us.
Share this giveaway on any contest/sweepstakes/giveaway site for 5 extra entries..
This giveaway is open to US residents, 18 and over and ends on February 24, 2012
No purchase is necessary.
Odds of winning are dependent upon the number of entries received.
Void where prohibited by law