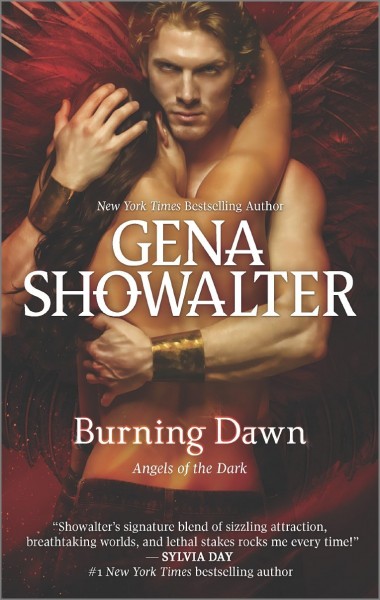 While I haven't yet read this steamy romance novel YET, but I'm fanning myself just reading this synopsis….
Synopsis:
A tormented past has left Thane with an insatiable need for violence, making him the most dangerous assassin in the skies. He lives by a single code: no mercy. And as he unleashes his fury on his most recent captor, he learns no battle could have prepared him for the slave he rescues from his enemy's clutches—a beauty who stokes the fires of his darkest desires.

Elin Vale has her own deep-rooted scars, and her attraction to the exquisite warrior who freed her challenges her every boundary. But Thane's unwavering determination to protect her means she must face her greatest fears—and enter a world in which passion is power, and victory means breathtaking surrender.
I usually dive into a quick book the MOMENT I fasten my seat belt on the plane, and with Burning Dawn  by Gena Showalter I have the feeling that I'll be in for a WILD RIDE with or without buckling up.
For my readers who just LOVE getting lost in a steamy romance, enter to win this AMAZING prize pack here on Champagne Living.
OR…if you can't WAIT pickup a copy on Amazon.com NOW!
Want to know more?
Enter to win
ANGELS OF THE DARK Prize Pack
One (1) winner receives:
$100 Visa gift card to collect all of Gena Showalter's books
Angel Wing jewelry
3 book set of the Angels of the Dark series