Meet Clem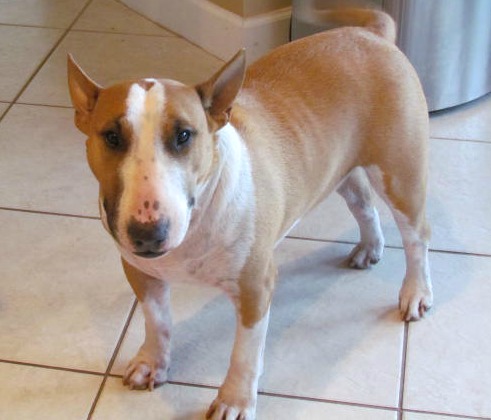 Clem is a miniature bull-terrier who believes he's one of us. Maybe it's because we treat him like a full member of the family, or maybe it's because he really IS one of us. We go for walks together, play together, snuggle together, watch the Superbowl together and even eat together.
While I find myself rustling through the fridge trying to figure out what Mr. S and I will have for dinner, I NEVER have to do that with Clem. He's EASY! With a pantry stocked full of great Merrick foods. Believe it or not, I can even tailor HIS dinners to special events,  just like we do.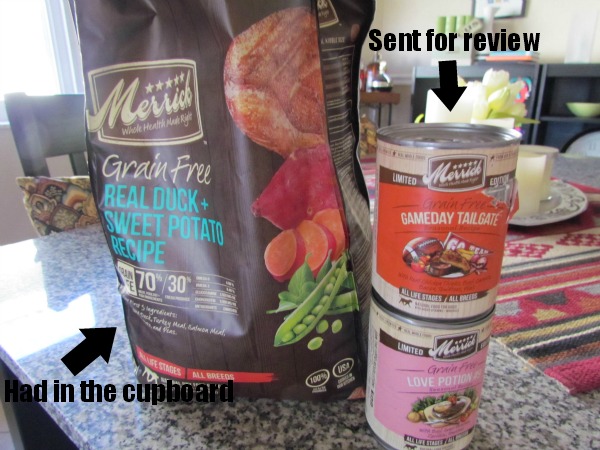 This Sunday, Clem will be enjoying a big game spread that rivals any that I'll be putting out as he chows down on Merrick's Gameday Tailgate dinner. This grain free seasonal recipe is stocked with real chicken thighs, beef, carrots, bacon, tomatoes and peas.  As you can see, it's also great for that pre-game practice!
I love these FUN Limited Edition foods, because now Clem can celebrate the holidays with us and be eating bullie healthy. I've even stocked up on some Merrick Love Potion #9 for Valentine's Day. With beef, sweet potatoes, zucchini, and tomatoes I'm showing him just how much I love him on this special day.
It makes me feel good to know that Merrick products are made of whole foods, cooked in small batches, with ingredients that are local. Their 5-star promise means that I can feel as good about what I feed Clem, as I do about feeding the rest of the family.
Merrick products can be purchased at Petco and other great pet retailers, and of course from online retailers as well. To learn where Merrick products are carried near you, simply search LOCATIONS.
I received product to facilitate this post, however we have and will continue to use Merrick products. They are Clem's favorites. All opinions are strictly our own.