This post has been sponsored by Babbleboxx.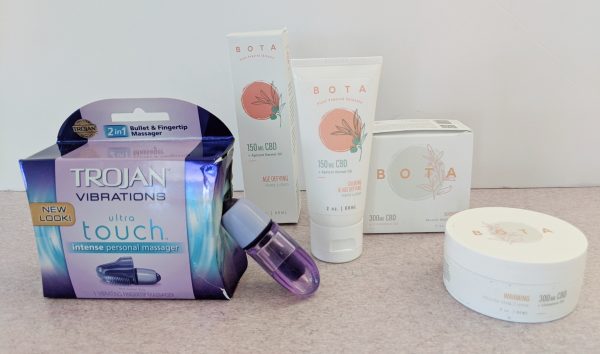 I'm going there today!
With all of the stress that we've been under lately, it's time to take charge of YOUR health. I'm asking you to spend a little time out of every day, no matter WHAT has been going on, and focus on your own wellness. As women, we do a good job of taking care of everyone else. The kids have plenty to do, the dog has gone in and out a bazillion times and your husband got his favorite meal. BUT WHAT HAVE YOU DONE FOR YOURSELF?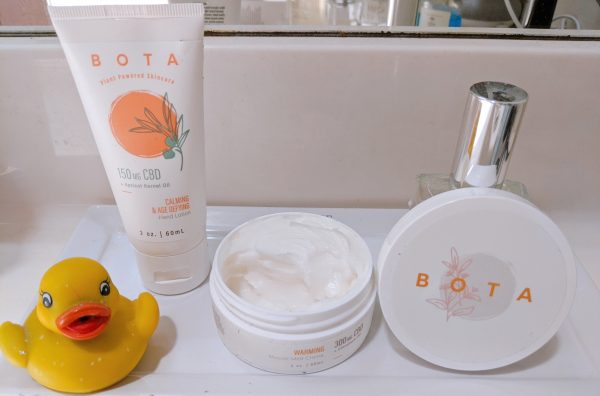 I don't want to hear that you got dressed
That alone doesn't cut it. Let me give you a little peek into my daily routine and how I take care of myself beyond just hopping into the shower and throwing on a pair of sweats and a t-shirt.
I wake up & have coffee & take my vitamins
I hop in the shower using a FAVORITE scented soap (it just makes me feel pampered)
After drying off, I make sure to moisturize – not just my face
I recently discovered Hand Lotion & Muscle Melt Crème from BOTA™ – so I use those
Get dressed into something that makes me feel GOOD
Toss my in the house makeup on and fix my hair
It doesn't take long to take care of yourself, so NO EXCUSES!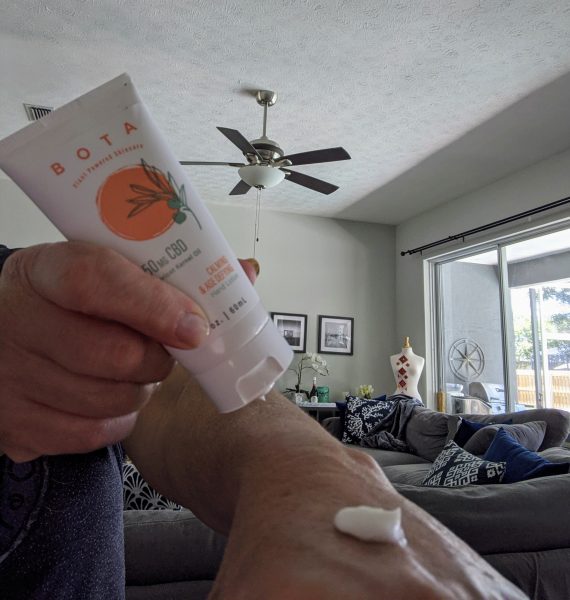 Did you know that cinnamon oil has been used as a natural warming mechanism for centuries? Would I lie to you? Test it! The next time you have a draining day or complete a tough workout, melt away with
BOTA™ Warming Muscle Melt Crème. This Warming Cinnamon Oil + hemp-derived cannabidiol (CBD) crème combines warming cinnamon oil, shea butter, and hemp extract to help you unwind. All products contain less than 0.3% THC.
With everyone home, my hands have seen a little too much time washing dishes and my skin has been showing it. I love that BOTA™ Age-Defying Hand Lotion is cruelty free and made of plant-based ingredients. With a non-greasy formula that absorbs quickly and hemp extract, this is skincare you can feel good about using. This treat for your hands contains natural emollients and essential fatty acids that soothe and hydrates dry skin. All with less than 0.3% THC.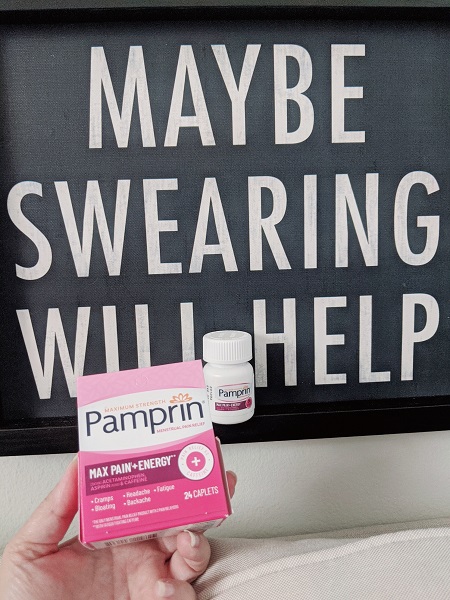 Stop complaining
I am saying that for myself, but if you suffer and complain as I do, it's time to DO SOMETHING about it. I used to get really drained from my period. Along with all of the bloating and cramps, my energy would be completely deleted.
Mr. S used to find something else to do rather than listen to me complain. I am a CHAMPION complainer and when I used to get my period it would be non-stop. Isn't it time you DID something about it instead of just talking about it? I always relied on a period pain reliever.
If you're a living, breathing, human woman, you know that your period brings a lot more than cramps when it shows up. In fact, if you are like me, you can add
bloating
moodiness
headaches
backaches
and a sizeable portion of cramps
to that list. You need a good strategy to fight all of those, like Pamprin Max Pain + Energy. Why just take away the pain and have to deal with the rest of your symptoms when this Pamprin product can help more than just cramps.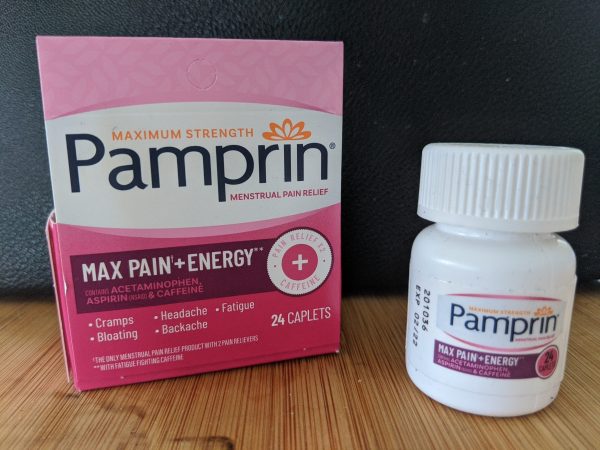 Why grin and bear it? Pamprin Max Pain + Energy was made specifically for your most painful days & formulated to relieve the discomfort of cramps, headaches & backaches – and provide you with the energy you need, for maximum strength results. This formula of Pamprin also includes caffeine, which helps with period-inducing fatigue PLUS it acts as a diuretic to relieve the bloating and water weight gain
that so many women experience as a result of period symptoms.
Yes, it's Pamprin and relieves your pain but unlike the stuff for the entire family, Pamprin was made for period relief, formulated to relieve the discomfort of cramps, headaches, and backaches PLUS added ingredients to ease fatigue and bloating, but isn't it nice to know that with both aspirin & acetaminophen for pain relief & caffeine for water weight gain, fatigue & bloating, Pamprin Max Pain + Energy offers complete coverage for all of your PMS symptoms?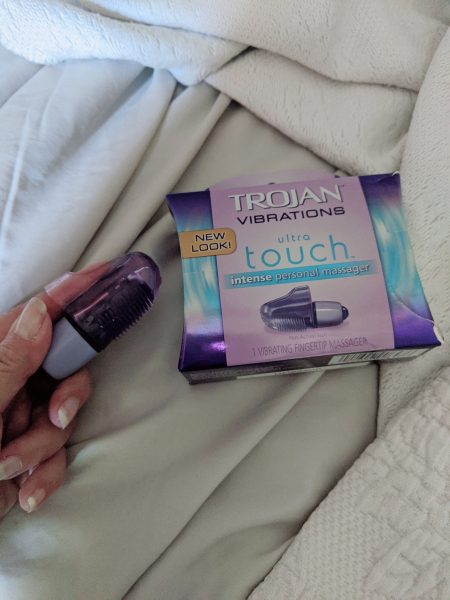 Self love = Self Care
Yes, that's JUST WHAT YOU THINK. If you watch Rach & me on The Compass Girls you know that we're never shy about talking about sex. We've chatted about masturbating a time or two. I've been married for over 40 years now, and YES I MASTERBATE! We sometimes forget about how important it is. I recently learned that since the start of social distancing, 29% of women are masturbating more and compared to men (6%), women are much more likely (15%) to be using more toys or vibrators when masturbating during this time. We just don't talk about it.
Step into my bedroom and you'll see my Trojan Ultra Touch.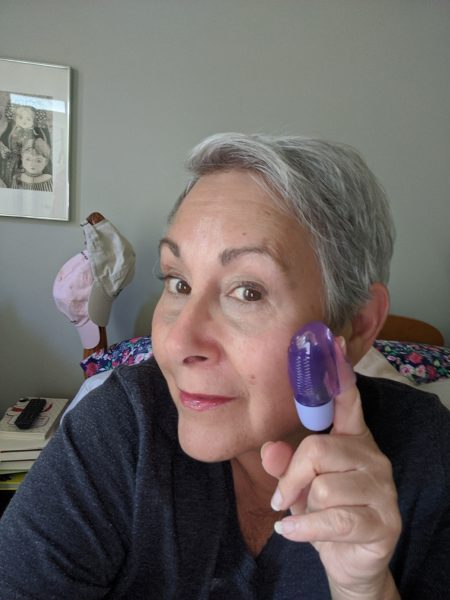 This unique vibrator attaches to your finger, giving you enhanced stimulation. It is small, flexible, and fits snuggly on your finger so that you can control this finger vibrator JUST THE WAY YOU LIKE. The TROJAN Ultra TouchTM Intense Personal Massager puts big thrills at our fingertips.
Trojan Brand Condoms are asking everyone to take a moment and Sexplore At Home With Confidence to show that staying home can still be sexy.
Where to find them