This post was sponsored by CLEAR CARE® PLUS as part of an Influencer Activation for Influence Central. I am disclosing this in accordance with the Federal Trade Commission (FTC) guidelines concerning the use of endorsements and testimonials in advertising.  I received financial compensation for my participation and endorsement.
If you read Champagne Living regularly you know that we're all about the upgrades. I love nothing more than getting boosted from economy to first class, I'll take that banana split over a cone of ice cream any day, and you already know what I prefer in my glass at the end of the day.

The whole premise of Champagne Living is about living an upgraded life. From the little things like asking for extra sprinkles on your ice cream or opting for your favorite wine over the house variety to getting that classic bag that will be as much in style 20 years from now as it is today.
This past year I've even upgraded the mansion. We bought a new home (this time with a enclosed pool) and have been in the upgrading process non-stop. The floors have been torn up, we've upgraded some of the appliances (with more to come), and within the next two years.  As both a glasses AND contacts wearer, I've even upgraded my contact cleaning solution with CLEAR CARE® PLUS.
As a champagne lover, I love bubbles and with CLEAR CARE® PLUS you can SEE the bubbles working
I hate red eye, and the preservative free formula means not looking like I just got done watching a tear jerker movie (unless I really have)
My eyes dry out QUICKLY (hence seeing me in glasses often). CLEAR CARE® PLUS features HydraGlyde® for long-lasting moisture
Most of all….it does what it claims, loosening dirt, deep cleans, and removing protein with the #1 doctor recommended hydrogen peroxide solution
So, why am I writing about contact lens cleaner and upgrades?
Because CLEAR CARE® PLUS is offering a FUN Bubble Upgrade™ Sweepstakes that I don't want you to miss. That's right, the biggest upgrade in lens care is giving you a chance to win the biggest upgrade of your life valued at over $10,000!!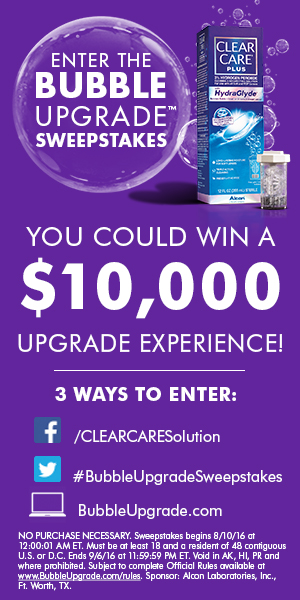 What are you waiting for?
Enter NOW, because from 8/10/16 to 9/6/16, a winner will be selected every Wednesday to win an upgrade experience (each valued at over $10,000), spanning categories from sports, travel, and self-improvement. Now THAT'S my kind of upgrade.