Here is another great piece of Hawaii travel by our writer Kathy Chin Leong.
The conversation at Hilo's Farmers Market went something like this:
Kathy: Do you have V-neck t-shirts for women?
Vendor:  You like these?  My son designed them.  He was a marine biology major and found his passion designing men's and women's t-shirts with marine animals. Beautiful right? 
Kathy: Right.
Vendor: This is the first time we've opened since Covid-19 started.  It was so hard, but I'm glad to be back.  Here's a bunch of V-necks.  Take your time, I'll be here all day. 
In between the rambutan and papaya stalls, the seller at the Akua Creative table got an A-plus in customer service, and she more than willing to share her favorite hideaways to snag a plate lunch, great coffee, and shave ice – my favorites.  The Island of Hawaii, nicknamed Big Island which makes the residents cringe, is full of folks like her, friendly and positive, eager to recommend places to eat and play and to "talk story" with strangers. In fact, if you are a recluse and don't like banter, don't come to Hawaii; you won't last long!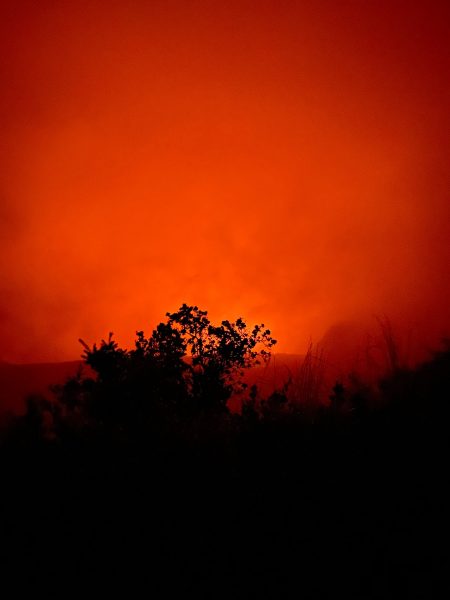 In addition to hyper-friendly locals, Hawaii Island is unparalleled for several reasons.  It is most renowned for the very active Kilauea volcano which made international news in 2018 with a major eruption and spouted again last December. As of this writing, the young volcano is still spewing lava. It is twice as big as all of the rest of the Hawaiian islands put together.  And where else can you discover snow, rain, and sunshine all within an hour's drive?  Once you deplane, you'll see that much of the land surface is black, hardened lava rock, a striking difference compared to the tropical lushness of Maui and Oahu.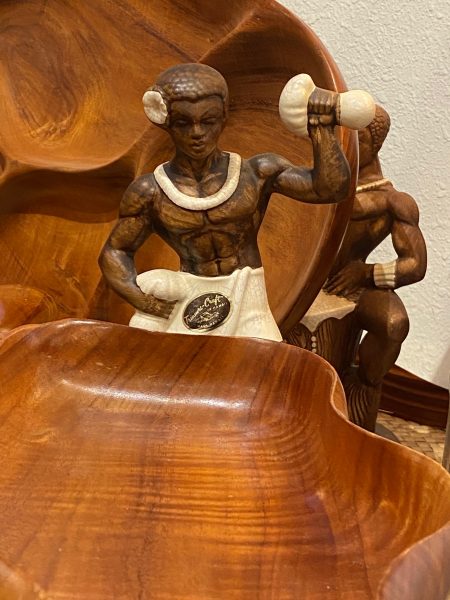 I consider Hawaii my second home. The charm of the one-street villages with names such as Holualoa and Honokaa delights me just by saying their names. Every three or four years, I must come for the art, the food, authentic farms, and island action.  The high quality of art among glass blowers, wood artists, and jewelry designers is profound.  Not only are the artists warm and personable, the farmers who tend Kona coffee trees, bees, macadamia nuts, vanilla crops just as happy to showcase their products.  Furthermore, outdoor adventure comes bundled with breathtaking vistas at no extra charge
Hawaii features two airports, Kona International on the west, and Hilo International on the east.  To take advantage of seeing the entire island, you can fly into Hilo and depart from Kona.  Getting a rental car is a must, for public transportation is limited.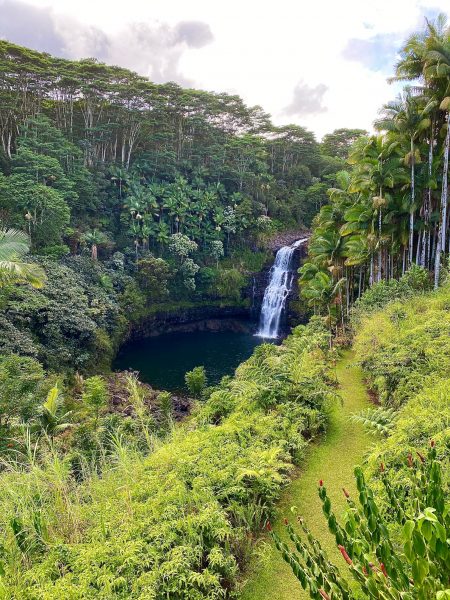 Start in Hilo and bring your umbrella.  With 130 inches of rainfall annually, it is the wettest place in the United States.  And, as you can imagine, among the lushest places too.  Waterfalls appear in abundance, so take advantage of locating wonders such as Rainbow Falls, Pe'epe'e Falls, and Waialae Falls. And don't forget its many botanical gardens. Our favorite is the Hawaii Tropical Botanical Gardens filled with more than 2,000 species of tropical plants spread across 40 acres of easy, walkable paths.
As one of the two biggest cities on the island, Hilo is the home of big box stores and also Big Island Candies, a hotspot for shortbread baked right on the premises.   Java connoisseurs will drool over the signature coffee shortbread dipped in dark chocolate.  It is so popular that tourists always stock up on gifts before they fly home.  Minutes away is the Hilo Farmer's market for affordable tropical fruits and veggies, homemade jams and baked treats, and local artwork.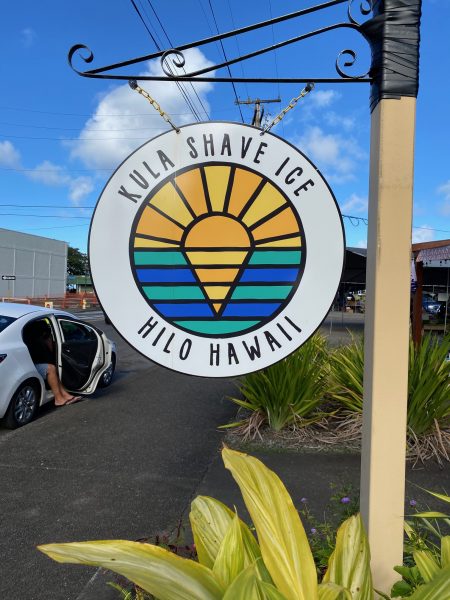 Foodwise, we LOVED Just Cruisin, the best place for a blended ice java coffee.  For a shave ice treat, we found that Kula Shave Ice offers delectable and refreshing shave ice combinations.
Our fave?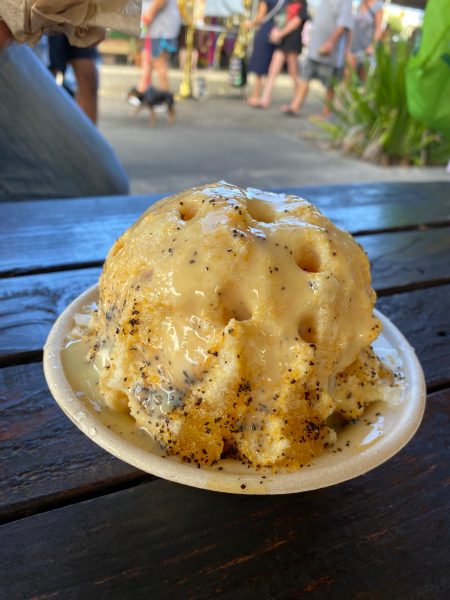 The Lilikoi Dreamsickle with vanilla ice cream in the center topped with "snow cap" which is drizzled condensed milk.
From Hilo, head north for a zipline tour from Umauma Experience that is the only one on this island that passes over fourteen waterfalls on nine ziplines.   Even the most experienced zipliner would be hard-pressed to be jaded over this adventure, and if you need more adrenalin, the same outfitter offers a rappelling tour down waterfalls and a Jeep Deluxe ATV and Waterfall Swim tour that lets customers enjoy a 5.5-mile ATV track and take a swim next to a private waterfall.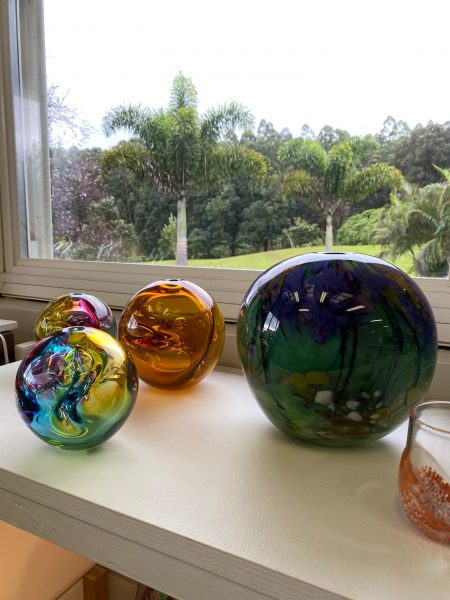 On the drive north, make sure you building plenty of time for farm visits and art galleries where you can engage in the Hawaiian past time of "talking story" with the owners. The family-owned Hawaiian Vanilla Company, in Paauilo, features the only vanilla farm in Hawaii and features a delightful afternoon tea.  There's the Honoka'a Chocolate Co. where you can book a tour and tasting at its Kahi Ola Mau Farm with over 1,000 cacao trees.  Also in Honoka'a, you can watch our friend Hugh Jenkins blowing glass at his studio, Big Island Glass Gallery.
The days Hugh Jenkins blows glass are often the days visitors wander past the feral chickens on the property and enter his glass studio to see him in action. Dipping the hot metal pipe into the colored bits that will later become molten glass, he chats about his 50 years of blowing glass, of establishing the glass blowing curriculum at Punahou School in Honolulu, and of his 1999 move to Hawaii Island to open Big Island Glass Gallery.
As he pinches and elongates the heated glob with steel tongs, he looks up and asks, "Now, what do you do?"  He is just as curious about me as I am of him. I love it!
Historic Hawaii shows off its charm most when it comes to the stories of the Hawaiian cowboys known as paniolos. Venture into the well-appointed Paniolo Heritage Center that features photos of the early cowboys who were Japanese, Chinese, and Filipino.  Enjoy a grass-fed beef meal at Merriman's Restaurant.  On our drive, we could not resist the malasadas and plate lunches at Tex Drive-In, a local's favorite that has three main attractions:  inexpensive grub, abundant grub, and delicious grub!
A completely different environment awaits on the northwestern Kohala coast where you will find drier weather.  What to do? Hike, picnic on the beach, and tour the quaint town of Hawi to wander galleries.  Indulge in a scoop or two at the Kohala Coffee Mill that carries goods from Tropical Dreams Ice Cream, a favorite local maker who concocts with island flavors such as Kona coffee and toasted coconut.
If you are ready for another adventure on this side of the island, a face-to-face meeting with a manta ray should give you proper bragging rights when you go home.  Anelakai Adventures provides a canoe paddling by day and a manta ray expedition by night.  Unlike other outfitters that use motorized, gasoline-powered boats, this one is completely eco-friendly.
After a 15-minute paddle to the manta ray feeding grounds at night, the operators will switch on special high beam lights that highlight the plankton. Guests wearing snorkel gear hang onto a bar suspended from the boat while viewing the heavenly giants feeding. Oftentimes, the manta rays will swim very closely to snorkelers (within inches) who are forbidden by law to touch them.
Over In the town of Kona, you can pick up trinkets in its downtown tourist area. And if you are curious about early Hawaiian royalty, you can book a tour to see the Hulihee Palace, a Victorian summer retreat built in 1838.
Savor treats such as Huli-Huli chicken from a food truck dubbed Randy's Huli Chicken and Ribs. You can never have too much shave ice so head over to One Aloha Shave Ice which carries a gazillion flavors of homemade syrups. Of course, the famous Kona coffee is grown here in this region, and you can tour a number of Kona farms including UCC Coffee and Greenwell Coffee. The Big Island Bees shows visitors its various hives and explains how honey is made.
You may be shocked that a trip to a sea salt farm, out in the boonies in a warehouse area, is utterly fascinating when you tour Kona Sea Salt on the tip of Keahole Point.  Forming the Natural Energy Laboratory of Hawaii Authority in 1974, the state of Hawaii laid down two humongous pipes at 2,200 feet deep to capture seawater, enabling startup businesses such as Kona Sea Salt to tap into the water source. Products are supposed to be extremely pure since no man-made pollutants get down to that depth.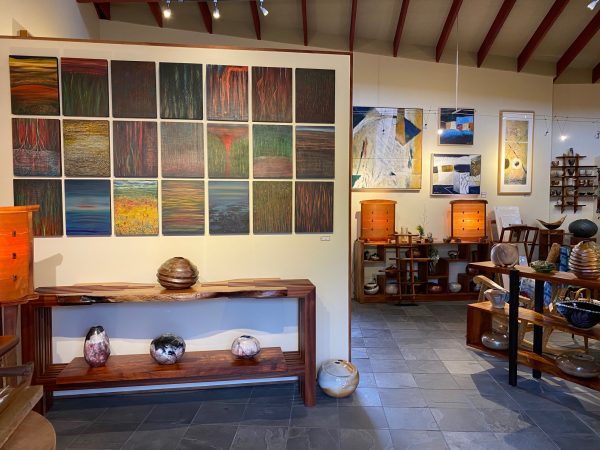 Southward from Kona lies the art community of Holualoa, one of my favorites.  A lineup of historic buildings now house a row of art galleries with exquisite works by local artisans.  Go to Dovetail Gallery & Design for everything from wood jewelry boxes to fine-grain cabinets.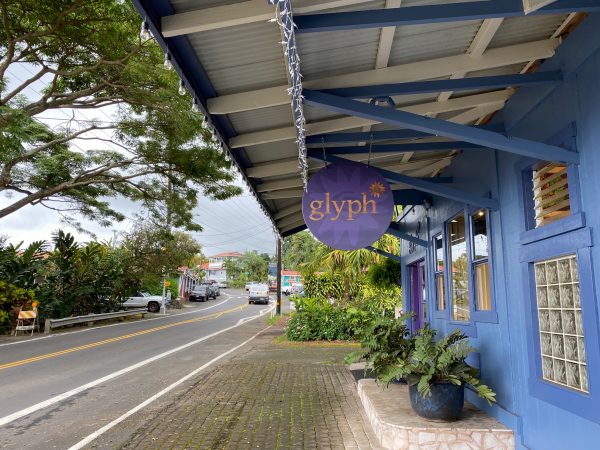 Steps away is Glyph for silk paintings and sculptures.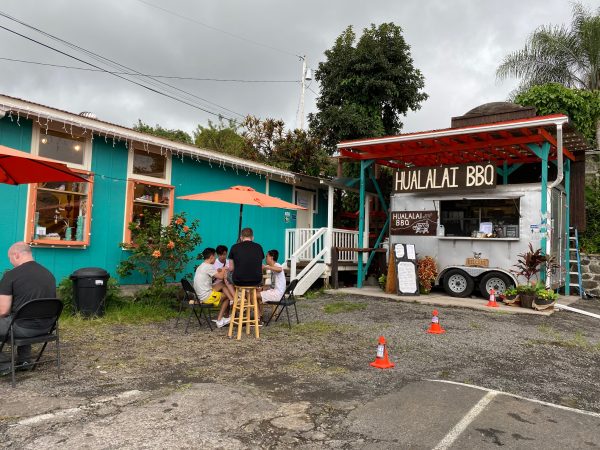 And before I forget, that meaty aroma in Holualoa emanates from the Hualalai BBQ, a permanent food truck has incredible, mouthwatering smoked ribs that fall off the bone. (My mouth is watering right now). Eat there on one of the few tables or take it to your hotel.  You may wind up just inhaling it in your car.
How long is an ideal stay on Hawaii Island?  No length of time is ever long enough.   Heck, I didn't even cover the Hawaii Volcanoes National Park and Maunakea summit for the snow and stargazing.  But that's for another time, and another trip, and another travel story.
For more information: