Product & compensation was received to facilitate this post. All opinions are strictly my own.

SIXTY
I've finally come to a point in my life that is easier. I've got no more family to raise, Mr. S and I retired and I found a second career in blogging. Life is generally a lot easier, with less worries. I just wish that my outward appearance mirrored how I feel on the inside. I still feel young and vibrant, but the mirror shows someone who's gray and wrinkled.
I've thought long and hard about injectables and surgery, but honestly…I'm not ready (not emotionally anyway). So, what do I do in the meantime? I go kicking and screaming, and fighting any way that I can. I color my hair every four weeks, but getting rid of the fine lines and wrinkles, are a bit more difficult.
I've spent more money than I'd like to admit on creams, serums, and lotions that SAY they reduce lines and wrinkles, only to toss them into the trash. If I had saved that money, I could probably be sitting in a café in Paris right now.
That was until recently, when Alurent sent me a bottle of Alurent Anti-Aging + Instant Erasure Serum to try on my crevices.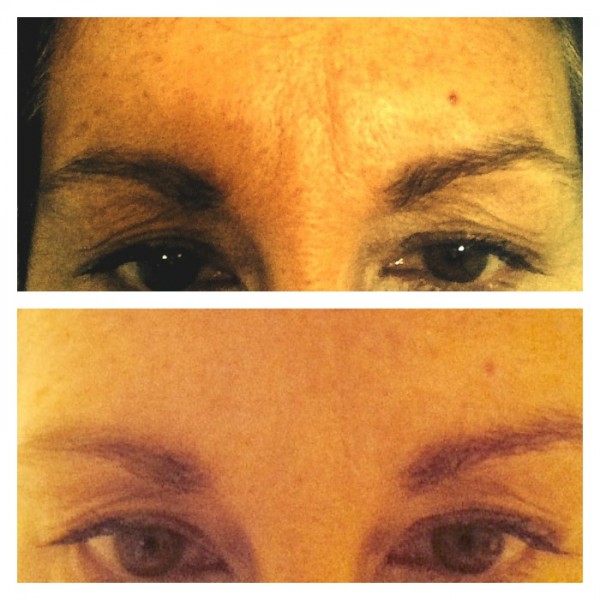 As you can see, I tried it on my forehead, in what would be PRIME injectable territory. Would it get rid of my lines without giving me that frozen look?
In only 90-seconds my lines went from craggy to looking smooth.
DIRECTIONS
1. Start with a CLEAN face
2. put a small amount of Alurent Anti-Aging + Instant Eraser Serum on your problem areas.
3. Don't move (no squishing, squinting, etc.), you want the skin to get a little stiff in the relaxed position. Personally, I found this the hardest.
3. 90 seconds later look in the mirror at your wrinkles….WAIT, they're gone!
4. On to the next spot….LOL (at least for me)
Here's what I found…
I thought it would tingle
It didn't, it simply tightened like when you give yourself a facial and use a masque.
I thought the minute I moved it would wrinkle again
It stayed looking relaxed, even after I put my make-up on (I used no makeup in my photos).
I hate fussing when I'm in a rush
It was easy to use and YES, it really only took 90 seconds. Alurent Anti-Aging + Instant Erasure Serum provides safe and effective anti-aging technology without overpriced injections or major surgery.
Don't take my word for it
TRY IT!
They've got a money back guarantee and Champagne Living readers get $50 off PLUS free shipping (for a limited time).
Go to: Alurent.com
Order: Alurent Anti-Aging + Instant Erasure Serum
Enter code: SHOP50 at check out
Get: $50 off and FREE SHIPPING
For a limited time, use the special shopping code SHOP50 to discount your purchase of new Alurent Anti-Aging + Instant Erasure Serum to $50 plus free shipping at http://www.alurent.com/alurent-anti-aging-instant-erasure-serum.html. This is more than a $30 savings!
I received product to review through partnership with Alurent. All the opinions included in my review are my own.