Remodeling the kitchen: the way to an ergonomically perfect kitchen. The old kitchen is not functioning as well and it is no longer ergonomic and trustworthy.  Elements such as the oven and sink, for example, are arranged in such a way that working in the kitchen is easier. Of course, this should not be disregarded when renovating your kitchen. With a few tricks and well-informed, the old kitchen can be transformed into a new modern one. Initially, you may want to look at Home Remodeling Case Studies for inspiration. 
If you have the right budget, you can achieve great results with a kitchen remodel and transform the old kitchen into a modern place.  It will look functional and practical. Before you convert the old kitchen, check whether the seating group can be set up in a better place in the room. Maybe you can also look at the electrical appliances, and the work surface so that all are well coordinated. Nowadays, kitchens are optimally planned and also ergonomically tailored. In the course of the kitchen renovation, consider when and how many people will be in the kitchen together. Is it a place for the whole family to gather? When remodeling the kitchen, it is more important that there is enough space and that several people can work at the same time. 
The tiled surface also has potential for kitchen remodeling
If you no longer like the 90's style tiles in the old kitchen, you can either replace the tiles or choose a simpler and cheaper variant. You can also cover the old tile mirror with stickers! This works in a similar way to the kitchen fronts and the tiled surface remains washable. Or is there perhaps no tiled surface? Then, if you are remodeling the old kitchen, you can also use latex paint and apply it to the wall section. This is also washable, inexpensive, and easy to use. You can also buy second-hand tiles that may seem vintage.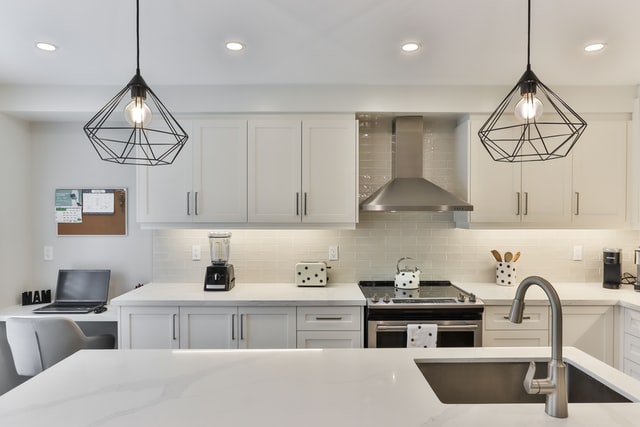 New walls?
Tearing down or building walls offers a great opportunity and perhaps the most impressive change to a kitchen space. In any case, discuss your project with an expert in the kitchen studio, who will be at your side for both interior design and structural planning. Many kitchen rooms are transformed from wasteful spaces into beautiful areas. You can add space and structure easily and effectively. A stronger incidence of light, an open kitchen island or a cozy eat-in kitchen with a sitting area will turn your kitchen into the heart of your home. At the same time, there is also the trick of pulling in a living cube for more storage space. You can also use artificial walls. Your kitchen designer can advise you on how the kitchen space and kitchen body will still fit together after the change. You may want to add mosaic tiles or leafy wallpaper to spruce the area up further. There are plenty of ways to make your kitchen an exciting space.